On September 23, 2020, Her Excellency the Right Honourable Julie Payette, Governor General of Canada, delivered the Speech from the Throne to open the second session of the 43rd Parliament.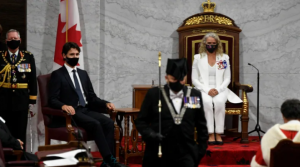 The speech, titled A Stronger and More Resilient Canada, outlined the government's approach through four key foundations:
Fight the pandemic and save lives
Support people and businesses through the crisis
Build a better and more resilient Canada
Stand up for who we are as Canadians
OSPE has worked diligently to put together a robust set of recommendations to aid in the economic recovery and long-term resiliency of our nation. OSPE is pleased to see the government commit to both engineers and the engineering community.
Through engineering expertise and ingenuity, we have developed and put forth short-term, medium-term, and long-term recommendations. These recommendations aim to create jobs, boost key sectors of the economy, and promote environmental sustainability, diversity, and inclusion. Combined, our recommendations aim to create a healthy Ontario and Canada.
Unfortunately, the engineering community has been severely impacted by this pandemic, as thousands of engineering jobs directly linked to the infrastructure, manufacturing, technology and research and innovation sectors have been lost. This has not only affected engineers and engineering graduates, but the entire Ontarian and Canadian economies.
We are enthused to see a clear alignment between our recommendations and the commitments put forth in the Throne Speech. The government has listened to the voice of engineers in areas related to upskilling talent, supporting Small to Medium Enterprises, ensuring women's economic success, assuring environmental sustainability; and infrastructure investments such as including public transit, energy efficient retrofits, clean energy, rural broadband, and affordable housing, particularly for Indigenous Peoples and northern communities.
We commend the government for the following notable commitments:
Create over a million jobs by extending the Canada Emergency Wage Subsidy and scaling up the Youth Employment Skills Strategy.
Extend wage subsidy supports through Summer of 2021.
Develop an Action Plan for Women in the Economy to help more women get back into the workforce.
Supporting business by:
Expanding the Canada Emergency Business Account to help businesses with fixed costs;
Improving the Business Credit Availability Program;
Create thousands of jobs retrofitting homes and buildings, cutting energy costs for Canadian families and businesses.
Invest in reducing the impact of climate-related disasters, like floods and wildfires.
Help deliver more transit and active transit options.
Make zero-emission vehicles more affordable while investing in more charging stations across the country.
Move forward with the Clean Power Fund aimed at transforming how Canada powers its economy and communities.
Support manufacturing, natural resource, and energy sectors as they work to transform to meet a net zero future, creating good-paying and long-lasting jobs.
Ban single-use plastics next year while ensuring more plastic is recycled.
Modernize the Canadian Environmental Protection Act.
Create a new Canada Water Agency.
Bring forward a plan to exceed Canada's 2030 climate goal and will also legislate Canada's goal of net-zero emissions by 2050.
The Liberals must secure support for the speech from at least one opposition party to avoid losing the confidence of the House of Commons. Otherwise, they risk triggering an election this fall. If the government survives the confidence vote, OSPE will be looking out for the update to Canada's COVID-19 Economic Response Plan, which sets out the Government's economic and fiscal position, by providing economic projections and identifying new measures to implement the Throne Speech.