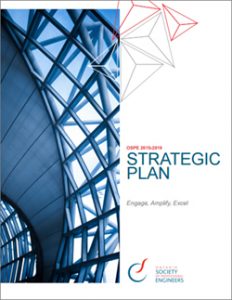 On May 5, our CEO Sandro Perruzza and outgoing chair Danny Young released a new Strategic Plan for OSPE. It defines what the organization must do to meet the needs of members today and in the future.
Over the next five years, OSPE plans to better represent the entire community of engineers in Ontario so that the public, media, government and industry know who OSPE is, and why the contributions of engineers are critical to a healthy economy.
OSPE's Strategic Goals
1. Create Member Value – meet the needs of the engineer at all stages of his or her career
Increase awareness of programs/services and build professional development curriculum
Provide mentoring/networking opportunities and collaborate with other STEM organizations
Support career development with relevant research and data
Success Measure: Increase member satisfaction rate from 76% to 85% over 5 years
2. Raise Public Awareness – elevate the understanding and appreciation of the engineering profession in Ontario and its contribution to the public interest
Establish our voice in the media and develop stronger relationships with journalists
Heighten the profile of engineering experts and their achievements in OSPE publications
Engage non-traditional audiences on social media and collaborate with partners on issues of common interest for greater exposure
Success Measure: Increase subject matter expert impressions in the media by 20% over 5 years
3. Focus on Public Policy – ensure engineers are viewed as trusted experts to influence government and promote policies that benefit the public and the profession
More than half of OSPE's professional members cite advocacy and promoting the profession as their primary reason for joining the association
OSPE will ensure engineers are viewed as trusted experts to influence government and promote policies that benefit the public and the profession
With greater member involvement, our influence will grow
Success Measure: Increase the number of published reports, policy papers, position submissions and consultation invitations by 20% over 5 years
4. Focus on Community Engagement – build strong, connected and engaged communities for engineers
OSPE is already strengthening relationships with our partners, including trade associations outside of engineering that are highly influential, such as the Ontario Chamber of Commerce, Ontario Environment Industry Association,  and Canadian Manufacturers and Exporters
Extend reach in STEM sectors and create more networking and collaboration with PEO
Foster stronger relationships with engineering societies/non-engineering organizations
Establish online communities – through our blog Society Notes, for example!
Success Measure: Increase community initiatives and partnerships by 50% over 5 years
Overall Key Success Measure: Membership Growth
In order to meet these goals, over the next 4 years, OSPE will continue to grow its membership base so that we can increase our reach and reputation.
Click here to view OSPE's full Strategic Plan document.
How can you help OSPE reach these goals? What do you think about the Strategic Plan? Give us your feedback in the comments section below! 
Thanks for following and don't forget to share!