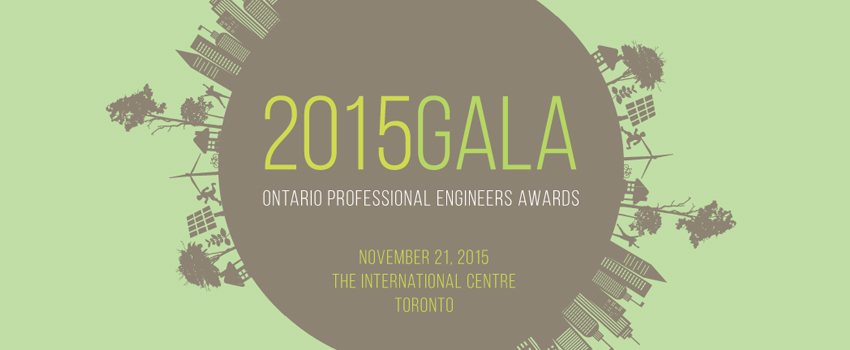 OSPE and PEO invite you to join us in celebrating Ontario's best and brightest engineers at the 68th annual Ontario Professional Engineers Awards (OPEA) Gala on November 21 at the International Centre in Toronto. On this special night, we will celebrate and honour the engineers whose work is vital to the environmental sustainability of the province.
Engineers understand climate change and its impact on infrastructure, soil and energy conservation. As a result, they play a key role in ensuring that sound policies are employed in the stewardship of Ontario's land, air and water. Engineers are also vital to the design and implementation of leading technologies to combat climate change. The keynote speaker for the 2015 OPEA Gala will be the Honourable Glen Murray, Minister of the Environment and Climate Change, Government of Ontario.
Proudly co-presented by the Ontario Society of Professional Engineers and Professional Engineers Ontario, the OPEA Gala is the province's most prestigious and anticipated engineering event of the year. This special event brings together industry innovators, academic thought leaders, business leaders and policy makers to celebrate and be inspired by engineering excellence and achievement.

Honour the profession's best and brightest
Since 1947, the OPEAs have recognized professional engineers in Ontario who have made outstanding contributions to their profession and their community.
In addition to Engineering Medals, the Citizenship Award and the Professional Engineers Gold Medal, this year, a new honour was added to the awards program. The Ontario Professional Engineers Award for Engineering Project or Achievement will pay tribute to an endeavour that has made a significant, positive impact on society, industry, and/or engineering, and that was conceived, designed and executed with significant input by Ontario engineers.
For details on the 2015 winners, visit the OPEA website at https://ospe.on.ca/events/opea-gala/.

Tickets
To buy your tickets now, visit https://ospe.on.ca/events/opea-gala/ or call 1-866-763-1654 ext. 234 or ext. 241.
Single Ticket: $225 (+HST)
Corporate Table: $2,750 (+HST)

Sponsorship
OSPE invites you to engage with us in presenting the 68th annual OPEA Gala. This event provides unparalleled opportunities to build a lasting profile as a prominent supporter of Ontario's engineering community.
For sponsorship opportunities please contact Jamie Gerson, P. Eng., Corporate Development Executive at 416-223-9961 ext. 234 or jgerson@ospe.on.ca or visit the OPEA website at www.ospe.on.ca/opea.