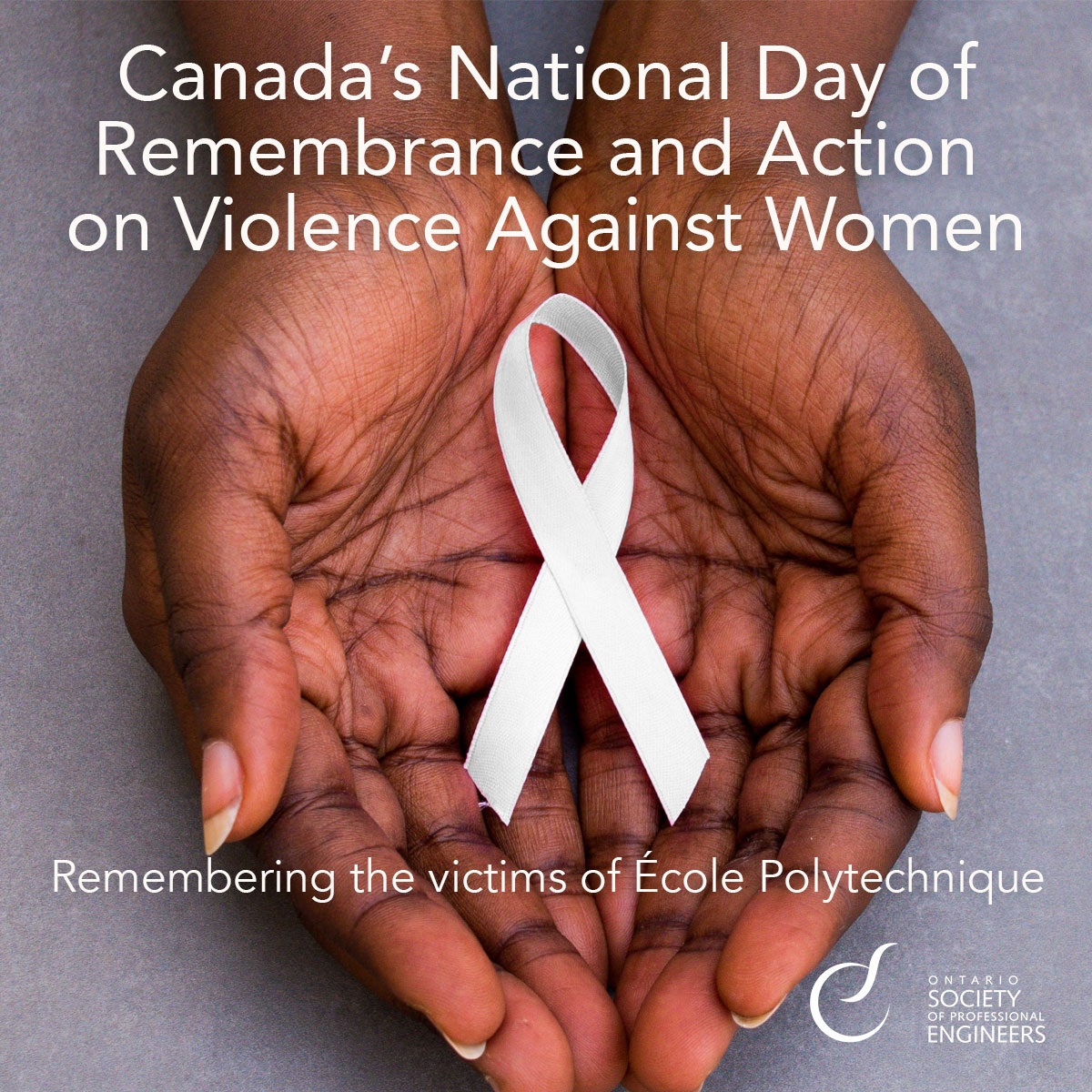 Canada's National Day of Remembrance and Action on Violence against Women is a day of reflection and a call to action. Today, we remember the 14 engineering students who lost their lives at l'École Polytechnique de Montréal on December 6, 1989, in an act of gender-based violence. We also take time today to consider the women and girls for whom violence is a daily reality.
Every year during the 16 days of Activism Against Gender-Based Violence, which began on November 25th, Canadians and communities across the country make a commitment to help end all forms of misogyny, sexism and hate.
We embrace this opportunity to reflect on the positive change that we stand to make when we each do our part to help foster a culture of respect in our communities, workplaces, schools, and the engineering profession at large.
Not only today, but every day, let's consider the many ways we can continue to work together to create a more equitable, diverse and inclusive profession that better reflects the diverse society in which we live. Every one of us can and must be part of the solution to stop violence before it starts. Let's create a future where everyone's rights are protected and voices are heard.
It has been 29 years since the Montréal tragedy and with every passing year, I find it more incomprehensible that these young women lost their lives because of their gender. I truly believe that knowledge is power, so part of my personal reflection means taking time to research and contemplate how gender-based violence continues to impact so many lives in Canada and around the world.

According to the Canadian Women's Foundation, 67% of Canadians say they have personally known at least one woman who has experienced abuse. It's a shocking and devastating number – and the most challenging part is that violence against women and girls manifests itself in so many different forms.

Fortunately, many have devoted their lives to helping ensure that these important conversations are had and heard around the world, so that we can create systemic change and prevent tragedies like this from ever happening again. In diversity there is strength, and we as engineers will continue to work to improve the participation of women and all underrepresented groups in the profession to secure equality of opportunity for everyone."
– Jonathan Hack, P.Eng., OSPE President and Chair
The senseless loss of 14 young women on December 6, 1989, is a devastating reminder of what can happen when discrimination, hatred and misogyny prevail. But through reflection and action, we also witness the powerful and positive change that we can make when we put our minds, experiences and voices together.

One of Canada's greatest assets is our diversity – and our ability to recognize that we are all part of the solution. As the Chair of the Women in Engineering Advocacy Committee and a female engineer, I invite all our members to TAKE THE PLEDGE if you believe that everyone has the right to live a life free from violence.

By using the hashtag #MYActionsMatter and by participating in the Government of Canada's 16 Days of Activism, you can show your support for those affected by violence. As engineers, we are innovators and problem-solvers – and I strongly believe that we have a part to play in paving the way for a safer, more equitable world for us all."
– Angela Wojtyla, P.Eng., OSPE Board Director and Chair of the Women in Engineering Advocacy Champions Task Force
As we reflect on the events of December 6, 1989, and seek to better understand and embrace diversity in all its forms, our profession, communities and nation can and will become a stronger, more inclusive place to live.

As the Chair of the Equity, Diversity, and Inclusion Committee, I encourage all our members to take a moment to reflect on the importance of fostering inclusion within our profession. As engineers, we are in a unique position to solve some of today's most pressing challenges. Embracing diverse perspectives in the development of those solutions will result in better outcomes both for the engineering profession and the world at large.

It is time to end discrimination, bias, and prejudice against women and diverse groups including Indigenous peoples, the LGBTQ2 community, gender non-binary individuals, those living in northern, rural and remote communities, those with disabilities, newcomers, seniors, and children and youth. Raising awareness, fostering partnerships and taking action – no matter how big or small in our corner of the world – will help shift historical power imbalances and create the lasting transformational change we all want to see."
– Réjeanne Aimey, P.Eng., OSPE Board Director and Chair of the Equity, Diversity and Inclusion Committee