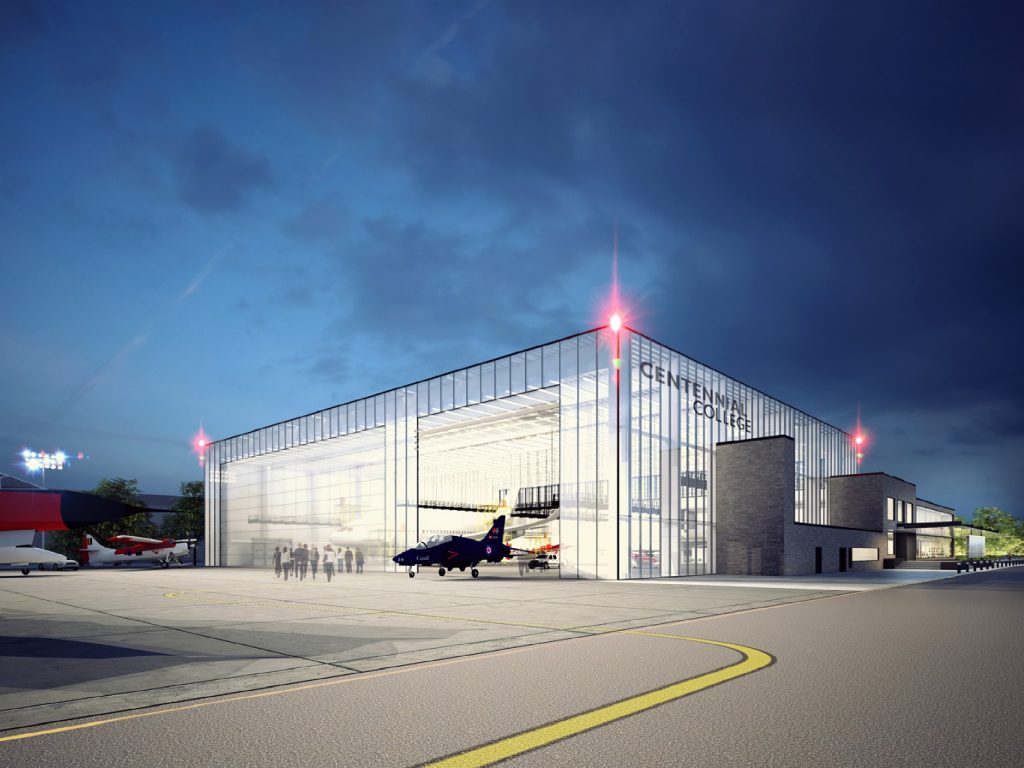 The aerospace industry is one of the most important contributors to Canada's economy which is why companies like WG Henschen are so popular. Delivering $29 billion of GDP annually, and $27.7 billion in direct revenues, Canada currently has the second largest aerospace industry in the world (relative to GDP).
But as global conditions continue to change, aerospace is reaching a critical tipping point. Investment in research and innovation must continue so that Canada can remain competitive as a nation in this important sector.
The federal government recognized this back in 2011, when it initiated a review of policies and programs to develop a framework to help maximize the competitiveness of the industry. In 2012, the Aerospace Review report was released, recommending that "the government co-fund – with industry, provinces and academic and research institutions – the purchase and maintenance of up-to-date infrastructure required for aerospace training and research purposes."
In Ontario, the province's major players in aerospace have come together to do just that – create a geographic area where industry and academia can co-locate for the purposes of increased collaboration. They're calling it the Downsview Aerospace Innovation and Research (DAIR) Hub, which will be located at Downsview Park in Toronto.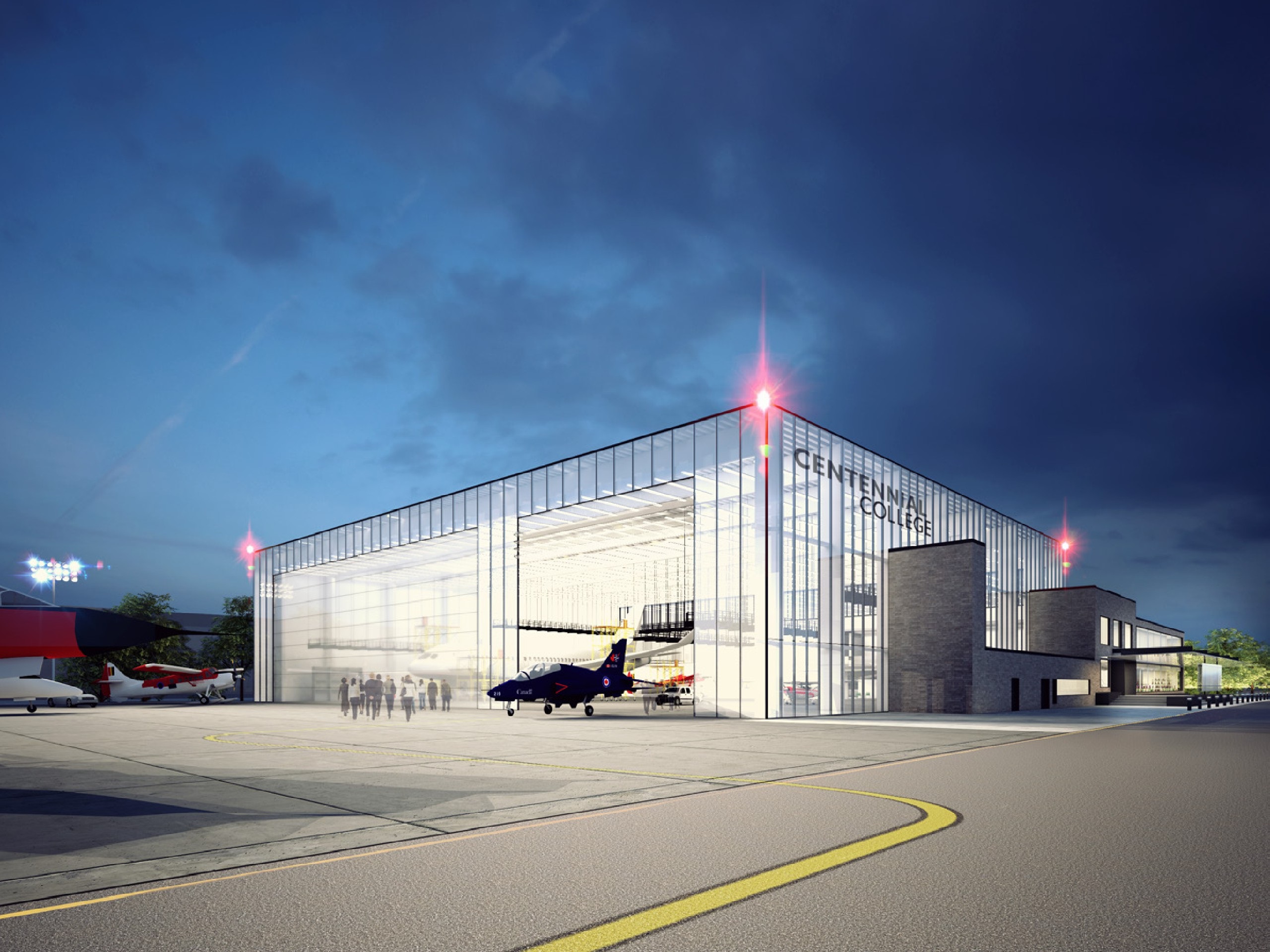 The Aerospace Hub initiative first began when Ann Buller, President of Centennial College, asked Andrew Petrou, Director of Strategic Initiatives and External Relations, to find a new campus location for the college's aviation programs. "Our current campus is completely land-locked in Scarborough," said Petrou. "When we receive a donated aircraft for students to work on, we have to cut it up into pieces, and then reassemble it, because we just don't have the space to transport or store it as-is."
Petrou began meeting with industry stakeholders in aerospace to discuss Centennial's predicament, starting with Bombardier, Canada's world leader in the design and manufacturing of innovative aviation products. At the time, Bombardier wanted to partner with one institution to fulfill the training needs of its workforce and keep their skills up to date. Bombardier also had an existing industrial plant at Downsview Park, with surrounding land earmarked for further aviation development.
With the revelation that there was a huge opportunity to go further by involving other academic and industry partners, Petrou contacted David Zingg, Ph.D., P.Eng., Director of the University of Toronto Institute of Aerospace Studies (UTIAS). UTIAS was actually originally located at Downsview Park in 1949 and Zingg was fully on board to integrate UTIAS into plans for an Aerospace Hub at Downsview, potentially moving the school back to its historical location.
"The Hub has come about because of a belief that we can do much better in research and development in Canada," said Zingg. "Academia and industry are both very busy, and we currently just don't interface enough. The more we integrate collaboration between academia and industry, there will be a cohesiveness in research that we've never seen before in this province."
As Petrou and Zingg discussed plans to move their campuses to Downsview, Zingg looped in Jonathan Hack, P.Eng., Strategic and Technology Engineering (R&D), University and Government Relations at Bombardier Aerospace to get fully involved in the initiative.
"There are more than 350 aerospace companies across various sub-sectors in Ontario – and the vast majority of these activities are concentrated in and around the Toronto region," said Hack. "More than a dozen of Ontario's 20 universities and 24 colleges offer a range of post-secondary aerospace education and training programs, and working together, Centennial, UTIAS and Bombardier started to get in touch with them to collaborate on this idea."
In addition to a space for academic institutions and industry to co-locate, plans for the Hub include creating an Aerospace Research and Innovation Centre, which will bridge industry-academia partnerships. It will catalyze new research and development initiatives, primarily by offering a shared space to house offices of various industry, academic, and government organizations, small and medium-sized enterprises (SMEs), experimental and test facilities, and space for technology demonstrators.
In 2013, the Government of Ontario announced $26 million in support of Centennial College moving its aviation programs to the former de Havilland aircraft centre at Downsview. The DAIR consortium, now made up of 14 members from academia and industry – including Centennial, Bombardier and UTIAS as its founders, as well as Ryerson and York universities, Pratt & Whitney, Honeywell, SAFRAN, United Technologies, FlightSafety International and MDA, among others – see this as the first step towards the creation of the full Aerospace Hub.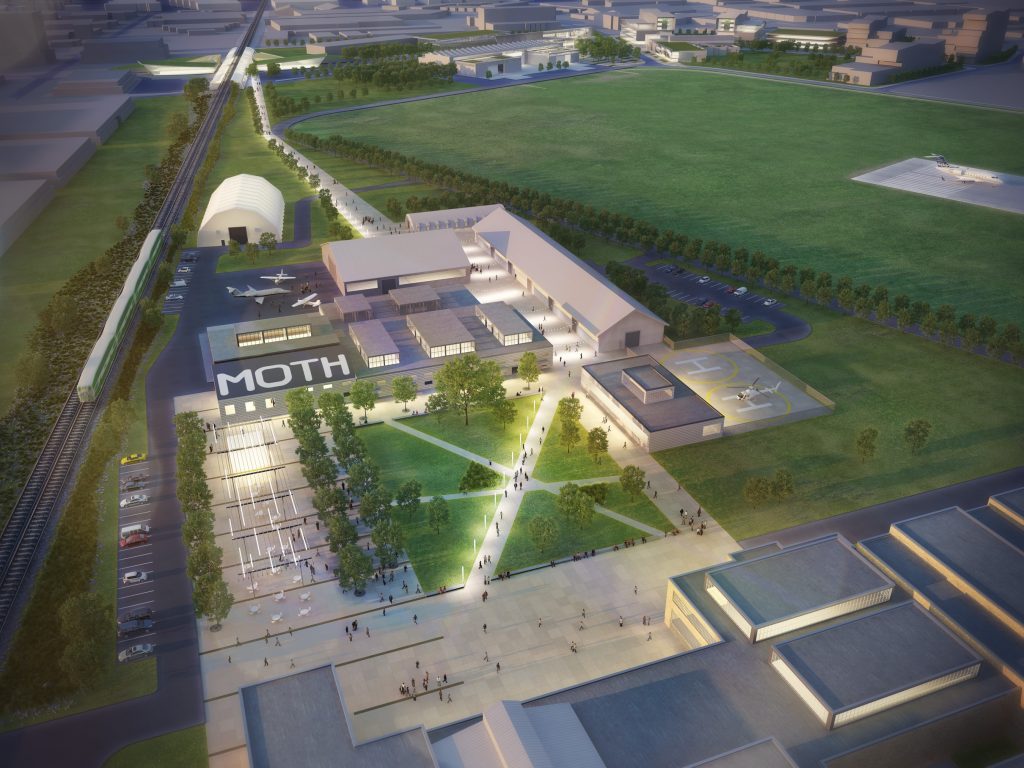 Not only is Downsview historically significant to aerospace, it provides adequate space for research, testing and development of aircraft and equipment that most schools are lacking. "When you're located in Toronto, space is an absolute premium," said Paul Walsh, Ph.D., P.Eng., Chair of Ryerson University's department of Aerospace Engineering. "When student design teams or professors with particular initiatives want to work on research, it is a struggle to find any space in the city.
Downsview is an ideal solution to the problem. And by putting educational institutions in close proximity to industry, we get not only extra space but close ties. All of the colleges and universities focus on different niches, so we are not in competition from an academic perspective."
Hack says Bombardier, along with other leading aerospace companies, certainly recognize and value the talent that can come out of joint college-university programs, which breed well-rounded students that have both analytical and hands-on experience. With the Hub acting as a technology consortium where educational institutions, government and industry are all co-located, students will have a completely unique and beneficial experience at school.
"I think this Hub has the potential to be a game changer for Ontario and Canada," said Hack. "We want to retain our talent – keep them here by developing and patenting new technologies that will allow the industry in Canada to increase its competitiveness, which then allows them to stay, and grow in their careers. We're confident that a fully-developed Aerospace Hub will accomplish that."
"There is a lot of demand for airplanes projected in the next 15 to 18 years – the industry expects a doubling of the number of passenger kilometres," said Zingg. "Ontario can't fall behind technologically, and expect to be able to compete with others in the space. Creating the DAIR Hub will ensure aerospace has a bright future in this province and country."
To read the full story on the Downsview Aerospace Innovation and Research Hub, check out the June issue of OSPE's magazine, The Voice.
To find out more about the Downsview Aerospace Innovation and Research Hub or how you can get involved, also visit www.dairhub.com.