Ashraf El Damatty, BSc, MSc, PhD, P.Eng., MBA, FCSCE, FEIC 
Professor/Chair, Civil and Environmental Engineering, University of Western Ontario 
—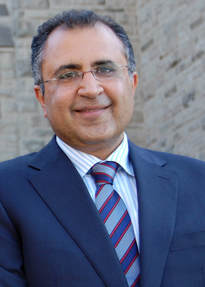 A research pioneer in the stability of water structures and the effects of severe wind events on power lines, Dr. Ashraf El Damatty is one of Canada's top structural engineering researchers and an engineer whose work has found practical applications across several industries. 
As a professor in the Department of Civil and Environmental Engineering at the University of Western Ontario (where he has served as department chair since 2013) and Research Director of the Wind Engineering, Energy and Environment (WindEEE) Research Institute, Dr. El Damatty has conducted groundbreaking research on the stability and seismic behaviour of elevated conical water tanks. His work has led to the development of innovative design methodologies for managing hydrostatic and earthquake loads that have been used in Canada, the US, Mexico and Japan. His approach in writing directly to a design engineering audience allows for the easy application of his cutting-edge research. 
Dr. El Damatty has also studied extensively the behaviour of transmission line structures under tornadoes and downbursts—critical research to utilities worldwide because almost 80 per cent of transmission structure failures can be attributed to high-intensity wind (HIW) events. His Hydro One-funded research led to the development of an innovative software package for designing transmission line structures that are better able to withstand the pressures inflicted by tornadoes and downbursts. His work will allow utilities engineers to prepare and upgrade existing transmission lines likely to be subjected to HIW and to account for HIW loading when designing new transmission lines. It will also allow Hydro One to revise its existing design loading criteria to account for HIW. His work will be included in the next edition of ASCE Manual of Practice No. 74: Guidelines/or Electrical Transmission Line Structural Loading—the first comprehensive procedure available worldwide to estimate the loads on transmission line structures under tornadoes and downbursts. 
As chair of UWO's civil engineering department, Dr. El Damatty has done much to boost the department's research and teaching excellence. Under his leadership, the department was ranked # 1 in Canada and # 12 in the 2017 Academic Ranking of Global Universities for Civil Engineering. During the past five years while serving as department chair, Dr. El Damatty has published 45 peer­reviewed papers in the top scientific journals, has  supervised 20 Ph.D. and 8 M.Sc. students, obtained an MBA in Higher Education Management from University College London, UK, served as Editor-In-Chief of the Journal of Wind and Structures, and received many national and international awards and recognitions. 
Learn more about the highly anticipated Ontario Professional Engineers Awards (OPEA) Gala on November 17, 2018.