In a traditional mentorship relationship, the role of the mentor is to pass on meaningful experience that they have gained throughout their years. When talking about this relationship, we tend to focus on the benefits for the mentee, since they can follow the footsteps of an individual who has already paved some of the way! Still, there are many benefits for the mentor themselves. A mentorship is a two-way connection that is a learning experience for both the mentor and mentee. Here are some of the benefits that mentors can enjoy:
A mentee can provide new, refreshing, and challenging perspectives!
A mentee can provide new perspectives to problems, which keeps the mentors on their toes! Being challenged from a new and fresh angle improves the mentor's skills when it comes to thinking outside of the box or learning how to generate more creative solutions when coming across different problems in the workplace.
Develop leadership skills!
To be a mentor also means being a leader! As a mentor, you will ultimately be the leader that will guide your mentee(s) towards their goals. A good leader should be influential, encouraging, positive, knowledgeable, and passionate. If you are lacking in these skills, becoming a mentor is a great opportunity and experience to develop and perfect these skills.
Building and supporting a community!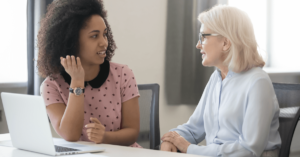 As a mentor, you give back to your community by volunteering your time to help others. This develops important and valuable relationships in your community, and fosters a community of support. Often times, a mentee will become a mentor once they become established as a way of paying it forward This process will continuously carry forth, and every individual contribution makes a difference. Mentoring also builds a community of talented individuals as well! Becoming a mentor is crucial to building a supportive community and we encourage you to be a part of that change!
We encourage you to join the OSPE Mentorship Program. At OSPE, the purpose of our mentorship program is to foster a network of supportive and talented engineers, regardless if they are a student, Engineering Intern (EIT), professional, or retired. Every engineer has value to offer when it comes to a mentoring relationship! We are currently looking for volunteers to mentor students, recent graduates, and EITs through virtual and/or in-person meetings. Please note that the time commitment for this opportunity is 1 hour per week. If you'd like to help guide an aspiring engineer as they begin their professional journey, register today!