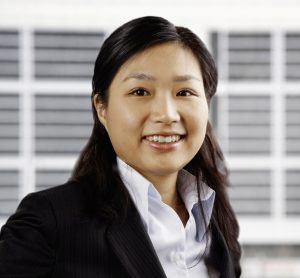 Laura is a Business Development Manager with Ontario Centres of Excellence Inc., with experience as a Research and Development Engineer with Baylis Medical. She was elected to the OSPE Board of Directors in 2018 and currently serves as the Chair of the Nominations Committee and as the Vice Chair for the Research and Innovation Task Force.
Laura desires to help advance and promote the engineering profession. She works towards this goal through both stakeholder engagement, including engineers, engineering students, industry, and government. Her goal is to amplify the role and work of engineers in addressing global challenges and to showcase their impact on Ontario's future growth.
From the University of Toronto, Laura holds a Bachelor of Science in Chemical Engineering & Applied Chemistry, a Master of Science in Mechanical and Industrial Engineering, and a Ph.D. in Collaborative Chemical & Biomedical Engineering.
We sat down with Laura Yu to talk about what her path as an engineer has been like, what attracted her to OSPE, and what she hopes the profession will be like in the future.
Why were you initially interested in engineering?
I was initially interested in engineering because I liked chemistry and math a lot. At the time, I thought chemical engineering would be a program that combined two of my favorite subjects in school. As a bonus, an undergraduate degree in engineering is a professional degree. I thought this could provide a better career path than a more general degree.
What were some barriers that you had to overcome as a female in a male-dominated field?
In my undergraduate program, there were more males than females in our classes. However, I didn't see it so much as a challenge. We got into the same program which meant we were equally competent and were able to tackle the challenges of the program. I didn't believe there were things that the male students could do that we female students couldn't. There were also a lot of group projects in our program, which allowed us to get to know each other and collaborate very well. I thought this made the gender difference almost a non-issue. At least it had never came up as an issue or challenge throughout my undergraduate years.
Why did you decide to get involved with OSPE ?
The work of engineers plays a very big role in our everyday lives. This was particularly true to me when I got my first job. I worked for a medical device company which made products for chronic back pain management, as an R&D Engineer at the time. I had the opportunity to see first-hand how the medical device we designed and engineered had a true impact on people. It was fascinating to see the device being used by physicians to treat patients, and the impact it had on patients' quality of life. I also had the opportunity to work with many smart engineers who turned their technology into products and services that are improving people's lives. It inspired me [to see] how the work of engineers can have a true impact on people's lives and society. I want to give back to the engineering community and promote the engineering profession. I wanted to get involved with OSPE as it is an advocacy body for the engineering profession and aligns with my interests.
You are the current Chair for OSPE's Research and Innovation Task Force. Can you speak a little about the work you do and the goals you hope to accomplish through this committee?
Our long term goal for this task force is to work much more closely with other task forces. This is because we see that the Research and Innovation Task Force is relevant to all the other task forces, such as Infrastructure and Energy and Environment.  In order for any of these fields to move forward, or to solve the challenges that each of these industry sectors face, research and innovation are important. For our short-term goals, we want to start at the grassroots level to build awareness about the value of research and innovation and the role OSPE plays in the engineering community. We believe targeting the students is a good starting point as they are the next generation of engineers and they are active in research. We need to recognize how they participate in research and innovation to help solve daily societal problems and the impact they can make in doing so.
The Research and Innovation Task Force also wants to engage and build awareness with corporations because a lot of the tech companies do R&D, so they understand and appreciate the importance of research and innovation in remaining competitive. But for those who have yet to engage in R&D activities, it is important for them to get involved in innovation in order to build and grow their corporation while realizing how engineers can help them do that. So, part of the activities that we want to do is to have round tables, workshops, and relevant events to help engage, not just the students but the corporate world as well.
One of your goals is to help advance and promote the engineering profession. What are some ways that you have worked towards achieving this goal?
The task force is taking a grass roots approach to engage the engineering community. Some of the work that we have done through the task force is with the student population, as they are future engineers. So last year, we created a student engagement initiative through the task force. Through this initiative, we have developed several ideas of how we can engage students and one of them was through a first-year engineering design course at the University of Toronto. We would engage OSPE members by asking them to bring their real-life industry problems to the first-year engineering students in this design course. The students then have the opportunity to work closely with our members to develop a solution. The students to get to know more about what engineers do, engage with OSPE members as mentors, all while promoting OSPE – who we are and what we do – beyond just a free student membership.
We see from your experience that you have been in a few management positions. Can you speak about how you incorporated diversity and inclusion as a leader?
From an inclusion perspective, it is to value everyone's input regardless of the person's background. Being inclusive to me means that it doesn't matter what your gender is or your background – everyone's input matters. Part of being the Chair, and in my own professional work environment, I have always tried to be a good listener and be open to ideas regardless of a person's background or level of education, and I think that's one of the qualities of being a good leader. I also enjoy working with people from diverse backgrounds. It's a good way to learn from others' experience and bring different perspectives to the situation at hand in order to develop innovative solutions.
Do you have any advice for engineers who are entering the field?
My advice is to broaden your network. If you are a new graduate, then take the opportunity while in school to attend networking events. Once you graduate, build and grow your network. I think that is something you cannot underestimate. You may not be able to see the value of it in the short-term, but it definitely has long-term benefits.
What do you hope the future of engineering will look like?
I hope that in the future engineering will get more recognition as a profession in general. In some parts of Canada, engineering does not get looked upon as a professional career compared to others such as lawyers or doctors. However, the work of engineers has an impact in our everyday life. I hope that engineering continues to build its brand and reputation in Ontario and hopefully the rest of Canada. It doesn't have to be known as prestigious as in a "shiny and ambitious" career type, but I hope that people will recognize engineers as leaders and look to them when it comes to solving problems.
Have any questions for Laura, or have suggestions on other members we should feature? Let us know in the comments below!