The following guest post was contributed by Centennial College.
In November 2018, funding partners and key stakeholders from industry gathered to officially open Centennial College's Innovation Hub in a Scarborough commercial office building located within walking distance of the college's Progress Campus.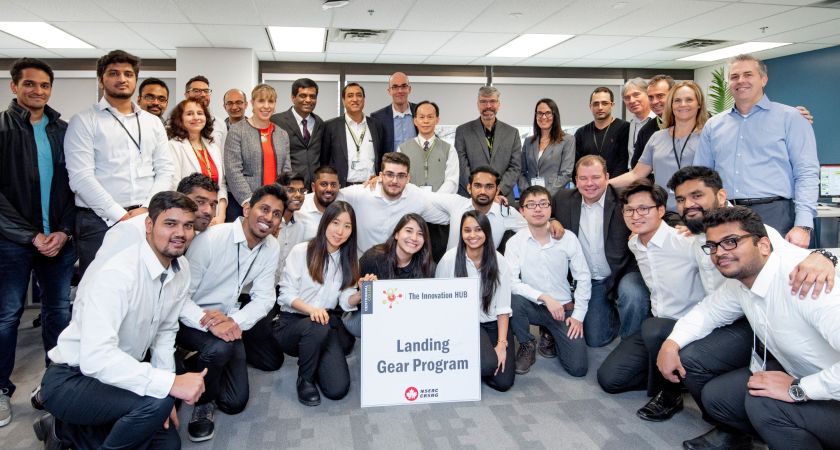 The leased storefront consists of 4,500 sq.ft. of collaborative space tailored for industry-college applied research activities. The space is designed for students to work on industry-led projects in three critical fields: aerospace, health technologies and cybersecurity. College students are paid on a part-time basis for their participation. Among several other projects, they have been using the Hub since September to investigate electrically actuated aircraft landing gear with Safran Landing Systems.
"When the college realized that the research space allotted for this work was too limited on campus, it searched outside for new space to solve the problem," noted Kyle Schmidt, Vice President, Product Development and R&T Engineering at Safran Landing Systems Canada. "We've been impressed with the energy the students have brought to the work… this project provided a great opportunity to find our future employees."
The manufacturer has been working on electrified landing gear for 15 years, and came to Centennial to engage its students in certain aspects of the applied research.
"The Landing Gear research project was an excellent opportunity for the students involved to become familiar with real challenges that our industrial partner, Safran, faces in the highly competitive activity in the aerospace field," says Iulian Radu, Ph.D., P.Eng., Professor, Advanced Manufacturing & Automation Technology at Centennial College's Progress Campus.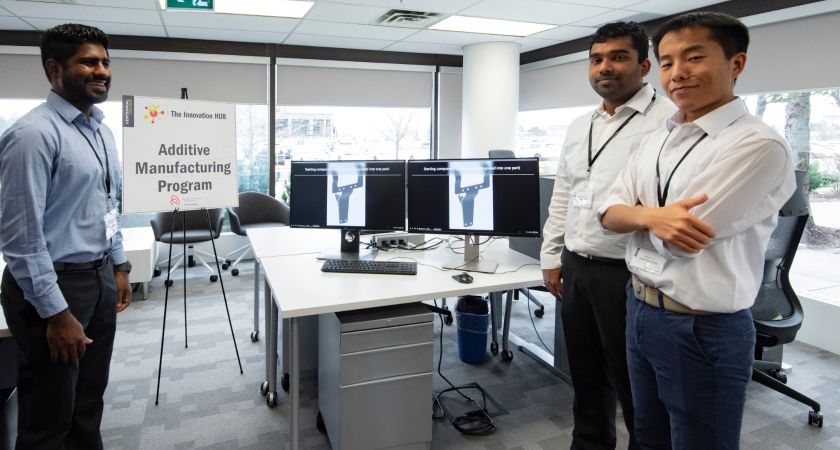 "At the beginning of the project, the students received a three-day in-depth training from our partner and were brought up to speed on the technical background of the related work and, specifically, with concrete questions relative to the prospective research. Throughout the one year of applied research activity on the Landing Gear, the students exchanged information and obtained feedback and guidance periodically in conference calls and presentations from Safran. This made them part of a larger team, working on a real industrial case with engineers from Safran. In the end, the project was a success and the students felt ready to contribute their work towards any similar Landing Gear project and produce new ideas for solving related problems. This is the next generation of innovators."
The Innovation Hub's flexible, open space is conducive to collaborative work between groups of people and can be easily reconfigured. It features a prototyping lab with powerful computer-aided design (CAD) stations, and a cybersecurity lab that is isolated to enable testing in a secure environment.
Cybersecurity is a rapidly expanding field that prompted Centennial to launch a graduate certificate program for college and university graduates looking for a specialty skill set. Centennial also established the Wearable, Interactive and Mobile Technologies Access Centre in Healthcare (WIMTACH), which assists enterprises in the wearable technology sector in the east GTA's innovation ecosystem.
The Innovation Hub is an outgrowth of the college's Applied Research, Innovation and Entrepreneurship Services (ARIES). Centennial College continues to enhance its applied research portfolio, currently ranking seventh in Canada according to Research Infosource's annual ranking of Canada's Top 50 research colleges.
Do you think we'll see more hands-on programs that bring industry and academia together to provide engineering and engineering technology students with hands-on experience? What do you think the benefits are of cross-collaboration?