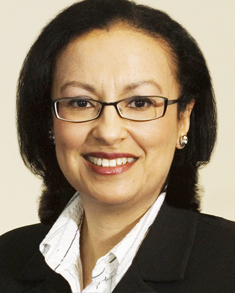 Jeanette M. Southwood, M.A.Sc., P.Eng., FEC, FCAE, QPESA, QPRA is the Vice-President, Strategy and Partnerships, Engineers Canada.
By 2050, it is anticipated that 70 per cent of the global population will be urban. Currently, more than 50 per cent live in cities. Throughout Jeanette Southwood's career, she has demonstrated vision and leadership with a focus on the pressing issues of, and value-creating solutions for, urbanization, sustainability and resilience. She is a sought-after speaker, having shared the stage with mayors, CEOs, NGOs and many others. She is a renowned expert and, with her leadership qualities, she has led visioning, collaboration and action.
In addition to being an invited speaker and panellist at conferences and workshops, Southwood has authored or contributed to articles, book chapters, technical papers, and presentations that detail research, practice, and contributions to the bank of knowledge around urbanization, urban resilience and sustainable development. She has collaborated with experts around the world, and in many different fields, on cutting edge topics. She has helped others to see the big picture, the connections, and the importance of collaboration.
During her time at Golder Associates, a global employee-owned firm of more than 8,000, Southwood was a senior owner, termed "Principal". She led and expanded Golder's largest sector: Urban Development & Infrastructure. Earlier this month, Southwood joined Engineers Canada as Vice-President, Strategy and Partnerships, to lead a team focused on sustaining and growing the profession. A dedicated leader also in her volunteer work, she has served on boards as well as on committees of local, provincial and national organizations.
Southwood shares her knowledge and experiences with young and aspiring professionals, including as an adjunct lecturer at the University of Toronto's Department of Chemical Engineering & Applied Chemistry and also the Department of Physical and Environmental Sciences. Colleagues attribute increases in the number of women seeking engineering careers in part to the leadership and example of female engineers like Southwood, who firmly support equality and respect in the profession.
In her early career, Southwood received the Engineering Medal in the Young Engineer category for demonstrating exceptional achievements and excellence, not only in work, but also in service to the community and the profession. She is now a Fellow of Engineers Canada and a recipient of the province's "Leading Women Building Communities Award". She was honoured as one of Canada's Clean50 2014 for her work and dedication to sustainable development, leading change, championing innovation and changing our world for the better. In 2014, she was also inducted as a Fellow of the Canadian Academy of Engineering, which recognizes engineers contributing in exemplary ways towards their disciplinary fields and the wider community.