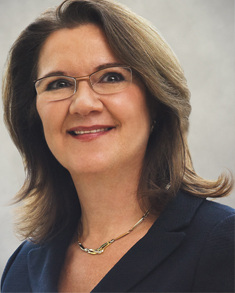 Dr. Cristina Amon, P.Eng., Dean, Faculty of Applied Science & Engineering, University of Toronto Alumni Professor in Bioengineering, Department of Mechanical & Industrial Engineering, is the 2015 Gold Medal winner for her technical excellence, outstanding leadership, commitment to the engineering profession and dedication to community service.
Dr. Amon is a pioneer in developing computational fluid dynamics to formulate thermal designs subject to multidisciplinary constraints and is the first female dean at Canada's premier engineering school. She is an engineering leader whose unwavering commitment to excellence defines her research and leadership accomplishments.
Dr. Amon joined the University of Toronto's (U of T) Faculty of Applied Science & Engineering as Dean in 2006. She is responsible for the administration of more than 750 faculty, researchers and staff, the success of more than 5,000 undergraduate and 2,000 graduate students, and an annual operating and research budget that currently exceeds $250 million. Under her leadership, the Faculty has become a globally recognized intellectual hub for interdisciplinary research and education. It has also achieved record numbers in scholarly awards, research funding and industry partnerships.
In her tireless commitment to innovation, Dr. Amon has spearheaded several programs at U of T that foster tomorrow's engineering leaders: new undergraduate majors and minors, professional master's degree, PhD and mentorship programs. She is also widely known for her diversity and inclusion advocacy in the engineering profession. In 2014, through targeted recruitment efforts, the Faculty reached a historic 30.6 per cent enrolment of women in first-year programs, nearly double the national average.
Dr. Amon co-founded the Society of Women Engineers workshop for female and minority high school students and the SkuleTM Sisters program, which connects female high school students interested in engineering with current female U of T engineering students. Through her leadership, underrepresented and pre-university students are being introduced to the exciting career opportunities available through engineering.
Through her research, Dr. Amon addresses thermal transport in nanoscale semiconductors, energy systems and biomedical devices. She has garnered international acclaim for her pioneering contributions to engineering education, concurrent thermal designs, innovation in electronics cooling and transient thermal management of wearable computers.