"One step equates to fifteen to me." – Luke Anderson, P.Eng.
Luke Anderson, P. Eng., is a born problem solver and civil engineering graduate from the University of Waterloo. After a serious mountain biking crash out west in 2002, Anderson sustained a high-level spinal cord injury that left him paralyzed. Facing a new physical reality, Anderson was introduced to a world characterized by inaccessibility in our built environment. Encountering restrictive entryways everywhere from his workplace to local restaurants, Anderson took it upon himself to open up the conversation about the need for greater accessibility in our society.
In October 2011, Anderson and a team of volunteers used donated building supplies to construct deployable wooden ramps that would allow all patrons equal access to 13 establishments in Toronto. Four short years later, Anderson and The StopGap Foundation continue to challenge societal barriers to accessibility on a national scale with some 800 ramps across the country.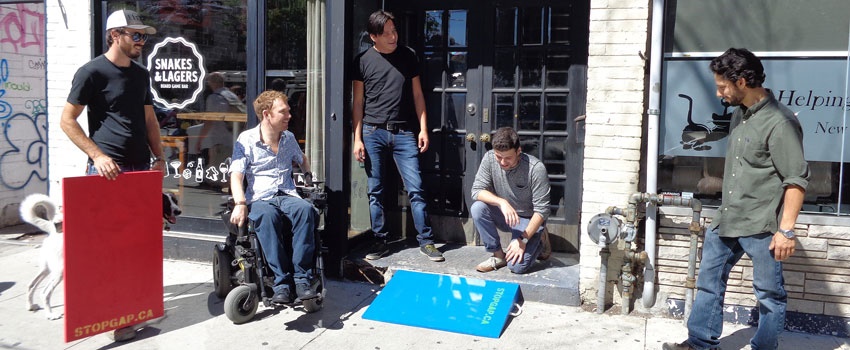 The StopGap Foundation is a charitable organization that designs and constructs "affordable and workable solutions" customized to any entryway. Currently working on a ramp that is deployed at the touch of a button, Anderson and his team are continuously progressing and streamlining the design and construction process to effectively meet a growing complexity of demands.
OSPE had the privilege of interviewing Anderson to learn more about this inspiring initiative and the engineering behind it. Luke Anderson and The StopGap Foundation will be featured as the cover story in the March issue of OSPE's magazine The Voice, so stay tuned for greater insight into the work that still needs to be done to bring equal access to all.
For more information on The StopGap Foundation, watch this informational video, and visit www.stopgap.ca to find out how you can donate or participate.