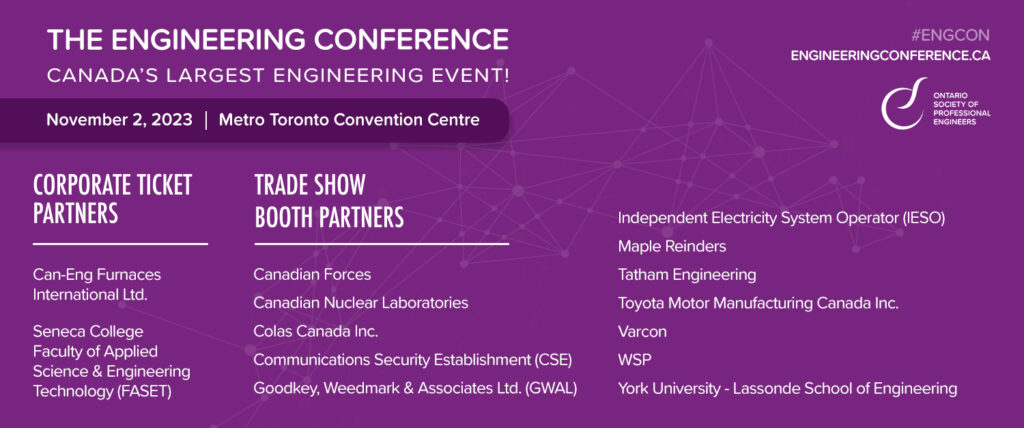 OSPE is proud to announce our second slate of partners for the 2023 Engineering Conference on November 2. We are thrilled to partner with leading industry, government, and non-profit organizations to deliver Canada's largest engineering event.
Trade Show Booth Partners
Canadian Forces
Canadian Nuclear Laboratories
Colas Canada Inc.
Communications Security Establishment (CSE)
Goodkey, Weedmark & Associates Ltd. (GWAL)
Independent Electricity System Operator (IESO)
Maple Reinders
Tatham Engineering
Toyota Motor Manufacturing Canada Inc.
Varcon
WSP
York University – Lassonde School of Engineering
Corporate Ticket Partners
Can-Eng Furnaces International Ltd.
Seneca College Faculty of Applied Science & Engineering Technology (FASET)
The Engineering Conference is OSPE's signature event, and our partners are vital to the day's success. More leading organizations from government, industry, and academia will be announced as partners in the coming months. Stay tuned to OSPE's digital channels for further updates.
EngCon offers an unmatched opportunity for learning, networking, and inspiration. Early bird rates (including free attendance at the day's trade show) are available until September 7. Visit the conference website for complete registration and partnership details: engineeringconference.ca.