OSPE is proud to announce that five deserving members have received the Ontario Women's Directorate Leading Women, Leading Girls, Building Communities Award in recognition of their leadership skills and commitment to breaking down professional barriers for women, particularly in non-traditional careers.
Take a look at some of the inspiring work that these five award winners have done to promote equality and diversity in engineering and STEM studies: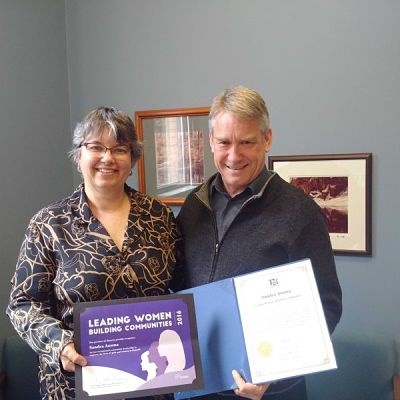 Sandra Ausma is a professional engineer who serves as a Director on OSPE's Board and as the Chair of OSPE's Women in Engineering Advocacy Committee (WEAC). Ausma has used her leadership skills to preside over events like the 2015 WEAC Fall Forum themed Getting a seat and having a voice: The importance of women engineers at the boardroom table. She was elected to PEO's Council in 2012, where she was one of two female professional engineer voices on a Council of 29 members, and during her second year was appointed Vice-President. Ausma encourages female engineers across Ontario to assume leadership positions on both PEO's Council and OSPE's Board of Directors. Her formal and informal mentorship of young women embarking on their engineering careers and her participation over the years in outreach events like school science fairs, bridge building contests, WiSE Engineering Olympics and Go ENG Girl, demonstrate her status as an active role model for young females in her community.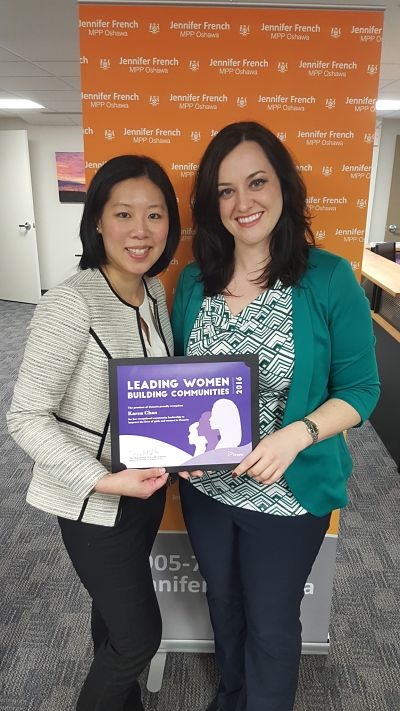 Karen Chan is a professional engineer who has held a number of leadership positions throughout her career. In her former role at Rogers Communications, Chan was nominated to join Rogers' Women in Leadership Subcommittee, which was part of Rogers' Inclusion and Diversity Leadership Council. Outside of the workplace, Chan has assumed leadership roles on bodies such as the Professional Engineers Ontario Lake Ontario Chapter Board of Directors and OSPE's Chapter Liaison Committee. She was also elected President and Chair of OSPE's Board of Directors in 2015. Chan has been an active mentor since her undergrad as a Big Sister in Engineering, working with Western's Ivey Alumni Partnership Program. During her time with General Motors, Chan encouraged fellow female engineers to pursue leadership opportunities within the company, and as is currently a mentor with the Engineering Professional Success Pilot Mentorship Program for Women. Chan sits on the Advisory Council for Western Engineering and serves as International Ambassador for the Society of Women Engineers. She is an active volunteer in her community, leading National Engineering Month activities and participating in initiatives such as Go ENG Girl and Go Code Girl.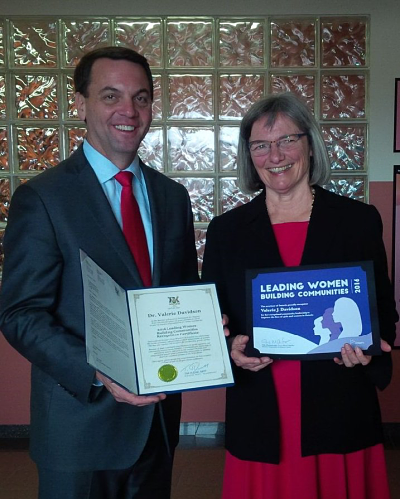 Valerie Davidson is a University Professor Emerita recognized for her contributions to food safety engineering and for her encouragement of women to pursue careers in science and engineering. Throughout her own career, Davidson has supervised the research of over 30 undergraduate and graduate students. She continues to lead in her chosen field through a number of voluntary commitments that include her roles as the founder of the Ontario Network for Women in Engineering (ONWiE); founding member of the Women in Engineering Leadership Institute; and as the Natural Sciences and Engineering Research Council of Canada's Chair for Women in Science and Engineering for Ontario (2003 – 2011). Davidson initiated the Go ENG Girl event in Ontario and is a consultant to the Food and Agriculture Organization of the United Nations. She has also assumed leadership roles on numerous boards and committees, including several terms on OSPE's Board of Directors, as a past Chair of OSPE's Women in Engineering Advocacy Committee (WEAC) and as project advisor to OSPE's Pilot Mentorship Program for women engineers in the early stages of their careers.
Ranee Mahalingam is a professional engineer who has demonstrated her leadership skills in many spheres throughout her 46 years of practice as a civil environmental engineer, and her countless hours of volunteer work. Mahalingam was notably the first woman engineer from the Eastern province of Sri Lanka to graduate from the University of Sri Lanka. Retiring in 2013 after 25 years of service as a Water and Wastewater Engineering Specialist for the Ontario Ministry of the Environment and Climate Change (MOECC), Mahalingam continues to devote her skills and knowledge to a variety of voluntary positions within professional and community organizations including OSPE, Professional Engineers Ontario (PEO) and its Scarborough Chapter (PEOSC), Engineers Canada (EC) and Senior Tamils' Centre of Ontario (STC). In her role as a Board Member and Secretary of STC, Mahalingam both initiated and leads the Clean Air Ambassadors (CAA) program, running presentations and workshops to educate the community on climate change, global warming and everyday practices that can help reduce greenhouse gas emissions. For her volunteer contributions and for rendering conspicuous service the Society, including encouraging young women entering the profession, Mahalingam has been recognized with a number of prestigious awards, such as a Certificate of Distinction from the Ministry of the Environment for her work as a role model to female high school students, and was inducted to the Order of Honor by PEO in 2012.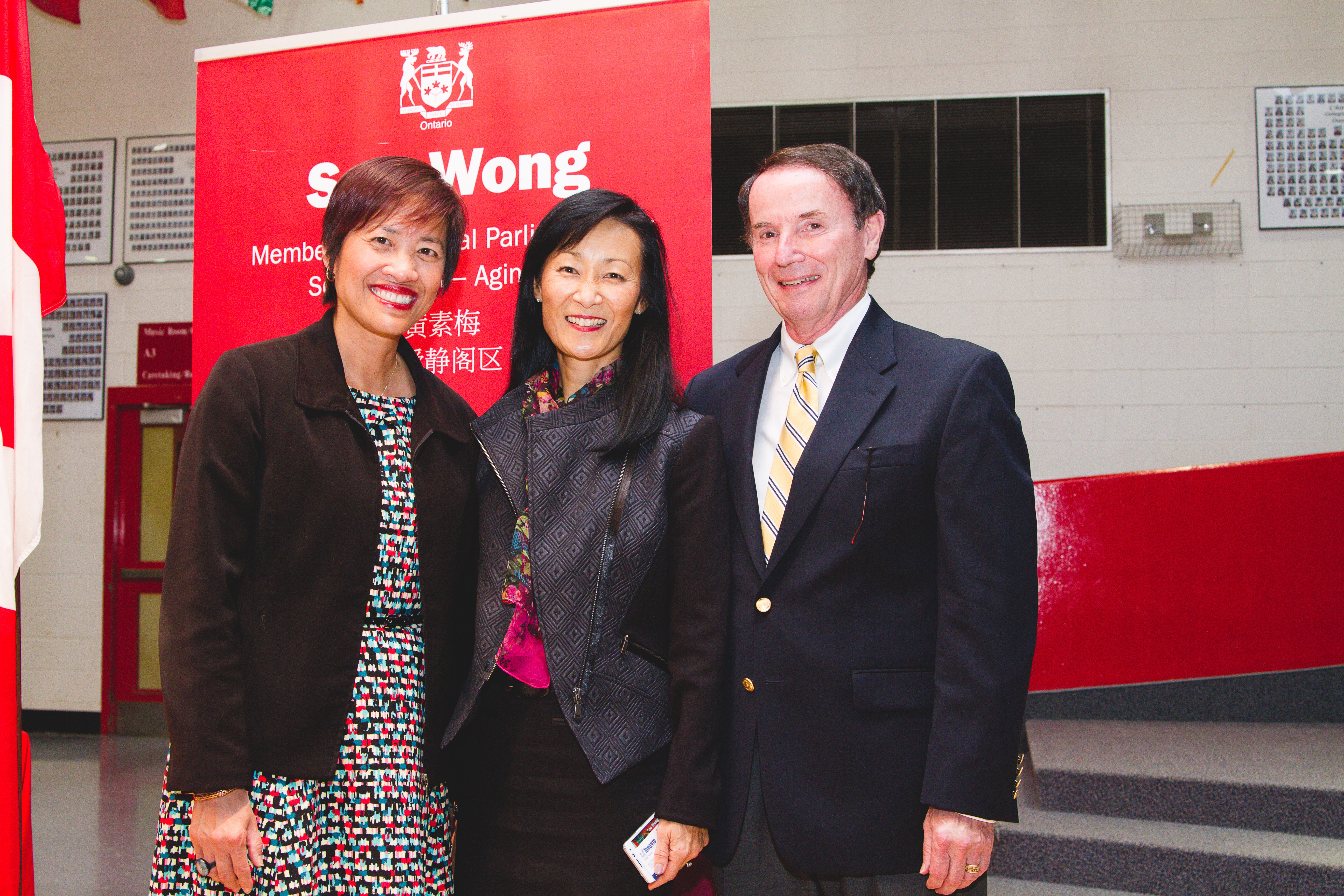 Karen Webb is a board director and business advisor who has used her leadership skills to address the professional barriers that women face, particularly in non-traditional careers. Webb was the founder of the Rogers Diversity Committee and ran Rogers' team-based mentoring program. She is also the Chair of the Board for Microskills, a non-profit organization that assists the unemployed, with a focus on women, youth and newcomers. Webb's leadership skills have shone in many capacities at Microskills, particularly through her active role in Microskills' Women in IT and Women in Skilled Trades programs. She is also a part of Microskills' STEM awareness program for high school girls, in partnership with CHM2Hill Canada. In addition to assuming a multitude of informal mentorship roles and volunteering with CSPN, WiSE and Go ENG Girl, Webb is also the Vice-Chair of the Seneca College Board of Governors, the Chair of the Seneca College Affairs Committee and was a past chair of OSPE's Women in Engineering Advocacy Committee (WEAC).
Do you know any other women in science and engineering who are positive role models for women and girls in your community?
Nominate someone today by getting in touch with your local MPP's office for more information.