In honour of Canada's 150th anniversary, the following guest post was written by OSPE member Robert (Bob) A. Goodings, P.Eng., CEF, to highlight the pioneering work of Ontario engineers in municpal wastewater and potable water treatment systems.
In 1951, Robert Goodings graduated from Queen's University with a B.Sc. in civil engineering. Immediately following his graduation, Goodings became a Junior Engineer at the consulting engineering firm Gore & Storrie (G&S) in Toronto. Over the course of his 45-year-long career with G&S, Goodings became President, CEO and Chairman of the Board. He remained with the company until 1996, at which time he became a consultant on overseas projects in the Philippines, Bangkok, Puerto Rico and Mexico.
When I recall my days as an engineering student in Kingston, Ontario, I wouldn't describe walks along the city's waterfront as particularly "romantic". At the time, Kingston's waterfront was notoriously unattractive, littered with "recognizable objects" and other floating debris. All sanitary waste from the city's sewer system flowed directly into Lake Ontario without treatment. Not only was it quite unpleasant when the wind blew ashore, but many Queen's students also became ill from drinking the city's water, which was taken directly from the harbor and simply treated with chlorine.
All this changed when G&S was commissioned to design and construct a sewage treatment plant for Kingston – one of my first projects with the company – including a new system of sewers, pumping stations and force mains, as well as a modern water filtration plant to treat Lake Ontario water.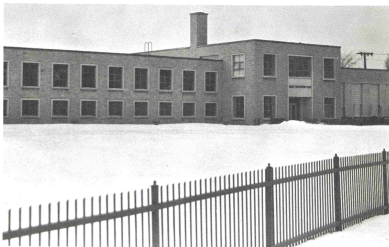 In 1951, about 80% of raw sewage from municipalities across Canada was discharged directly into the country's freshwater lakes, rivers and surrounding oceans without being treated. Consequently, many other municipalities also turned to G&S to establish their local water treatment facilities. Archived engineering job listings from G&S illustrate that between 1909-1998, G&S was responsible for the design and construction of at least 33 water purification plants and 100 sanitary sewage treatment plants across Canada and the United States, as well as about five treatment facilities for McCain Foods in Europe.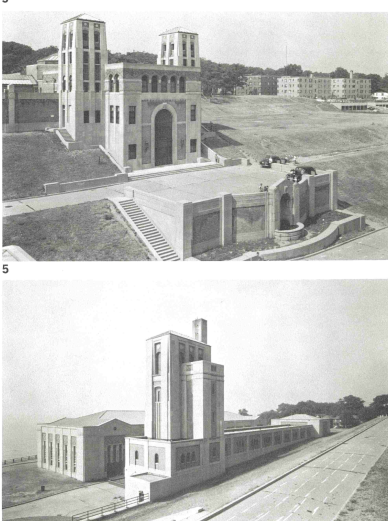 In Ontario alone, G&S constructed water treatment and sewage plants for communities on Lake Ontario, Lake Erie, the Ottawa River, Niagara River and Detroit River, to name a few. The architecturally acclaimed R.C. Harris Water Treatment Plant, which continues to provide safe drinking water to Toronto and York Region, was declared a national historic civil engineering site in 1992 and is only one example of the critical infrastructural work carried out by G&S.
Ontario's professional engineers quickly became the Canadian leaders in the construction and operation of potable water and wastewater treatment plants, particularly with the establishment of the Ontario Water Resources Commission – the first agency of its kind in the world – in 1956, and the Ontario Ministry of the Environment, which was originally established as a portfolio in the Executive Council of Ontario in 1972.
The following excerpt from an article by Tom Davey, editor of Environmental Science & Engineering Magazine, describes the origins of the Ontario Ministry of the Environment and Climate Change, including the pioneering role of Ontario's own Dr. Albert E. Berry, P.Eng., in the advancement of the wastewater and water treatment industry in Ontario, Canada and the United States.
Was President Eisenhower the godfather of the Ontario Ministry of Environment (MOE)?
In 1953, Vincent Massey, then the Canadian Governor General, invited Ontario Premier Leslie Frost and his wife to a small, informal dinner at Government House in honour of US President Eisenhower. A chance remark at this small gathering was to profoundly affect water resource management in Ontario…
President Eisenhower took the Premier by the shoulder and told him: "You really should remember this, that really pure water is one of your greatest assets. But when you've got a lot of it, you don't think about it. We have ruined ours in the States with our growth of population so that the great beautiful rivers that flow into the Atlantic and down through the Mississippi Valley and so on are contaminated. You have a great country with great possibilities so don't let them ruin your water."
That night Premier Frost conceived the idea of the Ontario Water Resources Commission (OWRC)." However, such an organization had also long been the dream of Dr. Albert Berry who had already been working tirelessly behind the scenes to improve public health and environmental facilities.
At a meeting on November 15, 1955, consideration was given to the provision of sewerage systems in conjunction with water supply systems. Dr. Berry remarked that…the two could not be disassociated. He suggested it would be the responsibility of the Committee to make sure that adequate sewerage facilities were installed by municipalities obtaining new water supplies. Dr. Berry was to build the OWRC into one of the most effective environmental government bodies in the world and a firm foundation for the subsequent Ontario Ministry of Environment.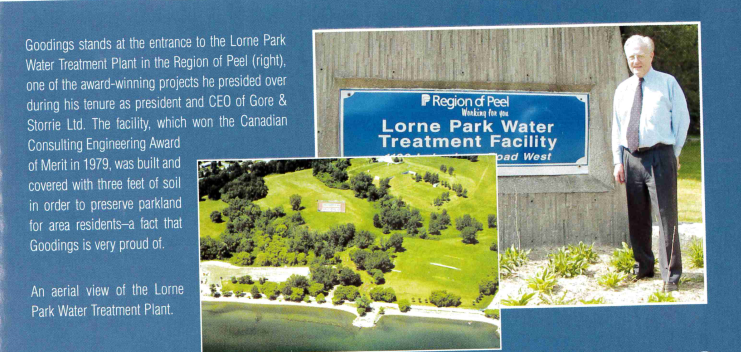 Today, almost all communities across Canada now have modern potable water supply plants and sanitary sewage treatment plants thanks to the pioneering efforts of G&S and many other firms who turned engineering drawings into public health masterpieces.
I would like to praise my associates at G&S for their leadership in this field, including William Storrie, William Gore, Norman McDonald, John Powell, John Argo, George Crawford and Ronald Simmons, the many municipal engineers who contributed to local projects, as well as the engineering leaders in the Ontario Water Centre (OWC) and MOE. The leaders at MOE, along with Dr. Berry, included Fred Voege, Dave Caverly, Ken Sharp and Len Owers.