National Engineering Month – a time to recognize, celebrate and share what engineers do everyday to improve our quality of life, protect the public's safety and drive the economic growth of the nation. We're just over a week into NEM and there has been no shortage of engineering excitement.
OSPE got an early start on NEM by co-hosting the Engineering Awards Gala with the Hamilton-Halton Engineering Week Committee on February 27th at the beautiful Winona Vine Estates. Four projects were recognized for their engineering design, improvements to regional infrastructure, community access and innovation. Congratulations to the following projects and companies for winning their respective categories:
Infrastructure-Transportation winner: the Concession Street Project – City of Hamilton, Dillon Consulting Ltd. and Dufferin Construction
Markham Road Overhead Structure Rehabilitation Project
Innovation Project of the Year: Nix Colour Sensor Ltd.
Boyne Trunk Sewer Project: Halton Region and Dillon Consulting Ltd.

On March 1st, OSPE attended an interactive workshop where representatives from Siemens, Canadian Manufacturers and Exporters (CME) and Employment and Social Development Canada introduced participants to the Work Integrated Learning Program (WILP), which has been implemented by Siemens Canada as part of their Siemens Canada Engineering and Technology Academy (SCETA).
In May, the WILP Pilot launched at SCETA with five university and colleges in Ontario and Alberta and inducted the first 30 students from over 400 applicants. These 30 students have progressed into Year 2 and a second group of 30 students have since been enrolled. In Year 2 of SCETA, the students are immersed into technical training programs where they learn to relate their technical skills to everyday workplace applications. Robert Hardt, CEO of Siemens Canada believes that employers need to take an active role in the development of their engineers.
Siemens Canada has also granted software licenses for advanced manufacturing and factory automation worth $300-$400 million to a number of post-secondary institutions. Siemens understands, however, that in addition to their technical competencies, engineers need strong soft skills, so first year Academy students study communications, interpersonal skills, teamwork, empathy and problem solving.
Jayson Myers, CEO of CME, spoke on the importance of the manufacturing industry to Canada and that it's strength lies in it's ability to design, innovate and develop new technologies. He stated that Canadian manufacturers will consequently need skilled engineers in order to compete globally. OSPE certainly concurs and will continue to discuss collaborative ways to connect Ontario engineers with manufacturing employers looking for skilled professionals to modernize their workplaces.
Attendees also heard from students currently enrolled in the Academy, as well as other industry reps who spoke about the applicability of the WILP program in their fields. It is extremely evident that Ontario's engineers are highly sought after by many industries, sectors and companies for their high-quality training and innovation.
The month's engineering spirit was only amplified by the next NEM event – Purple Power at the CN Tower to officially launch National Engineering Month. Hosted with NEM Partners, Professional Engineers of Ontario (PEO), the Ontario Association of Certified Engineering Technicians and Technologist (OACETT) and Engineers Without Borders (EWB), representatives from the Engineers Student Societies Council of Ontario (ESSCO) and their member engineering schools created a Rube Goldberg Machine to flip a switch that lit the CN Tower purple, celebrating the accomplishments of engineers.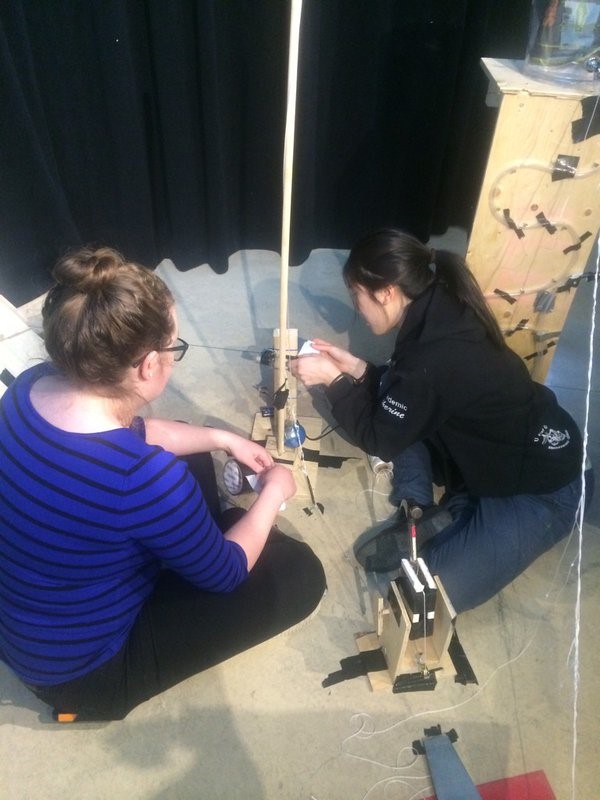 During the Tower Talks portion of the evening, those in attendance then heard from members of the CN Tower's original design team, who shared stories on how their vision of building the world's tallest free standing structure became a reality some 40 years ago.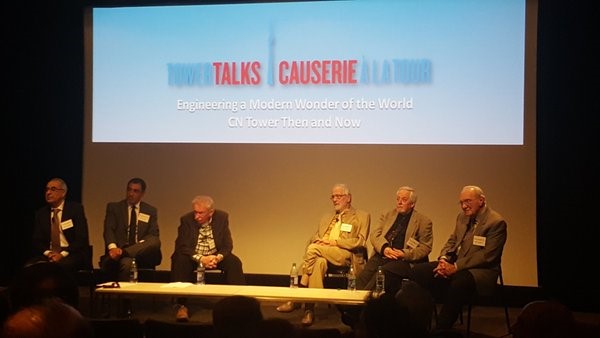 The excitement continued the following night with the Engineering Innovations Forum, held in Toronto at the Toronto Botanical Gardens. In a discussion moderated by Michael Wise from CBC News, OSPE Board Member Dr. Milica Radisic, P.Eng., was one of the event's speakers. Radisic shared her work on cardiac tissue engineering and regenerative medicine. Her research focused on pursuing molecular mechanisms governing the formation of contractile cardiac tissue in vitro as well as on practical strategies for treatment of myocardial infarction and heart failure through development of new biomaterials.
Last but not certainly not least, on March 3rd, OSPE CEO Sandro Perruzza and former President and Chair Paul Acchione, P.Eng., along with Ashrith K. Domun, the Founder of Hydron, presented at the University of Toronto PrO Policy Hive. Titled, "Alternatives to Energy Storage: Can transportation electrification play a supporting role?", the event invited students, a panel of experts and members of the professional community to explore alternatives to grid-to-grid energy storage. The focus was primarily on transportation electrification, but other ideas were also discussed, such as new business models and ideas about how to capitalize on low cost, clean off-peak power to grow the local economy.
With an opening to National Engineering Month like this, you can only imagine what's in store for the remainder of March. OSPE is looking forward to all the events and excitement ahead!