In honour of National Volunteer Week, we're celebrating all of our OSPE volunteers and the crucial role they play in elevating the engineering community.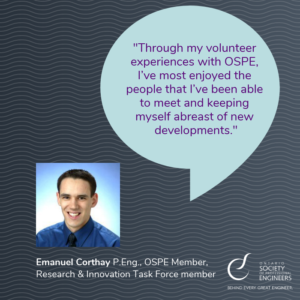 OSPE volunteers are vital to the work that we do everyday. Since the inception of OSPE, our members and volunteers have been helping us make the Society's advocacy work and wins a reality. We are extremely fortunate to have the support of many enthusiastic volunteers who generously donate their time and expertise to help ensure that OSPE can continue raising awareness about the critical role that engineers play in driving innovation, boosting our province's economic potential and improving our overall quality of life.
And this year's National Volunteer Week is about just that – celebrating those that are lifting up their communities. This is something OSPE volunteers have been consistently doing for the engineering community since OSPE started.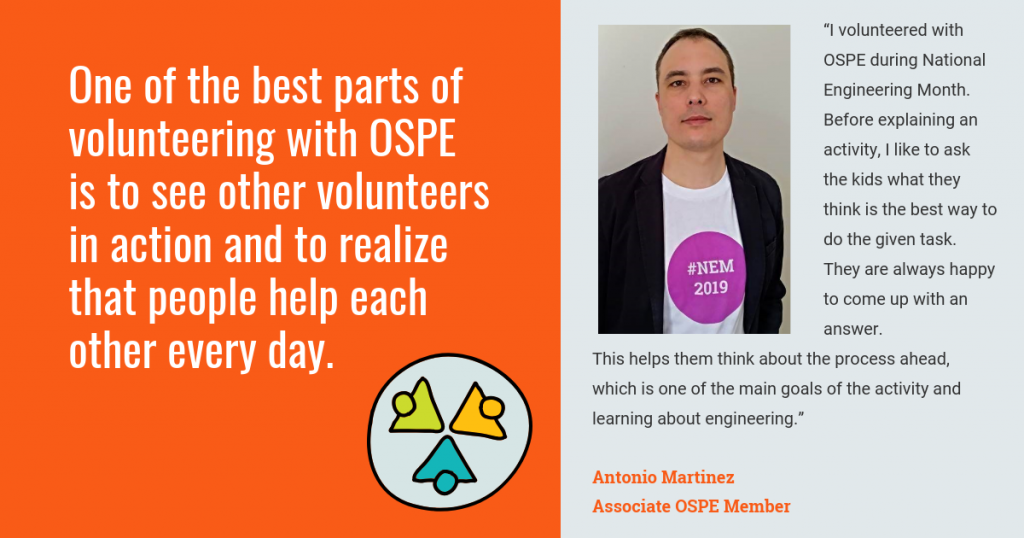 Although most volunteers give their time for altruistic reasons, research shows that many volunteers do so as a way to develop their skills. Volunteers say that while volunteering, some of the skills they develop are: interpersonal skills, communication skills, organizational or managerial skills, general increased knowledge, fundraising skills and technical skills.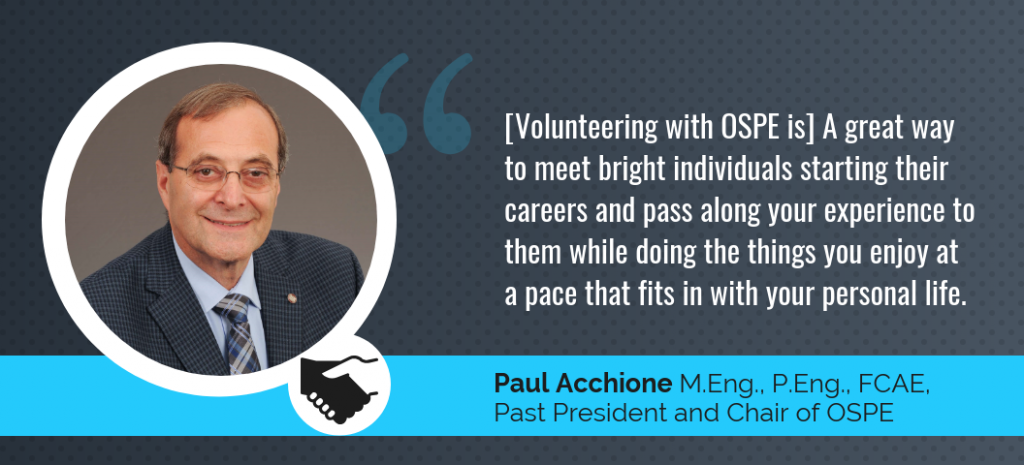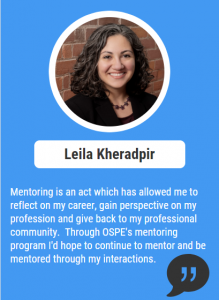 On top of developing skills, OSPE volunteers inform our advocacy work and objectives, help guide the Society's activities and priorities and carry our message to their communities and networks. In return, OSPE strives to provide our members with meaningful opportunities to put their expertise to good use beyond their professional roles.
Some of the opportunities OSPE provides for volunteers are:
Board of Directors – be a leader in the profession and run for OSPE's Board of Directors;
Committees and Task Forces – join like-minded individuals and prepare government submissions, organize events and guide OSPE's activities;
Events and Trade Shows – lend a helping hand by volunteering at a school career fair or by representing OSPE at an industry trade show. Becoming an OSPE Event Ambassador is a great way to support your profession;
Mentorship Program – become a mentor and support mentees who are recent engineering graduates and in the early stages of their careers;
Speaker's Bureau – interested in spreading your message? Become an OSPE Speaker and share your experiences with others;
Student Ambassadors – take your student membership to the next level by gaining valuable experience as a student ambassador;
Subject Matter Expert (SME) – are you an expert in your field? Identify yourself as a Subject Matter expert and share your passion and expertise.
For a full list of OSPE's volunteer opportunities, visit our Ambassador Program page.