Jaime A. Libaque-Esaine, MBA, P.Eng.
For Jaime A. Libaque-Esaine, a long-time engineer with Ontario Hydro and lifelong volunteer and mentor, citizenship has been an integral part of life for 38 years.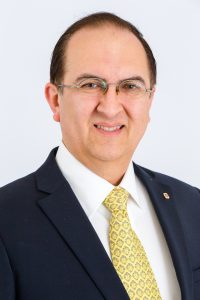 Following his immigration to Canada in 1981, and licensure as professional engineer in 1982, Libaque-Esaine embarked on a 31-year career with Ontario Hydro (and successor companies), beginning as a junior engineer-in-training and retiring as a senior project manager, managing multi-million projects and supervising as many as 80 people. Throughout his career, Libaque-Esaine participated in research projects, co-authored papers, trained junior engineers and co-workers and developed operational policies. As a senior planning engineer he prepared business cases and oversaw the investment in transmission assets. 
Throughout his life, he has also immersed himself as a volunteer and community leader. Starting out with volunteer service within his own Peruvian-Canadian community, he soon joined the Canadian Hispanic Congress, an umbrella national organization aiming to improve the lives of Hispanic-Canadians, where he was elected its president for Ontario. While advocating on a wide range of issues (social service, maintaining culture, access to trades and professions, etc.), he worked tirelessly with more than 70 ethnic-based organizations. As a founding member of the Hispanic-Canadian Professionals, he organized a project to assist international engineering graduates attain licensure with PEO.  
As a member of the St. Lawrence Martyr Parish for the last 25 years, he has been actively involved in many church-related projects, including chairing a "Family of Faith" fundraising campaign for the parish and Archdiocese of Toronto, which raised $510,000. As a founding member of the Knights of Columbus St. Lawrence Council in Scarborough in 2003, he has helped grow the organization and led the development of 20 programs benefiting the local Scarborough community; and the Knights of Columbus. He is the recipient of several awards including the Ontario Citizenship Award; the University of Toronto Jane Tyreman Award, the Inergi/Capgemini Star Performer Award and the Knights of Columbus Star Council Award for three consecutive years.