All professions struggle with the gap between academia and industry, and engineering is no different. A group of engineers and researchers at McMaster University, based in Hamilton, Ontario, are hoping that their efforts during the COVID-19 crisis can close that gap and show the ways that the profession can come together.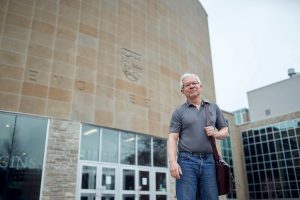 As Dr. John Preston, Associate Dean of Research and External relations at the Faculty of Engineering, tells us, it was as the crisis began escalating in Iran and Italy that "it became clear that it [COVID-19] was going to be a Canadian problem." Preston recalls at the same time stories about the Federal government contemplating solutions for a shortage in masks, general PPE materials, and disruptions to the supply chain began circulating. As the industry began searching for solutions, the scale of the problem became clearer. The PPE problem was going to be a wide-ranging Canadian problem, and any response needed to match it in scale. "The Hamilton Health Services needed 5,000 [masks] a day. St. Josephs needs 5,000 a day. It's not practical or effective [for us to sew masks]. They need a large number and for them to all work."
It was here that the gap between academy and industry could be closed—the team of engineers and researchers at McMaster could use their expertise to help develop masks that met a rigorous standard and assist in providing a manufacturing solution. "We had manufacturers coming in who didn't have a background in filtration, who knew about manufacturing, but needed help in design of their product. So we became consultants in terms of their design. We would also do their tests.
All of this is calibrated against where we're at in terms of the crisis. We know we need masks for long term facilities, for homeless shelters, we're going to need them for a much broader cross section as we go forward.
Anything that is medically certified has to go to the people that need it—people treating those with COVID symptoms." As Preston explained, their aim was to help companies who could make up for this shortfall in masks in other areas—for those who are concerned about their wellbeing when going grocery shopping, for example, or spending time with family. "We want to work with those companies that are interested in quality control and being forthright about what their product does and who are going to be diligent in improving their product. As a university, we're most interested in working with manufacturers who are being innovative."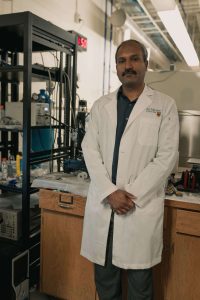 Preston's colleague in the university, Dr. P Ravi Selvaganapthy, Professor and Canada research chair in Bio microfluidics in the Department of Mechanical Engineering, helped lead much of this testing by consulting with a diverse cross section of professionals. "It started with a colleague of mine, Alison Fox-Robichaud, who is a physician in the critical care department at Hamilton General Hospital. We were having a discussion about how supply chains could break down. She asked if it's possible for engineering to help."
As Selvaganapthy explains, their response was to put together a team to begin assessing the problem, and quickly realized that testing of filtration materials was going to be a serious issue. Most of the material that manufacturers used was new and had to be tested for effectiveness, and ordinarily, most of that testing went to the United States—which was in the process of rapidly shutting down their testing facilities to other countries.
"More specifically, the material that does the filtration was in short supply. You couldn't source it." And because of this, companies were sourcing alternative, untested, materials to continue creating masks. Selvaganapthy and the team of engineers at McMaster realized that this is where they could step in as an engineering faculty; it would be easy and efficient for them to set up a testing facility.
"You need a continuous testing process. It's not like the normal process where you know the products will be reliable because the need that you have to keep switching materials."
Selvaganapthy and his teams put together an array of tests to check for breathability, comfort, protection from droplets, and the many other factors that are needed to create reliable and functioning masks. They worked across departments and teams to create their testing labs, coming quickly together to respond to the crisis.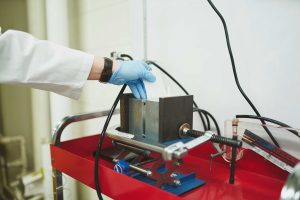 Selvaganapthy reports that they are now in the process of helping 25-30 companies. Some of them are built on existing relationships. For example, a company that they had been working with to make needle-resistant gloves pivoted to mask-making once the need arose. Other companies are clothing manufacturers and the like who are adept at processing, but need the technical knowhow to produce products that have a guaranteed level of reliability.
From this crisis, Selvaganapthy imagines new, progressive developments being created, saying, "with this momentum we want to move forward by forming a 'centre of excellence in this area.'" And imagines a research and development core in the Hamilton area that focuses on PPE equipment in many different areas, as we move towards our "new normal" in post-pandemic life.
While the COVID-19 pandemic continues to wreck havoc across the world, OSPE is proud to see engineers unite, care, and lead to respond to the crisis. Academia and industry have had historic differences in priorities, but we are proud to see instances in which they put this aside to work together, and prove that engineers are more than able to lead with a stable, guiding hand, by prioritizing evidence-based solutions in times of need.
For more on COVID-19 and its affect on engineering in Ontario, visit our COVID-19 news page.