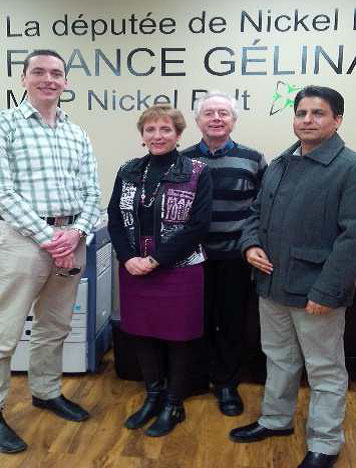 Introducing David
After I became a Professional Engineer in Ontario, I joined OSPE to gain access to the advocacy mandate of the Society and to help other engineers in need of some direction. In 2012, I was asked to join OSPE's Board of Directors and I became Vice Chair in 2013. I have been a member of the Political Action Network for about 5 years.
What are the major issues in your community?
The two issues that have become touchstones in the last couple of years have been transportation infrastructure, including rail safety, and the Ring of Fire mining venture in Northwestern Ontario.
Much of the debate at Queen's Park surrounding transportation requirements for the province relates to the Golden Horseshoe corridor. Adding a northern perspective to such debate is important for Northern Ontarians but is often overlooked by southerners.
The Ring of Fire has been top of my list of missed opportunities for the last three years or so. The topic has been raised with the local member of the New Democratic Party who supports OSPE's position to get more understanding to the table and encourage government to begin investing in this multi-billion dollar opportunity. The Ring of Fire happens to be a singular issue that has spin-off benefits in many areas, including the development of infrastructure and communications lines and increasing opportunities for First Nations communities.
What are some key characteristics about your community?
The strength of Ontario's mining industry is poorly understood by southerners. Northern Ontario has the largest area of any "municipality' in the province, probably in the country, and a relatively small population, but rather high taxes.
What have you discussed with your MPP as a PAN representative?
The first meeting relating to the Ring of Fire was a joint meeting with my local MPP, PAN members, and a representative of Professional Engineer Ontario's Government Liaison Program (GLP). Together, we represented engineers in the mining industry and reviewed the then-current Ontario Chambers of Commerce's documentation on the Ring of Fire.
The MPP felt strongly that the Government of Ontario had not spent enough time and effort lobbying the federal government for more assistance in the overall development of the Ring of Fire.