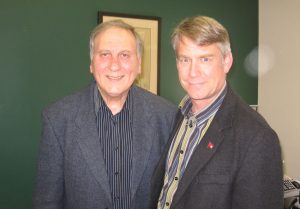 Introducing Jim
I moved to Ontario from the United Kingdom in 1977 to join Ontario Hydro where I worked mainly in the area of power system planning and operations. I retired from Ontario Hydro in 2000, but continued to work independently as a consultant in power system planning and engineering for several years. I currently volunteer my services as an Energy and Environment Consultant with an emphasis on technologies for the mitigation of, and adaptation to, the impact of climate change. I have been a member of PAN since its inception in 2006.
What are the major issues in your community?
Muskoka is known as prime cottage country because of its beautiful scenery, crystal clear lakes and rivers, and tourist attractions. As a result, infrastructure developments that threaten the environment or the tourism industry, such as the planned hydro plant development at Bala Falls, are controversial.
Another issue facing Parry-Sound Muskoka is the high cost of electricity, which makes it hard for Muskoka to compete with other jurisdictions to attract new industries and businesses to the area.
A more recent issue is the long-term planning and location of hospitals and health centres in the Muskoka/Parry Sound areas. This is of particular concern given the high proportion of seniors who live in these communities or moved to the area for their retirement.
What are some key characteristics about your community?
The main towns in Muskoka are Huntsville (population of 19,000), Bracebridge (population of 15,400), and Gravenhurst (population of 11,600). The area is well connected to the Greater Toronto Area (GTA) via Highways 400 and 11.
The tagline for Muskoka is "Once Discovered, Never Forgotten" and it has been ranked by National Geographic as one of the most attractive tourist areas in the world. Its many unspoiled lakes and rivers offer both summer and winter leisure activities. The brilliant fall colours in Muskoka are another prime attraction. Established in 1955, Santa's Village is a well-known amusement park and campground near Bracebridge that has provided thousands of youngsters with happy memories. It is also known for its high quality resorts and great restaurants.
What have you discussed with your MPP as a PAN representative?
Along with Greg Merrill, P.Eng., a representative of PEO's Simcoe Muskoka Chapter, I met with MPP Norm Miller in April 2014. The Ring of Fire mining development and the many mining challenges it presents was a main topic of discussion. MPP Miller visited the Ring of Fire area and was very much aware of these issues. My engineering experience and the need to consider factors such as feasibility, performance, cost, affordability, reliability, safety, security, and sustainability of projects helped me in presenting and discussing such topics.
As a PAN representative, I have the opportunity to meet with my local MPP, raise awareness about key issues impacting the engineering profession at the local and provincial level, and inform my MPP of the work and resources OSPE can provide our MPP.