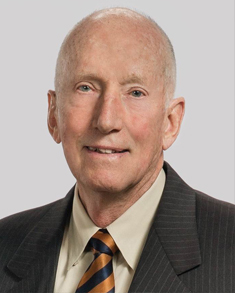 Michael Butt has been a leading figure in the international engineering community since starting his first construction company as an undergraduate at the University of Toronto. Since then, he has enthusiastically committed over 50 years to the construction industry, using his entrepreneurial spirit and management skills to build his own companies while continuously championing change and innovation within the engineering profession.
Rising through the ranks quickly in his early career, Butt had the opportunity to work internationally as a managing director with Mitchell Construction Canada. In Barbados, he introduced Canadian materials and construction methods, brought in the first hydraulic crane, introduced the use of drywall and initiated critical path method scheduling, which he has continued to use and champion throughout his career. Following his transfer to Johannesburg, South Africa, he spearheaded the use of table forms to revolutionize building timelines, and formed a trowel plastics company that originated acrylic plaster, now used in many modern buildings.
In 1979, he started Buttcon Limited, a 100 per cent employee-owned Canadian general contractor that he has grown into a $150-million a year entity. Clients and employees attribute the company's success to Butt's commitment to outstanding management practices based on a set of fundamental concepts: results orientation; customer focus; leadership and constancy of purpose; management by processes and facts; people development and involvement; innovation and improvement; partnership development; and public responsibility. The company has successfully completed many high profile projects, including the restoration of Queen's Park and the conversion of Maple Leaf Gardens into a multipurpose facility with a Loblaws grocery store and Ryerson University's athletic centre. It is currently working on the restoration of St. Michael's Cathedral on Church Street in Toronto.
His dedication to outstanding management practice and excellence in engineering was particularly evident when, as elected chair of the board of directors of the Greater Toronto Airport Authority, Butt presided over the $4.4 billion expansion of the Toronto Pearson International Airport, one of the largest infrastructure projects in the country, on time and on budget.
Congratulations!