The following guest post was contributed by our friends at The Ontario Association of Certified Engineering Technicians and Technologists (OACETT).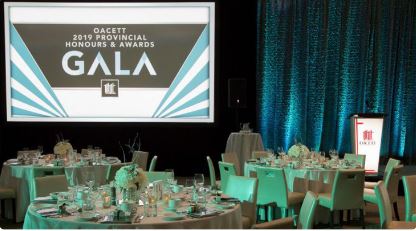 With the holiday season approaching and the end of the year drawing near, it's important to step back and think about the achievements and milestones completed throughout the year.
Every two years, OACETT holds a gala that honours and commemorates those who have significantly impacted the technology industry. The Provincial Honours and Awards Gala, which takes place next fall, is a special evening that brings the engineering and technology community together and celebrates the industry's successes.

OACETT is now accepting nominations, for anyone who is an industry professional, educator and volunteer. This could be you, a colleague or mentor.
The award categories are as follows:
—
Life Membership (Members)
Honorary Membership (Non-Members)
Outstanding Technical Achievement Award (Members, Non-Members, Groups)
George Burwash Langford Memorial Award (Members)
Thomas William Hopson Memorial Medal (Members, Non-Members, Groups)
Outstanding Educator Award (Members, Non-Members)
Distinguished Service Award (Members, Non-Members)
Blake H. Goodings Memorial Award (Members, Non-Members)
Outstanding Community Service Award (Members)
Publications Award (Members, Non-Members)
Why Nominate?
—
This incredible award program is the only peer-recognized engineering technology award in Ontario. Winners receive professional recognition, and are validated for their achievement.
Nomination Benefits:
—
Nominators of the 2018 award winners will receive a complimentary ticket to the gala, and a chance to celebrate with like-minded industry professionals, and their nominee. Also, as a nominator, your encouragement will have an everlasting impact on your team and further their motivation to strive for excellence.
This award raises the profile of the industry and is a great asset to an individual's CV and a company's portfolio.
Learn more about the Provincial Honours and Awards program, download a nomination form, or visit the OACETT website.
Entries must be postmarked or emailed to asierra@oacett.org by:
December 31, 2018.
—
Join OACETT in our tradition of celebrating excellence in engineering technology and applied science!