OpenText is an Enterprise Information Management (EIM) software and services company founded in Waterloo, Ontario, that is finding its core products in high demand during the COVID-19 pandemic. As Sales Director of Customer Experience Management Professional Services, Michael Monette explains, "Many of our customers are on the front line facing the COVID-19 challenge and EIM products are allowing them to communicate with each other."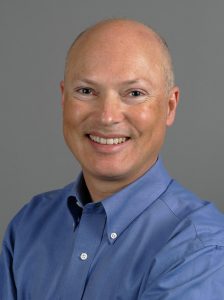 Monette is a past OSPE president, who joined OpenText as Business Development Executive before moving to Customer Experience on a global level. He began his engineering career as a student at Carleton University, and always found himself drawn to new business start-ups, and so pursued his MBA.
One core offering that OpenText provides is an enterprise content management platform with workflow functionality. When conducting clinical research trials, pharmaceutical companies create thousands of pages of data, research, and information that must be parsed, examined, and peer reviewed. On top of the large volume of data, the data is constantly in flux, as new information and research evolves. This is especially apparent in a pandemic like COVID-19, where many groups of scientists are working to create a vaccine and the question becomes: how can they share data to effectively collaborate?
OpenText's software digitizes the process, organizing the information and making the thousands of pages easy to share. This creates a fully collaborative content management environment that allows labs to rapidly prepare clinical tests for peer submission and approval, and decreasing the time needed to bring vaccines to the market.
Alongside their core projects, OpenText is also running a program called SHIELD as part of their COVID-19 efforts. A key feature of this is a $2M US donation matching program that encourages employees to donate to a charity of their choice, for which OpenText will match the dollar amount.
OpenText has continued onboarding new clients during the COVID-19 pandemic, particularly those who are seeking help in managing their clinical trials and research. By smoothening the information flow process, and creating a system for easy updates and annotations, OpenText hopes to contribute to an eventual vaccine for COVID-19—Monette is proud to share that their software has been used in vaccine trial testing against COVID-19.
OpenText recently published a whitepaper on the change in working habits as a result of the pandemic. You can read that here.
OSPE is proud to share the contributions of its members in the fight against COVID-19. As many organizations retool and reorganize to fight the pandemic, we are happy to see organizations like OpenText utilizing sound engineering principals to assist companies in the health field. OpenText's existing products being utilized is a great example of our strategic pillars to Lead, Care, and Unite.
For more on COVID-19 and its affect on engineering in Ontario, visit our COVID-19 news page.