The academic year may be over – but as summer approaches, OSPE's schedule of events is in full swing. Yesterday, we welcomed Ontario's engineering community to the Angus Glen Golf Club in Markham for the 2023 OSPE Classic Golf Tournament. This signature fundraising event provided an afternoon on the links and raised over $15,000 to support the Ontario Professional Engineers Foundation for Education (FFE).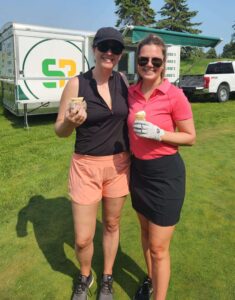 "The OSPE Classic is something I look forward to all year," said OSPE CEO Sandro Perruzza. "Enjoying a round of golf on a world class course, connecting with members, and raising thousands of dollars for Ontario engineering students – there's no better way to spend a spring day."
After registration, lunch, and opening remarks, the tournament officially kicked off with a shotgun start. Across 18 holes of golf, guests were also treated to burritos, soft serve ice cream, trick shots from professional golfer Todd Keirstead, and a helicopter ball drop raffle.
Following the afternoon program, golfers retired inside for the evening's dinner and silent auction. OSPE President and Chair Stephanie Holko, P.Eng., delivered official remarks and announced the winners of the day's awards – including Closest to the Pin, Longest Drive, and Most Honest Foursome.
FFE President Réjeanne Aimey, P.Eng., also thanked the tournament guests for their support of the Foundation. "I am incredibly grateful for my education," said President Aimey. "My engineering degree is a large part of my identity; my education is an integral part of my story and I believe that others should have the opportunity without being hampered by something as menial as finances."
OSPE is already hard at work planning the 2024 tournament. Stay tuned to our digital channels for updates on all upcoming events.