In April 2019, OSPE hosted a research and innovation roundtable on Smart Cities in partnership with Cisco and Allstream. The event had three key objectives: define a Smart City, explore current technology and how it is being applied in the context of Smart Cities, and determine the role that engineers play in the evolution of Smart Cities.
Speakers and panelists included:
Tibor Turi, PhD, P.Eng., Vice-Chair of Ontario Society of Professional Engineers,
Chair of OSPE's Research and Innovation Task Force
Bill MacGowan P.Eng., CEM, Director, Smart Connected Real Estate, Cisco
Anselm Viswasam, P.Eng. President and CEO, Hyperion Sensors
Mara Bullock, P.Eng., National ITS & Technology Planning Lead, WSP
Goni Sarakinov SCF, CISSP, CIPM, CIPT, Faculty Member at Lassonde's Centre for Cyber Resilience
Anurag Gupta, MBA Partner, Global Sector Head, Power, Infrastructure KPMG Canada
What are Smart Cities?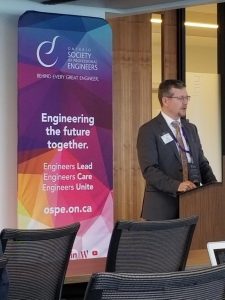 Smart Cities are the product of a technological revolution facilitated by the Internet of Things (IoT). IoT is essentially the extension of Internet connectivity into everyday objects, so that our devices can communicate, exchange information and be controlled remotely.
As such, Smart Cities are urban areas characterized by electronic data collection sensors that supply information on a given asset's use, so we can manage these assets and resources efficiently.
Smart Cities are complex and feature various elements. OSPE's roundtable focused on three primary aspects of these cities:
Smart Buildings
Smart buildings are essentially defined by the experience they can produce for their users. All components inside a building – including lighting, security, heating, ventilation and air conditioning systems – have been continually improved upon as a result technological advancement and innovation. The evolution of these systems and technologies over time has reached a point where we can now select and operate each function from one control panel. In order to improve customer experience, operational technology (OT), information technology (IT) and retail must converge.
Smart Grids
Ontario's vision is to modernise its current grid to become a smart grid, in order to meet the needs of an evolving electricity system and its digitally sophisticated consumers. As far as we can assume, the next generation of electricity will be generated at 5G.
The smart grid will be able to produce more power through its existing systems by optimising assets, improving operating efficiency, interconnecting all sources of power – including new and clean energy – and more. Furthermore, the development of the smart grid and associated smart technologies will allow users to have greater direct control over the energy that they use.
Smart Mobility
Developments in smart mobility are occurring rapidly and provide many opportunities in both the short and long term. In the past, smart mobility was a field that was primarily focused on the development of new technology. Now, focusing on the user and the social implications of smart mobility are becoming more important.
Innovations such as self-driving cars and truck fleets are expected to have a large social impact in the future. With the advancement of robotics and autonomous vehicles, for example, soon we will be able to organize and spend our travel time differently. Some of the implications of connected and automated vehicles that need to be considered, include:
Infrastructure readiness – how does this change parking? Are dedicated lanes required for safety?
Operational readiness – what new opportunities exist for managing congestion?
Institutional readiness – what new standards are needed for geometric design? How will data be managed?
Panel Discussion:
The event's panel discussion honed in on exactly these kinds of societal implications and the role of engineers in safeguarding the public as new technologies continue to emerge. Some of the key considerations included:
Communication
The average citizen may not be well informed about these advanced systems and the use of technology within cities. The narrative for Smart Cities needs to focus on the outcomes and benefits to citizens and move away from a sole focus on technology. The customer might not be willing to spend their fixed dollars on new technology, so we need to start with the challenges to adoption and help consumers understand how the technology can be used responsibly and how it can support and address their challenges. There will be a need to prove to municipalities and the general public that there is an ROI.
Privacy
Data privacy and security have become contentious issues. There are trade-offs that citizens will have to make to receive the benefits of the technology. However, misconceptions around what kind of data is collected needs to be clarified. Are Smart Cities collecting personal or aggregate data? There are also questions pertaining to who should own the data and have access to it, not to mention the risks associated with hacking and privacy breaches. Citizens are concerned about the uncertainty surrounding data use because of a lack of regulatory and governance frameworks.
Collaboration
One of the key things engineers, scientists, innovators and policy makers can do is to continue fostering coordination, collaboration and communication by bringing together specialists from different fields to have productive discussions.
The Role of Engineers
Engineering and technology should be embedded in the strategy phase of a project, which is tied to the business model, in order to achieve higher value. In other words, engineers should be at the table when the vision for a Smart City is being created. Engineers have a responsibility to ensure that decisions are made ethically. Engineers' ethical duty and commitment should be better communicated to the public to help them truly understand the role and value of engineers.
What are your thoughts on Smart Cities and data collection? What kind of policies do you think are required to ensure new technology is used and integrated responsibly in the public interest? What role do you think engineers should play in this space?