"I hope to change the world through engineering by contributing to moving Ontarians across the GTHA #womenintransportation!" – Haley MacSween, EIT
Meet the Winner of OSPE's Change the World Contest: Haley MacSween, EIT
—
One tweet about transportation is now taking OSPE member Haley MacSween, EIT, on an all-expense paid, two-night trip to Canada's east coast. Randomly selected as the grand prize winner of OSPE's 2017 "Change the World" contest, co-sponsored by Venngo, Haley will enjoy a trip to the Fox Harb'r Resort and Spa in Nova Scotia.
OSPE's Change the World contest challenged members of Ontario's engineering community to explain how they hope to change the world through engineering in fewer than 140 characters.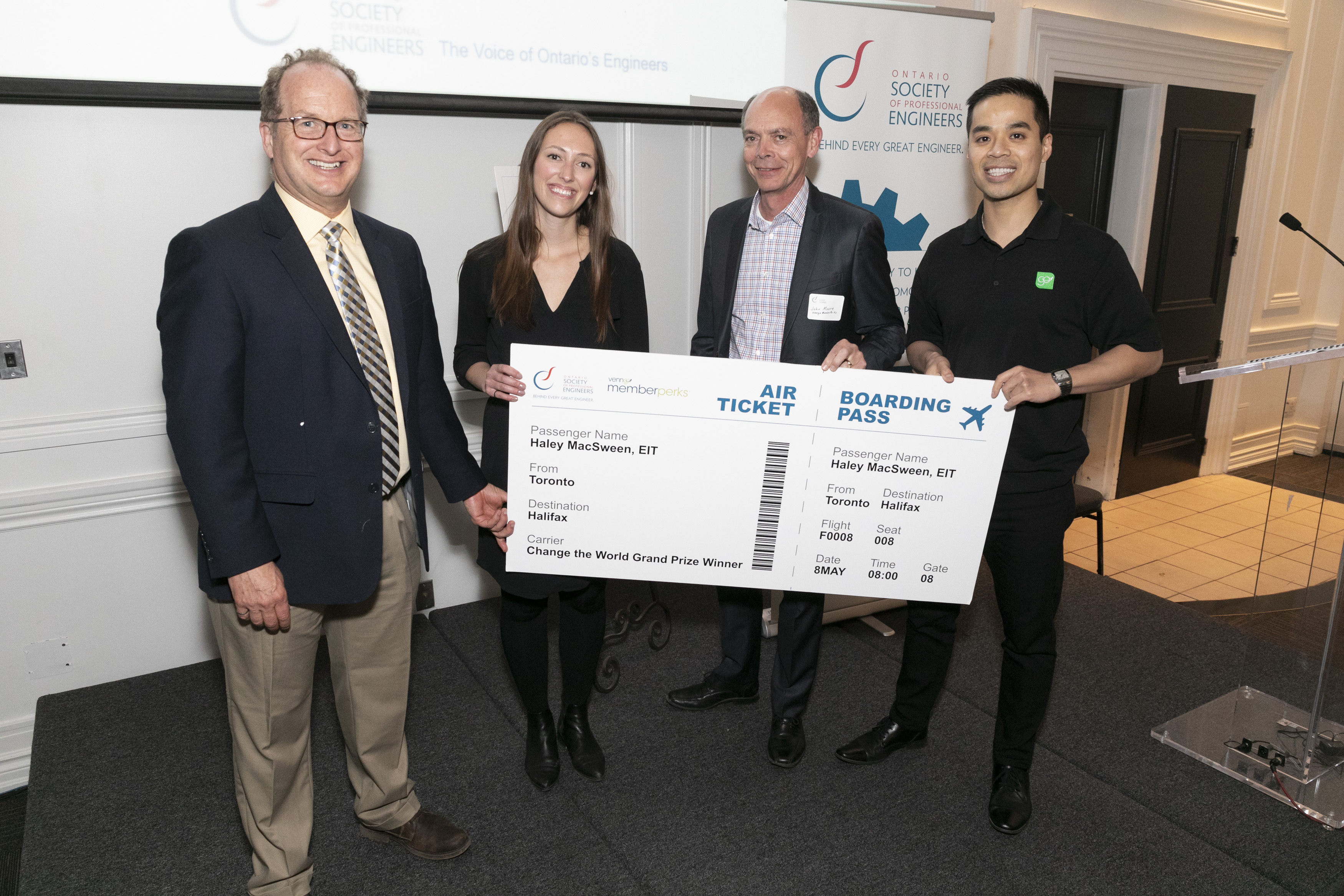 "Every day, our members are working hard – in every sector of the economy – to positively impact the way we live and experience the world," says Sandro Perruzza, OSPE CEO. "This contest was a fun opportunity to recognize our members for their contributions to society and to learn more about their game-changing work."
Haley's engineering story started from an early age. "Both of my grandfathers were engineers, so I came to respect the profession by learning all about their local and international projects. This, coupled with my dominant left-brain, made a career in engineering an easy choice for me," says Haley.
In 2013, Haley graduated from Queen's University, earning a degree in geological engineering.
"I love all things related to the outdoors, so I naturally gravitated towards earth sciences," says Haley. "The geological program was interesting because it offered so many opportunities for cross-discipline learning, including classes with the geological science and civil and mining engineering departments."
Haley spent her summers throughout university and immediately upon graduation, working in mineral exploration. One year later, she joined the Environmental and Nuclear Business Group at CH2M, now Jacobs, where she conducted environmental and geotechnical investigations for hazardous sites, including legacy mine reclamation projects and Phase 1/Phase 2 environmental site assessment work.
"This role peaked my interest in project management, so much so that I am now working in the Project Management Office at Metrolinx Capital Projects Group," says Haley. "I facilitate the risk management process for a subset of projects within the Regional Express Rail Program. I meet with project delivery teams monthly to identify, assess, monitor and report risks across categories from utilities, to geotechnical soil conditions."
In the future, Haley hopes to continue working on world class infrastructure programs in Canada and abroad. "In ten or twenty years from now, I can still see myself working in engineering consulting. I like the variety that comes with this territory, but I'd like to be in a leadership role where I can mentor young engineers, especially young women, to kick-start their careers."
Haley has found it motivating to work in what is commonly considered a male-dominated field. "I've spent a lot of time on sites where I was the female minority. It was nerve-wracking at first, but, after building my confidence and learning to trust myself, being one of the few females on site actually drives me to continue proving that any stereotypes about women in engineering are completely inaccurate. I think women in the profession need to continue showcasing their work, so others can identify with positive role models and say – hey, I can do that too."
"Without greater diversity in engineering, both quality and innovation will be impacted negatively. It takes different perspectives, skill-sets and experiences to approach engineering problems from a variety of vantage points and produce the best solution."
Haley will be travelling to Nova Scotia this summer to enjoy her prize. "It's been an honour to participate in OSPE's Change the World campaign. Now that I've officially booked my stay, I can't wait to unwind at the resort. The countdown is on!"
Find out more about Venngo's memberperks® program for OSPE members.