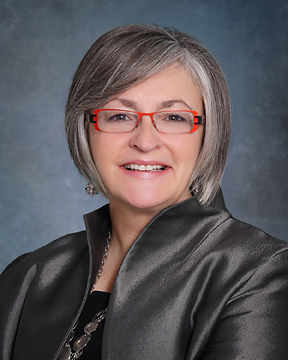 Because she joined OSPE in 2000, Marilyn Spink, is an inaugural member who believes it is critical that the engineering profession has an advocacy voice and a place where common issues can be raised and addressed.
This metallurgical engineer says she's a multidiscipline engineering manager and a process engineer at heart. Having had a varied career, Marilyn continues to work in consulting engineering but also with Humber College, where she presents the voice of industry and helps  influence study programs that enable graduates to fill the talent needs of employers. She sees engineering as having a team focus that relies on different hard and soft skills and abilities to deliver the entire product or project, much as doctors, nurses, technicians and support staff comprise a well-orchestrated hospital team.
"Engineering is a part of everyone's life," says Marilyn. "It's a profession that builds wealth and devotes itself to solving some of our world's most pressing problems."
Marilyn is a member who makes the most of what OSPE has to offer. A big supporter of our advocacy work, she volunteers with the Ring of Fire Working Group. She believes that the group has a leadership role as the "go-to voice" for the public and government to obtain independent engineering advice –something they need to make the right decisions for the successful development of this significant mineral resource, for the benefit of all Ontarians.
OSPE has been particularly helpful as Marilyn has worked to reinvent herself and her career since the economic downturn. She's attended our networking events, taken industry tours and is familiar with our salary surveys and fee schedules. She's also attended E3 events, and connected with a geostructural consulting engineering firm that led to a work opportunity.
"OSPE was the first to talk seriously about the career crisis in engineering from the employee's perspective," Marilyn says. "Every engineer and anyone working in a field related to engineering owes it to our profession to become a member of OSPE. It is your professional obligation."