Trade shows are a great way to efficiently communicate with colleagues of varying positions and roles, each working on or influencing different aspects of your field. Engineers use whole-systems thinking to solve problems and make evidence-based decisions that consider all variables and outcomes. To foster beneficial change and innovation, we know it requires all the pieces of the puzzle. Trade shows allow you gain some of that very insight by keeping you up-to-date with the latest challenges, technology, industry standards and best practices impacting your work.
Over the next few months, OSPE will be participating in several trade shows that reflect the wide array of technical fields in which engineers work. OSPE will be attending each of these events to connect with industry professionals, share information about the benefits and services that OSPE offers and collect valuable insight on critical trends and factors impacting OSPE's related advocacy files.
From the areas of energy and nuclear technology, to environmental issues, to advanced manufacturing and design, OSPE looks forward to connecting with leading engineers and subject matter experts. The goal is to help foster productive new relationships and to strengthen the reach, understanding and appreciation of the critical role Ontario's engineers play in bringing to life the best solutions to today's toughest challenges.
Sharpen your skills & stay at the forefront of your profession by joining OSPE at these upcoming trade shows:
Canadian Environmental Conference & Tradeshow (CANECT): May 1 – 3
The International Centre, Mississauga (OSPE onsite May 2nd & 3rd)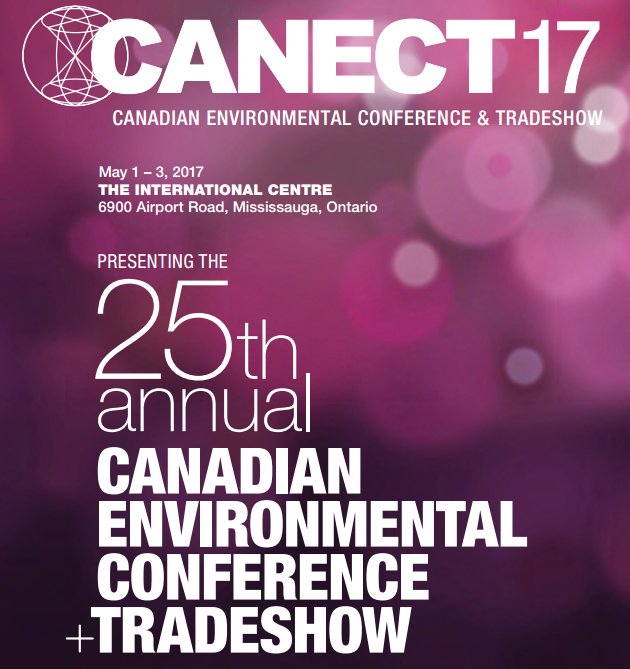 Every year, CANECT brings together Canada's environmental community for this leading forum on environmental management, with a unique compliance-oriented focus. Not only do attendees have the opportunity to familiarize themselves with new environmental regulations, but they also enjoy access to the "Partners in Prevention" workplace health and safety show, which is co-located with CANECT.
"An informed, environmentally aware workforce becomes your best defence in avoiding those tragedies that can too often arise from casual oversight or ignorance of the law." As engineers know, risk management is the key to success.
Learn more about the generation, transportation and treatment of wastes, including the latest environmental technologies, engineering and legal services
Access reference materials and solutions to specific compliance problems
Discover new skills to meet your environmental responsibilities
Engage with Directors of Engineering from top companies in the environmental and health and safety sectors, consulting engineers, consultants, contractors and representatives from all levels of government
Advanced Design & Manufacturing Expo Toronto: May 16 – 18
Toronto Congress Centre
Advanced Design & Manufacturing Expo Toronto brings five established industry events — Automation Technology Expo (ATX), Design & Manufacturing (D&M), PACKEX, PLAST-EX, and Powder & Bulk Solids (PBS) — together under one roof. Regardless of where you are in your project development process, this event will offer cutting-edge solutions, networking events and educational opportunities to help advance your project, business and career.
Engineering solutions are characterized by efficiency, productivity and quality, so ADM is the perfect fit for exploring state-of-the-art manufacturing processes and the newest technologies, including touch automation and smart factory technology. You can also learn about new packaging, polymers and materials that are stronger, more cost-effective and greener.
Plus, connect with leading industry players for insight on how to improve your own products or processes. ADM's new learning and networking activities, such as interactive ice breakers, innovation tours and speed-networking, are even included in your event pass.
The 37th Annual Canadian Nuclear Society (CNS) Conference & 41st CNS/CNA Student Conference: June 4-7
Sheraton on the Falls Hotel, Niagara Falls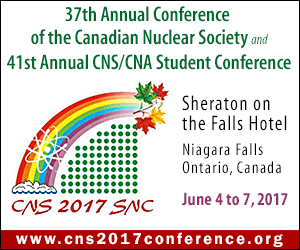 Themed "Our Nuclear Future: Renewal and Responsibility," the annual CNS Conference provides a forum for discussing energy‐related issues and for exchanging views, ideas and information related to the application and advancement of nuclear science and technology. This includes nuclear power generation, fuel production, uranium mining and refining the management of radioactive wastes and used fuel. Other topics include medical and industrial uses of radionuclides, occupational and environmental radiation protection, the science and technology of nuclear fusion and associated activities in research and development.
Industry leaders will showcase the latest nuclear products and technology via the Conference exhibits. Plenary sessions will feature speakers who address broad industrial, commercial and research-related developments in nuclear science and technology. Technical sessions with subject‐matter experts and engineers from utilities, suppliers, academia, federal laboratories and agencies will present the latest nuclear advancements in areas like nuclear power plant life extension, managing the risks of large projects and irradiated fuel and waste management.
The co-located Student Conference will also facilitate interaction between experts and the future generation of nuclear scientists, engineers, and specialists. The Student Conference features a poster session during which university students showcase their latest research findings and advancements.
————-
Always striving to better cater to our diverse membership base, OSPE embraces each of these networking opportunities to gather intelligence on students' and industry professionals' key advocacy concerns and priorities, as well as the resources, services and professional development opportunities they feel they would benefit from most.
Follow OSPE on Twitter for updates on where to find the OSPE booth at each conference. Stop by to share your ideas with OSPE staff and to learn more about our current efforts! See you there!