Putting advocacy into action, it is undeniable that OSPE's volunteers play a critical role in spreading our message across the province. OSPE's PAN representatives (better known as our PAN reps) help raise the profile of the engineering profession among the government, industry, and the public. Building effective relationships and lines of communication with their Member of Provincial Parliament (MPP) or Member of Parliament (MP), PAN reps help bring to light issues that concern the engineering profession.
In recognition of the contribution that all of our PAN reps make within their respective communities and for the betterment of the engineering profession as a whole, OSPE will be featuring several stories of exceptional PAN leadership on the blog this month. Our first featured PAN rep is Lilly Chen, P.Eng., PAN representative for Barrie.
Introducing Lilly
I received my Bachelor of Engineering from Tong-ji University, Shanghai, China and my Master of Science in Transportation Engineering from Brigham Young University, Provo, Utah. I have lived in the City of Barrie for over 14 years and work as a senior transportation engineer at Ainley Group in Barrie. I am currently working on several traffic impact studies, lane closure or full closure traffic queue, and delay analysis during construction, traffic signal designs, etc. My role includes reviewing the work of other engineers within the company (internal review and/or sign off) and outside of the company (peer review for government agencies). I have been a member of OSPE since its inception and a PAN representative since 2014.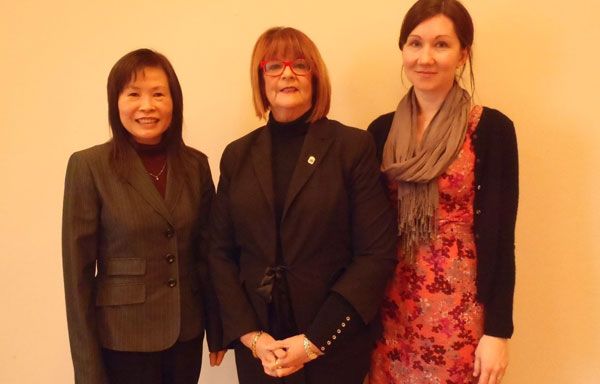 What are the major issues in your community?
The number one issue currently discussed in local newspapers is the Highway 400/Harvie Road/Big Bay Point Road overpass. This 5-lane bridge is needed to alleviate the traffic congestion between Mapleview Drive and Essa Road at Highway 400 and to accommodate traffic that comes with future development projects (i.e. the Barrie Primary Care Campus located at the southwest quadrant of Bayview Drive/Big Bay Point Road and Park Place located on the east side of Highway 400). The estimated cost of the bridge is $34 million and funding is needed to complete the project. The City of Barrie would like construction to start in 2020, or sooner.
Hourly Go Train service is another key issue, and one that has been resolved. There are currently 5 trains that leave Barrie Allandale station in the morning from 5:15 a.m. to 7:15 a.m. for Union Station, and 7 trains returning from 5:23 p.m. to 8:28 p.m. during weekdays. The current service provides an alternative to driving for those commuting to Toronto. However, there is a need for Go Train service for people traveling to and from Barrie during off-peak periods. The Province of Ontario has promised to provide hourly Go Train service and to twin the tracks to Barrie by 2018.
What are some key characteristics about your community?
In 2014, Barrie's population was 143,6341. The median age was 37.22 versus 40.4 for all of Ontario. The percentage of the population aged 15 and over was 80.7%2 versus 83% for Ontario in 2011. The top three industries of employment are construction, retail trade, and professional, scientific & technical services. The top three largest employers within the city limits are the Royal Victoria Regional Health Centre, Georgian College, and the City of Barrie.
What have you discussed with your MPP as a PAN representative?
As a PAN representative, I have brought the following issues to the attention of my MPP:
The underemployment facing Ontario's engineers as outlined in OSPE's report, Crisis in Ontario's Engineering Labour Market: Underemployment Among Ontario's Engineering-Degree Holders: OSPE advocates for government to create incentives to encourage industry to provide more co-op positions, bridging programs, and on-the-job training to alleviate this condition.
Infrastructure: OSPE promotes investment in transit, transportation, hospitals and other public infrastructure as economically beneficial for the province.
Environment – Climate Change: OSPE supports the government's commitment to meet its 2020 target for reducing greenhouse gas emissions.
My transportation engineering and planning experience helped me present these important issues. My job often involves the analysis of transportation networks, traffic operations, future transportation plans, development growth, population growth, and employment growth etc., so I am knowledgeable about infrastructure-related issues.
References:
http://www.barrie.ca/Doing%20Business/profile/Pages/FastFacts.aspx
Statistics Canada, Census Profile, Barrie, Ontario 2011.