Every year, 2 million people globally suffer from bone injuries requiring surgery. Of these, approximately 550,000 people require bone grafts or implants as treatment. By 2041, the population of senior citizens in Canada is expected to grow to 9.7 million, dramatically increasing the healthcare costs and frequency of bone fracture repair surgeries.[1] Aspiring to make a positive impact on people's lives, OSPE member Samin Eftekhari decided to research existing forms of treatment for bone fractures to determine if there was room for improvement.
An international engineering graduate (IEG), Eftekhari's journey began in her native country of Iran, where she received her Master's in biomedical engineering from Tehran Polytechnic. After immigration to Canada, she received her Ph.D. in chemical engineering, specializing in biomaterials development, from Ryerson University.
Eftekhari's Ph.D. research led her to develop and patent a new generation of nanocomposite biomaterials that mimic natural bone in terms of their mechanical, structural and biological properties. Rather than using metallic implants that must be removed from the body following the bone-healing process, this new material biodegrades into natural substances that can be safely removed by the body's natural metabolic system. Using this patented technology, Eftekhari and her team of four are in the process of developing personalized orthopedic implants with customizable shape, strength and absorption rates for each patient with bone injury. They are using 3D printed technology to design patient-specific implants for skull and craniofacial reconstruction applications.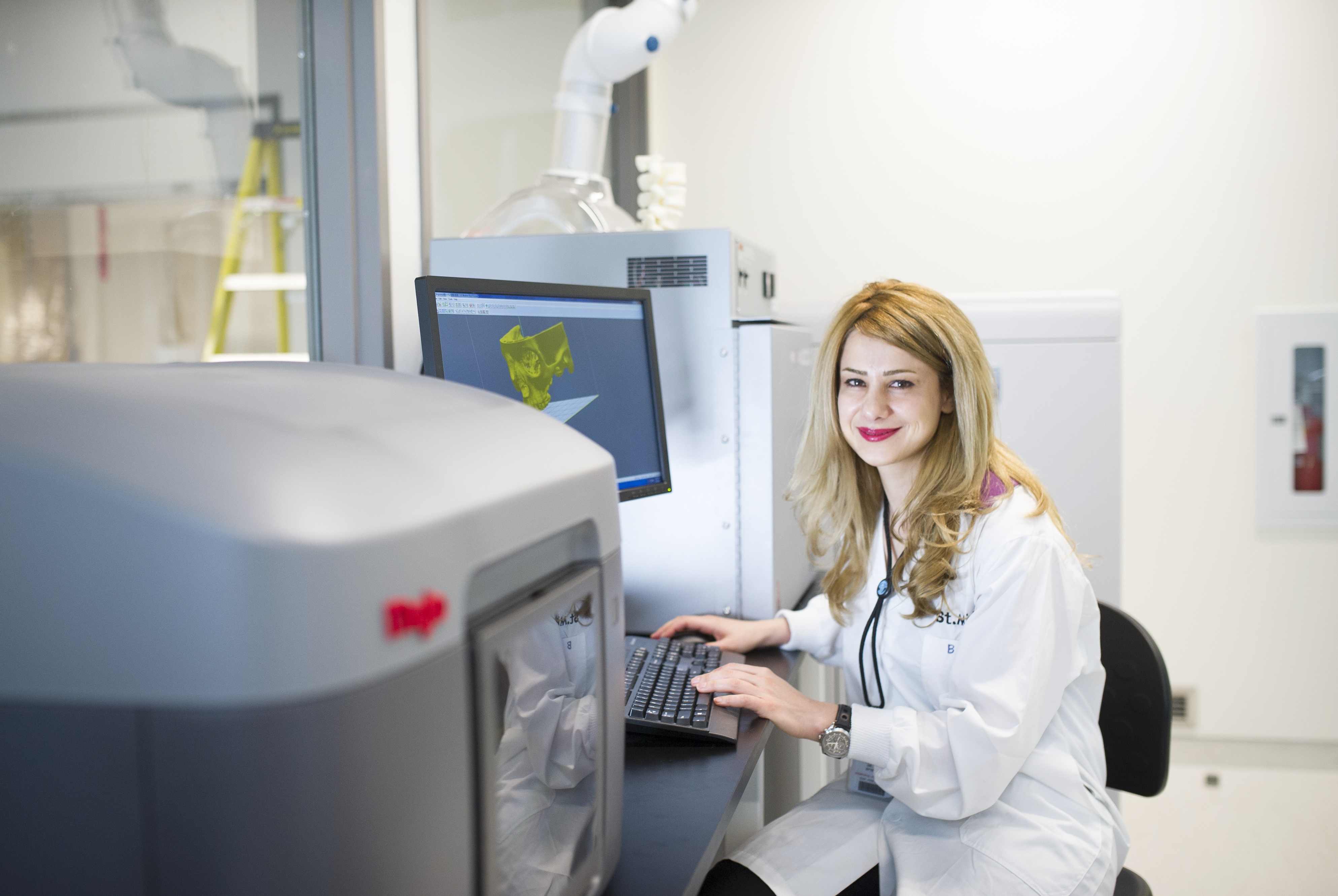 Eftekhari is now the CEO of Artin Biomed, a start-up company she founded in 2013 after being selected as the recipient of the Science and Engineering in Business (SEB) fellowship funded by Ryerson and the federal government (FedDev Ontario), to develop these implants and bring them to market. Her story demonstrates not only the evolution of this innovative technology, but also her professional journey as entrepreneur.
"Like many other internationally-trained graduates, I've had the privilege of experiencing different styles of education and culture throughout my lifetime," says Eftekhari. "Since coming to Canada, I've supplemented my strong foundation of technical and analytical skills with a greater understanding of business management, including how to perform market analyses and develop a business plan."
Eftekhari attributes Artin Biomed's early successes to the many support programs made available to aspiring engineer-entrepreneurs in Ontario. Ryerson's model of zone-learning has connected Eftekhari with the contacts and facilities necessary to validate, evaluate and improve her new technology. Artin Biomed is currently incubated in Ryerson's Biomedical Zone and has been a part of Ryerson's iBoost Zone since September of this year.
The Biomedical Zone is a physician-led health technology incubator that directly connects the university with St. Michael's Hospital. Students, educators and start-ups alike enjoy unprecedented access to a clinical setting—including hospital facilities, research, technology, and feedback from end-users—all while developing a market strategy with the help of leading entrepreneurs. The iBoost Zone is an innovation acceleration platform at Ryerson University that is dedicated to helping "technology-focused entrepreneurs" solve customer-centric problems.
"Since 2012, I have been testing various manufacturing methods to develop my patented technology by conducting experiments in Ryerson labs. I have also performed biocompatibility assessments using stem cells at St. Michael's Hospital. All that trial and error eventually yielded a nanocomposite that precisely matches the characteristics of bone," says Eftekhari.
"But I knew that if I wanted to use that technology to create jobs and to transform the medical experience of millions of patients with bone-related injuries, I would have to bring my technology out of the lab and into the real world. The various incubator and support programs have given me the confidence and know-how to commercialize my innovation and to get my voice heard."
Eftekhari has also received significant financial support from several competitions organized by Ryerson. Artin Biomed was one of two successful business ventures selected to receive $25,000 from the 2016 Slaight New Venture Competition. The company has also received an additional $38,000 in funding since winning Stage 1,2, and 3 Norman Esch Engineering Innovation and Entrepreneurship Awards. In total, Eftekhari has received over $125,000 in fellowships and awards, which she has used to fund critical tasks like market research, patenting, prototype development and obtaining legal guidance.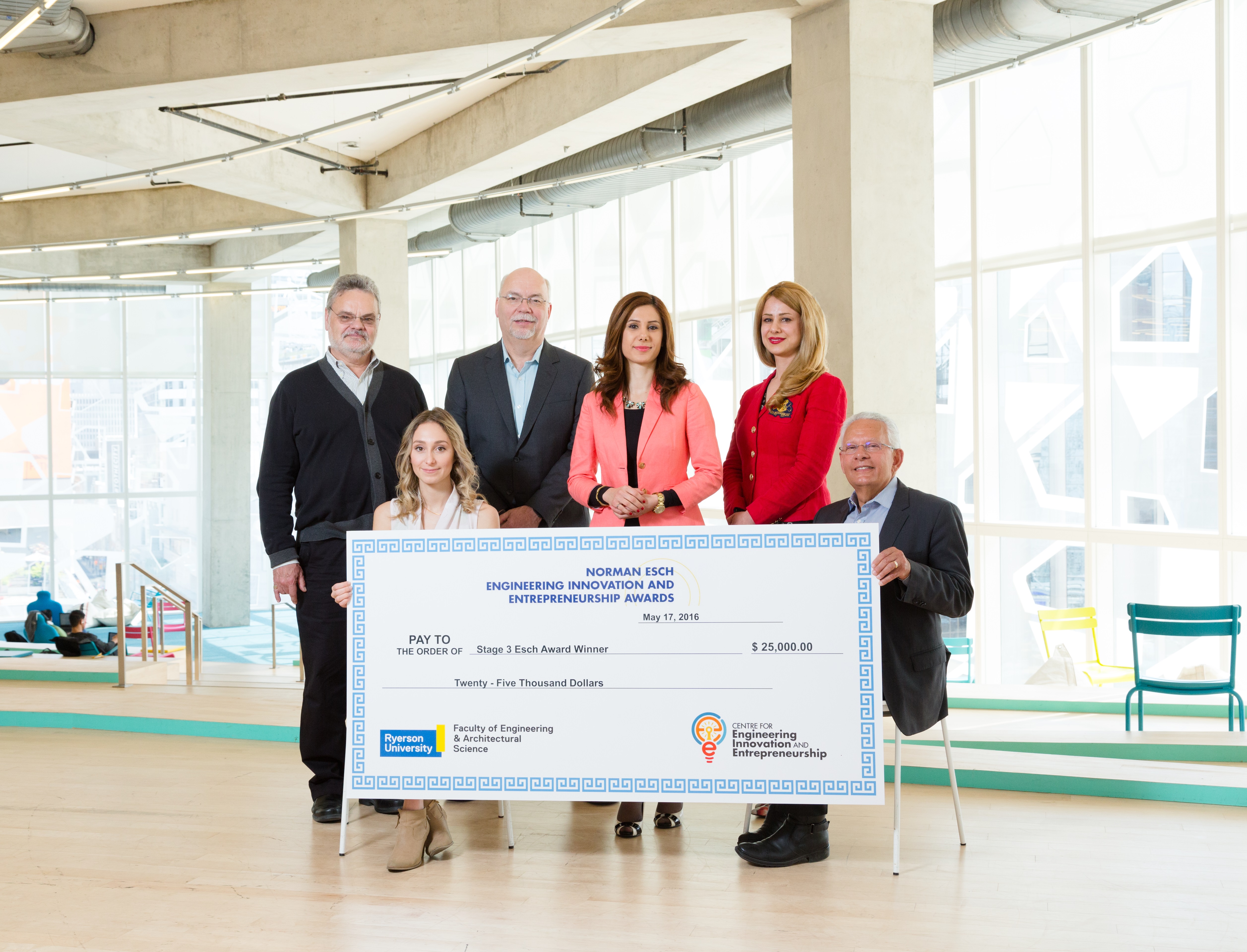 Eftekhari's best advice for aspiring engineer-entrepreneurs is to be persistent, positive and persuasive. She notes that because entrepreneurs introduce new innovations and ways of doing things, it's not always easy to convince consumers or end-users that a given solution is better than existing technology.
"It can be particularly challenging for women in the engineering and business worlds to be taken seriously and to challenge the status-quo," says Eftekhari. "But you just have to move on in the face of disappointment or discouragement. Sometimes you move slow and sometimes you move fast, but what matters is you are moving forward. I was inspired by the old saying, "move with your own rhythm, follow your own dreams."
Eftekhari says she is continuing to advance her own career by pursuing licensure in Ontario. "The P.Eng. designation is a representation of the highest standard for engineering knowledge, experience and ethics here in Ontario, so I have no doubt that obtaining my P.Eng. will only further enhance the credibility of my work," says Eftekhari, who wants fellow engineering graduates to realize that with hard work and dedication, anyone can achieve success.
Click here to learn more about Artin Biomed and its innovative technology.
Sources:
[1] "Facts & Figures: Aging in Canada and the World." uOttawa Society, the Individual, and Medicine. Accessed August 8, 2016. http://www.med.uottawa.ca/sim/data/Aging_e.htm.