Founded in 2016, Medventions is a program that brings together people from multi-disciplinary backgrounds with an array of experiences; from co-op students to recent graduates to industry experts in order to bring medical inventions to life. Sunnybrook Health Sciences Centre, a tertiary level hospital including a world-class research centre, is dedicated to bridging the gap between research and the clinical domain, to speed the commercialization of research findings into better care for Canadians.
"Sunnybrook has long been in the business of translating research into practice to improve health care," said Ahmed Nasef, MD, MBA, manager of the Medventions Program at Sunnybrook Health Sciences Centre in Toronto.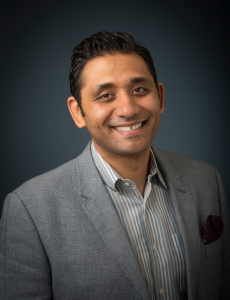 "[Canada] has many ingredients for success:  a highly educated population, a high-quality health care system, strong research capabilities and amazing engineering skills that are allowing for less invasive and more targeted treatments," said Nasef, noting that even though Canada has these components for success, we are lacking in the commercialization aspect of innovation. Medventions was created to fix this problem. It aims to pair clinicians with engineers and business-minded professionals to put ideas into action.
Medventions runs on a cohort basis and has two sessions each year – the fall session from September to December, and the winter session from January to April. Each session can have anywhere from one to two teams, depending on which clinical program is participating at that time. Each team is comprised of a mandatory clinical mentor, along with 2-3 engineers and usually one business professional. The program accepts engineering students, new graduates, and seasoned professionals. These members of the engineering community are from diverse backgrounds including mechanical, electrical, and biotech. When hiring new fellows, recruiters focus on technical, leadership and analytical skills, and creativity, teamwork and a passion for health care innovation.
There are three components to the Medventions program:
The Fellowship: This program is designed for the participants to experience hands-on training while immersed in a hospital setting. The program starts with fellows identifying and characterizing hundreds of needs in their specific focus. This is followed by prototyping and testing solutions, along with researching regulatory and reimbursement issues. The goal is to develop a plan for further research and development.
Lecture Series: A series of workshops and lectures that are offered in the fall of each year, including academic and industry MedTech professionals, as well as CEOs and thought leaders who  provide insights into real-world routes of commercialization. Participants learn about intellectual property management, different reimbursement models, regulatory pathways, as well as sound business strategies. Sunnybrook encourages national participation by broadcasting these lectures live.
Medventions Day: This is an annual symposium organized by Sunnybrook Research Institute and the Schulich Heart Program. At the event, like-minded professionals come together to listen to local and global speakers share their key learning points regarding medical device development, pharmaceutical therapies and other methods of delivering effective health care.
Medventions also has a LinkedIn Group that provides an online forum for MedTech professionals and others in the Medventions ecosystem. The discussions centre around needs, patents and licensing, regulations and other issues related to innovation in medical technology.
Since its start, seven out of the 9 teams are still working to develop and move their novel ideas forward, and six patents have been filed to date. The first Medventions success story was RescuBeat, a start-up focused on commercializing a novel mechanical CPR device, designed specifically for use within the catheterization laboratory, and which delivers patient-specific CPR compressions while the interventional cardiologist is able to continue performing lifesaving measures without angiographic hindrance.  Another technology that is under development is a novel re-entry catheter that has the potential to facilitate the navigation of complex coronary anatomy and crossing of completely clogged arteries.
The Medventions program at Sunnybrook has proven to be so successful that it was selected at as the central training, education, and networking component of the Industry Consortium for Image-Guided Therapy (ICIGT), a new pan-Canadian network led by Sunnybrook. Through Medventions, Sunnybrook has proposed to establish a multi-provincial network of medtech, IGT (Image-Guided Therapy) and artificial intelligence (AI) skills training involving different academic and clinical institutions including University of Calgary, University of British Columbia, Hôpital du Sacré-Coeur de Montréal, Mount Sinai Hospital, Dalhousie University, and McMaster University and Hamilton Health Sciences. The Government of Canada has made a recent announcement to invest up to $49M in ICIGT. ​Medventions has also received support from the provincial government, through the Ministry of Training, Colleges, and Universities, to expand the number of fellows the program hires.
However, the world of medical technology faces barriers. There is a significant lack of medical device companies in Canada, which impacts momentum in this sector. Large MedTech companies like Boston Scientific don't have Canadian counterparts. Another challenge is that novel ideas produced in academic settings get trapped inside those institutions, and unfortunately lack a clear path towards commercialization.
These are the exact problems that the Medventions program aims to solve, by grouping professionals with diverse backgrounds together and giving them a chance to problem solve. Medventions is one example of how engineers are contributing to Canada's innovation ecosystem. For more information or to get involved, click here.