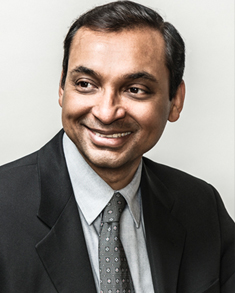 The wide-ranging research achievements of Dr. Sushanta Kumar Mitra have led to the establishment of numerous innovative technologies and techniques that have made a direct and influential impact on improving society.
Dr. Mitra and his team conceived a method of detecting E. coli in contaminated water within two to 60 minutes based on the level of contamination, a ground-breaking engineering feat in terms of rapid detection of deadly, water-borne pathogens. This field-deployable water quality monitor sensor, called the Mobile Water Kit, contains such components as filters, syringes and chemicals, and can detect the presence of E. coli through visual colour change on the filter surface, right at the location of the contamination site. Similarly, Dr. Mitra developed mechanisms for applying his research findings in microfluidics and micro/nanofabrication to help detect a specific biomolecule that helps in the early detection of several vector-borne diseases, like listeriosis and dengue. Such innovations offer the potential to solve many global public health problems, particularly in limited resources communities.
His work has also provided novel solutions to some of the most challenging problems in the energy field. Dr. Mitra pioneered a technique that provides a better understanding of the oil recovery process. Called Reservoir-on-a-Chip (ROC), the technology maps pores in the dense minerals and create a micro-scale replica of it, enabling researchers to see, for the first time, how oil is transported through the tiny pores, at a scale too small for the human eye to see.
Over the past six years, Dr. Mitra has attracted more than $20 million in external funding for his work, a testament to its importance and viability.
In addition to his scientific contributions, he has helped to bridge engineering education between Canada and India as a founding member of the Canada-India Research Centre of Excellence (IC-IMPACTS), bringing together researchers, industry innovators, community leaders, government and community organizations to provide opportunities for scientific partnerships and collaborations. He has also provided his support and leadership to Canada's indigenous communities through his involvement with Engage North.
Congratulations for this outstanding achievement.