What are the 17 United Nations Sustainable Development Goals?
—
In 2015, all United Nations Member States adopted the 2030 Agenda for Sustainable Development to guide shared efforts for achieving peace and prosperity for our population and planet. The 17 Sustainable Development Goals (SDGs) are a global call-to-action to end poverty and deprivation around the world, while also developing strategies to improve health end education, reduce inequality, spur economic growth, tackle climate change and preserve our oceans and forests.
How to Change the World – May 28-30, 2019
—
OSPE believes that engineers – as leaders, technical stewards and innovators – have an obligation to collaborate with professionals of varying technical ability and area of specialty, to produce solutions and drive sound policy-making.
This May, OSPE will host its first How to Change the World (HtCtW) two-day experiential education program to empower members of Ontario's engineering community to make a difference.

Who Should Participate?
—
Fourth year and graduate engineering students, business students and early-career professionals in engineering, business or public policy will team up to solve complex societal challenges based on the UN SDGs.
What to Expect?
These interdisciplinary teams will be guided through carefully designed processes that enable them to effectively and creatively tackle an assigned real-world or 'wicked' challenge.
Participants will meet and collaborate with a highly diverse network of colleagues and industry leaders who are similarly motivated to use their skills to make a difference.
In addition to a formal Certificate of Completion that recognizes the skills and knowledge participants have acquired, attendees will also develop an action plan (supported by an enabling network) for applying their learning to their careers and communities.
Following a Project Showcase, judges will also present the winning teams with awards in recognition of their successful efforts.
You don't want to miss this exclusive resume-builder and opportunity to make a real difference!
Program at a Glance
—
Here's what the two full days of learning and engagement will look like: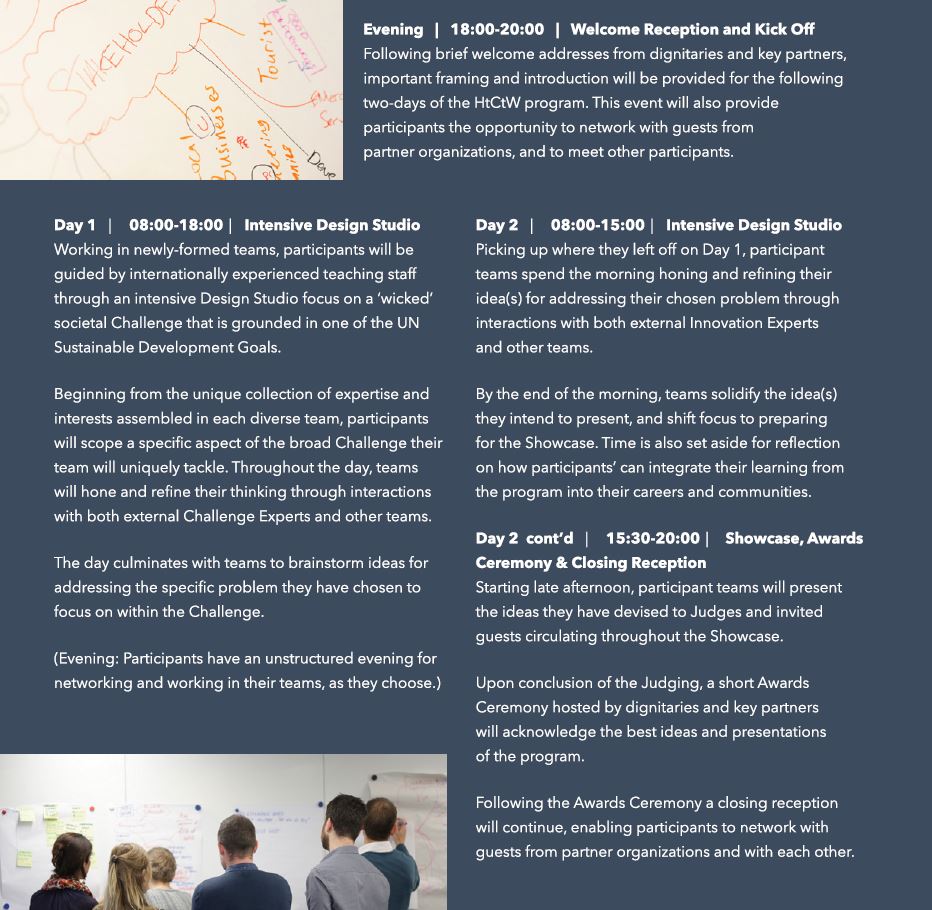 —
Intrigued by this opportunity? Think your employees or students would benefit from this unique learning experience?
—
Find out how you can partner with OSPE to participate in the first Toronto iteration of the internationally-renowned How to Change the World training program.
Contact Jason Di Tommaso at jditommaso@ospe.on.ca or 613-986-1437.
Check in regularly with the official How to Change the World event page for more information!