The railway industry has revolutionized transportation in Canada for over a century. But how much do you know about the cutting-edge technologies that define modern urban rail mobility?
You might be surprised to hear that one of the most vital innovations in urban rail signalling was invented right here in Ontario at Thales's Toronto location. Communications-Based Train Control (CBTC) is a signalling and train control solution with mass rail transit applications.
In 1985, the first iteration of Thales Canada's game-changing SelTrac™ CBTC solution was implemented on the Scarborough Rapid Transit, now known as the Toronto Transit Commission's Line 3. Later that year, SelTrac™ powered the world's first fully automated, driverless system on the Vancouver SkyTrain.

Since then, Thales has worked on existing transit networks in New York, London, Paris, Hong Kong and Singapore, and has built new transit networks in cities like Dubai, Kuala Lumpur and Seoul. Thales's SelTrac™ technology helps urban public transport operators carry over three billion passengers every year.
Of the 1,400 employees based out of Thales's global competence center in Toronto, more than 900 are engineering graduates working on everything from designing and testing SelTrac™ hardware and software, to systems and signalling projects, site deployment and safety engineering. Thales leads all stages of the SelTrac™ CBTC engineering cycle, from research and development, to product development, project deployment and long-term customer care.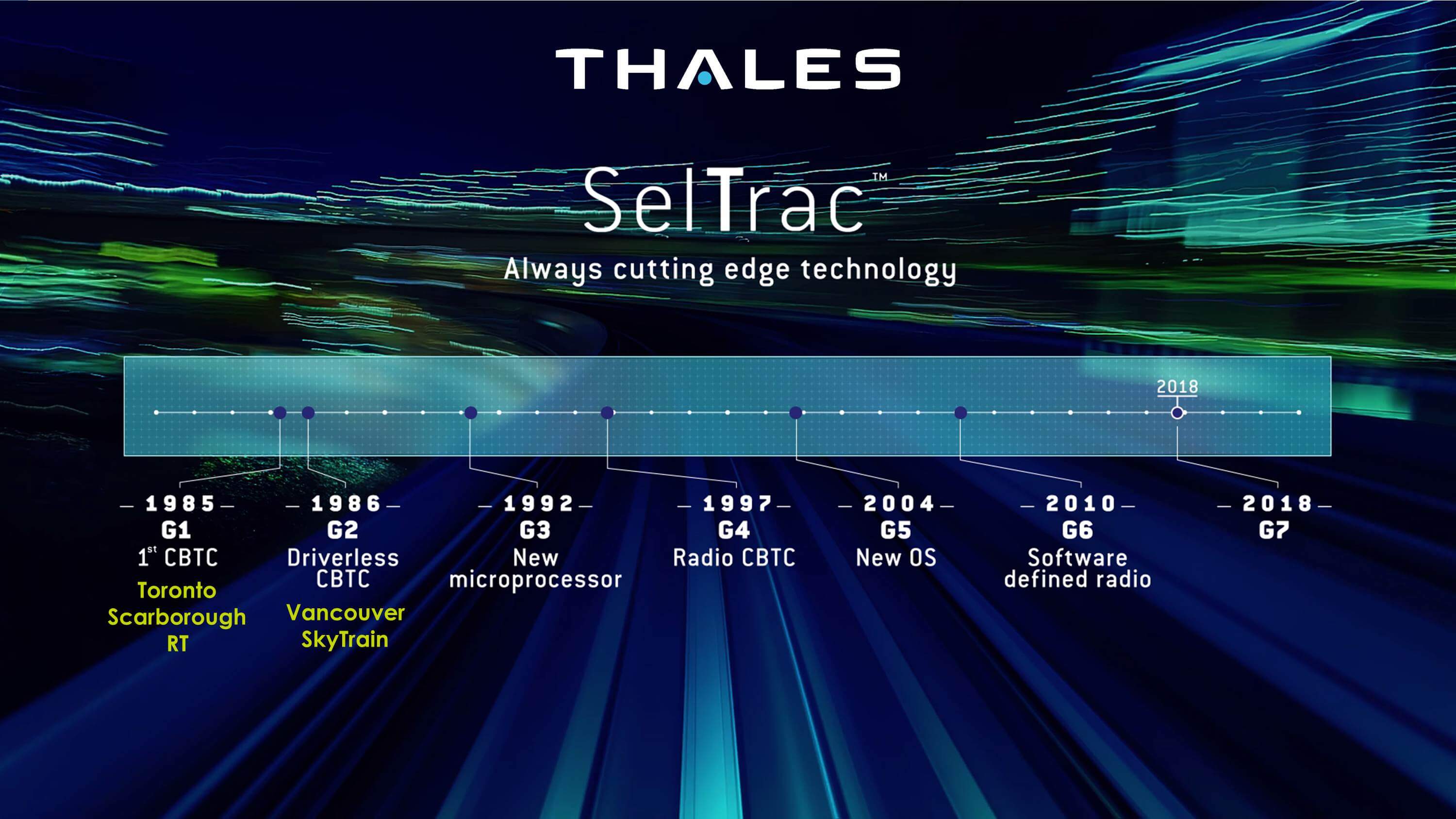 What is Communications-Based Train Control (CBTC) technology?
—
CBTC railway signalling systems utilize telecommunications between trains and track equipment for traffic management and control. With digitized solutions like SelTrac™, trains continuously calculate and communicate their status – including exact position, speed, travel direction and braking distance – via radio, mobile networks or GPS. Nearby trains actively adjust their speed and distance depending on the information received. This is referred to as a 'moving block' signalling system and represents a technological progression from 'fixed block' systems.
With fixed block signalling systems – which currently characterize the majority of TTC subway lines – rail tracks are divided into segments, or 'blocks'. Signals external to the trains dictate their movement and prevent trains from entering an occupied block on the track. Since the fixed block system cannot determine a train's precise position, a block is considered occupied even if only a small part of the train falls within it. This means a buffer is required to ensure that trains do not run too closely together. On the other hand, too much space between trains causes longer wait times for commuters and increased congestion.
Conversely, CBTC systems calculate precise train positioning, thereby reducing the minimum headway required between trains. This eliminates many of the inefficiencies of fixed block systems, allowing more trains to safely travel closer together.
How Does SelTrac™ CBTC Signalling Benefit Commuters and Transit Operators?
SelTrac™ CBTC has five different Grades of Automation. Higher grades of automation increase transit capacity and safety, while enhancing passenger satisfaction, as transit employees can focus on rider experience instead of operation logistics.
Thales's SelTrac™ CBTC solution automatically monitors the real-time data from the wayside track equipment and trains' on-board computers, signalling transit operators in a central control hub when something demands their attention.
Unlike the costs of building relief lines and new transit systems, CBTC typically requires a smaller investment to modernize aging transit systems and accommodate rapid passenger growth. System updates can be integrated in 'layers' so as not to impact the overall system.
Thales's Toronto division houses over 30,000 ft2 of testing and simulation labs. This allows 99 per cent of all testing to be conducted virtually, minimizing service disruptions.
Thales has its own cybersecurity protection to secure its services and equipment. It's been deemed one of the safest systems in the world, with 9 out of 10 of the world's largest banks utilizing Thales's cybersecurity services.
What Does the Future of Urban Rail Signalling Look Like?
—
Thales's urban rail signalling division is currently working on two prominent transportation projects in Ontario, including the TTC's Wilson Yard Expansion Project and the construction of the new Ottawa Light Rail Transit (LRT) Confederation Line.
Thales's Research & Technology team is currently working on the development of autonomous train technology, using technology similar to that of self-driving cars; this is the next step in state-of-the-art train control.
To read the full article, check out the Spring 2019 issue of The Voice magazine.
Special thanks to Rodney Ignatius, P.Eng., Product Line Manager, Marketing & Strategy; Rebecca Whiteside, P.Eng., Director of Safety Assurance; and Elizabeth Greene, Manager of Communications, Urban Rail Signalling at Thales Canada for their contributions to this article.
Resource: Ontario Chamber of Commerce – Moving Forward: Towards A Strategic Approach to Ontario's Transportation Needs (Part I)