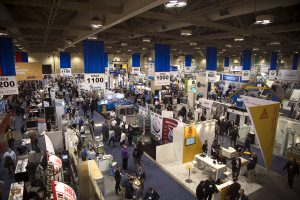 Join OSPE and 30,000 other attendees at North America's largest exposition, networking and educational event for the design, construction and real estate industries.
The Buildings Show brings Construct Canada, PM Expo, HomeBuilder & Renovator Expo and the World of Concrete Pavilion together in the South Building of the MTCC and IIDEXCanada to the North Building, held simultaneously with the Real Estate Forum Toronto.
3 days
6 shows
1,600 exhibits
500 speakers addressing issues impacting the state of the built environment, from trends to building codes to regulations
350 seminars and product demonstrations catered to each profession
Visit OSPE's booth in the South Building to learn more about OSPE and what we do for engineering professionals.
For more information on the Buildings Show, check out the video below: