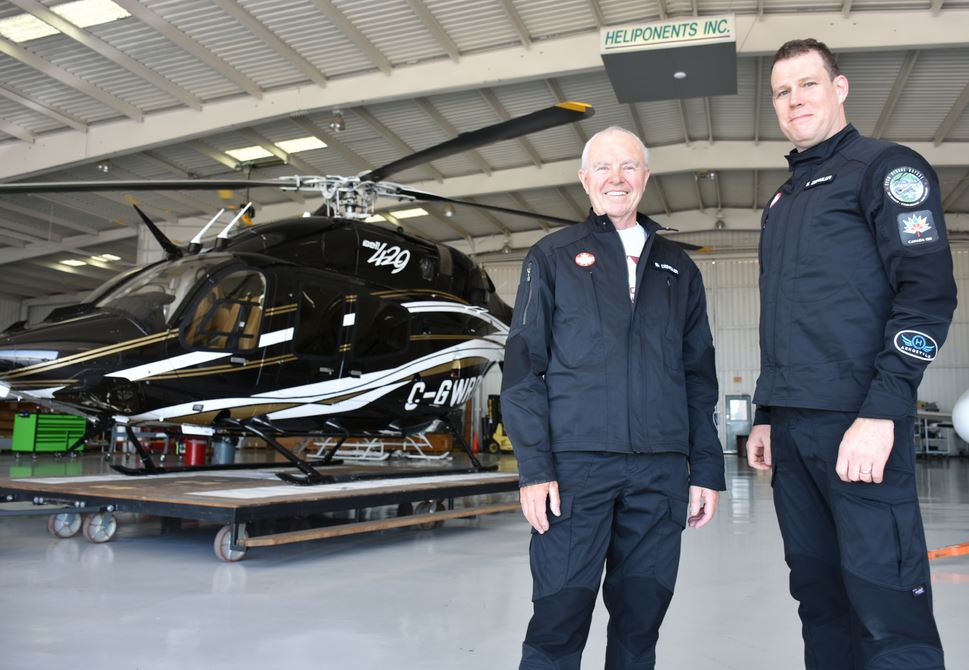 On July 1st, Bob Dengler, P.Eng., Professional OSPE member and his son Steven Dengler will do much more than look toward the sky to take in traditional Canada Day fireworks. To celebrate Canada's 150th anniversary, the father-son duo will instead take to the skies in a Bell 429 helicopter, kicking off a 38,500-kilometre journey around the world.
The C150 Global Odyssey (C150GO) will be the first Canadian circumnavigation of the globe by helicopter and, to the team's knowledge, the first aerial circumnavigation of the world by a father-son team. Altogether, the Denglers will visit 14 countries and make over 100 planned stops, including every provincial and territorial capital in Canada.
"This is going to be a once in a lifetime Canadian adventure," says Steven Dengler, a financial technology innovator and co-founder and director of XE, a Canadian-based online foreign exchange company. "Many of the sites that we will be visiting along the way were selected because of their cultural, historical, and technological significance to Canadian history."
The concept behind the helicopter journey was something that had been percolating in his father Bob Dengler's mind for several years. Bob – a distinguished mining engineer and founder of the world-renowned mining firm Dynatec Corporation – adds, "having both studied engineering, Steven and I tend to see everything through an 'engineering lens', if you will. This journey is an opportunity to shine a light on Canadian innovation and engineering, which aren't often recognized within our own country, let alone around the world."
"I find many people have less respect for engineers than they do for other professionals simply because they don't associate engineering with the everyday," says Steven's wife Bruna Pace, an OSPE Political Action Network (PAN) volunteer, who is helping manage the logistics of C150GO. "Realistically, we encounter engineering more frequently in our day-to-day lives than we probably do most things – we just don't know it. Why not elevate the profile of our profession by showcasing Canadian landmarks and technological milestones?"
The Journey
Obtaining a pilot's licence is a more challenging endeavor than obtaining a driver's licence. Beyond learning how to fly, pilots also have a duty to understand the physical performance of the aircraft.
"We've made sure that we have a good understanding of the Bell 429's range, fuel burn, weight – it's an interplay of factors," says Steven. "You do a full risk analysis before any flight and are continuously re-evaluating while in the air. These considerations represent the practical application of science to accomplish real world tasks, and if that's not the textbook definition of engineering, I would say it's got to be pretty close."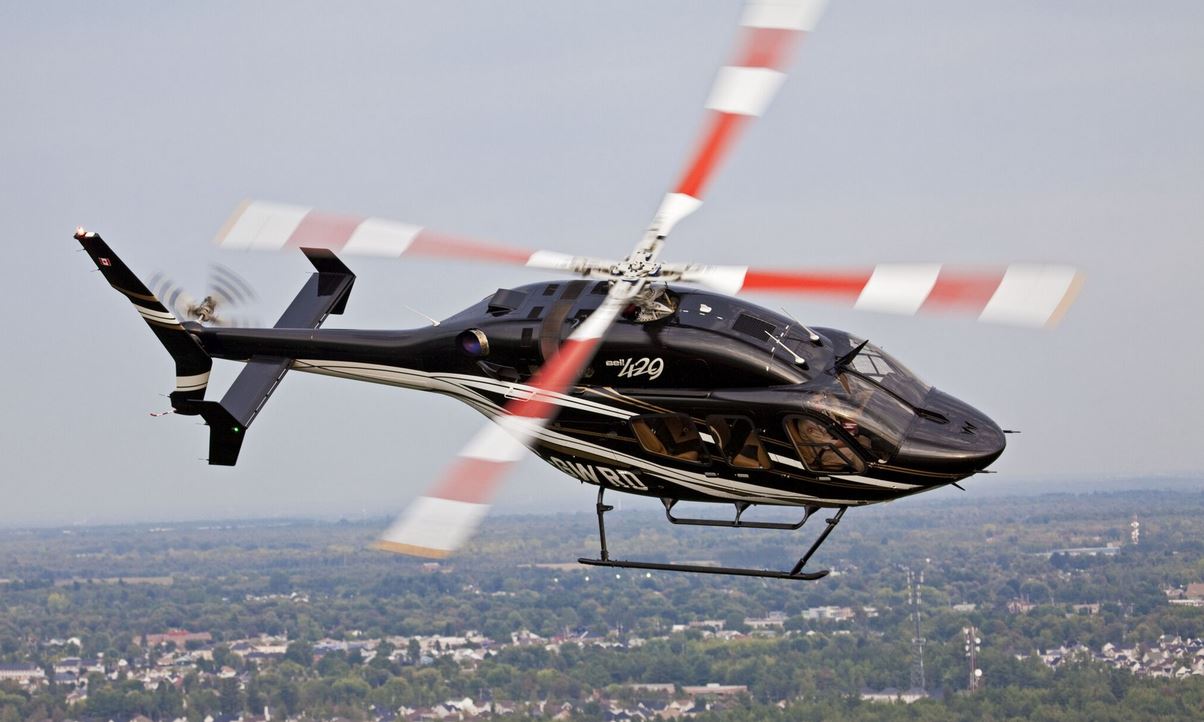 The first C150GO stop will be the Canada Aviation and Space Museum in Ottawa. The team will then move eastward before navigating the open ocean, foraying into Europe and Russia and then returning to Canadian soil via Alaska. The two longest legs of the circumnavigation will be from Baffin Island to Greenland and Greenland to Iceland. These distances of approximately 400 nautical miles (about 740 kilometres) precariously approach the helicopter's maximum range. The Denglers will remove two of the seats for this segment of the journey to accommodate an auxiliary fuel bladder that will provide additional range as they fly over the North Atlantic.
Notable Stops Along the C150GO Route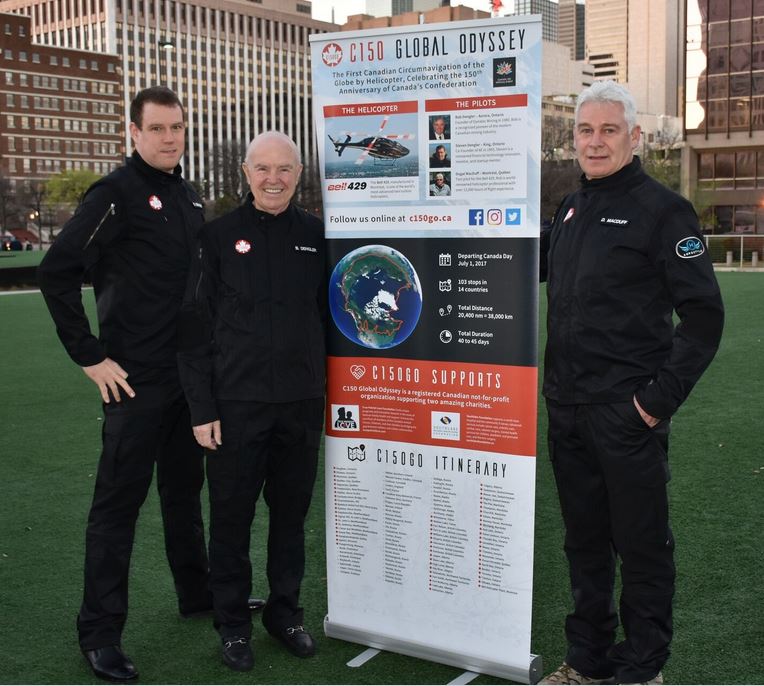 "We as Canadians tend not to celebrate our country's accomplishments nearly as much as other nations, but there is no shame in having pride," says Bob. "Likewise, engineers don't always think about promoting our profession by showcasing the beneficial applications of engineering in the world around us."
The C150GO will visit national and international landmarks of Canadian engineering significance from Confederation Bridge, to the Alexander Graham Bell National Historic Site, among many others.
The team will share their travels on social media so that Canadians and the world can appreciate each feat of engineering in more tangible terms.
"As we highlight these landmarks on social media, we hope to transform this nebulous concept of engineering to a real narrative that people can follow and share," says Steven. "We particularly hope to reach the next generation of people considering what they want to do with their lives going forward. If we can stir up feelings of Canadian pride and turn that awe into inspiration to change the world for the better through STEM, it would be a massive win for us."
Check in with C150GO on Facebook, Twitter and Instagram, as well as OSPE's Canada 150 list and social media channels for C150GO updates and live footage.
The Bell 429 Helicopter
Not only will the C150GO team be visiting Canadian engineering marvels, they will also be travelling inside of one. The Bell 429 is the most modern light twin helicopter on the market today. All of the helicopter's advanced technology and state-of-the-art features were incorporated from its initial development, meaning the Bell 429 has always been ahead of its time. The June issue of The Voice magazine will delve into the most unique engineering and design features of the helicopter, from its carbon fibre body to its run-dry transmission capability of over three hours.
Join us for a Canada 150-themed evening of networking at the Canada Aviation and Space Museum in Ottawa on June 11th, 2017. Mingle with fellow engineering colleagues, tour the Canada Aviation and Space Museum and learn more about the C150GO journey from:
OSPE member Bob Dengler, P.Eng., founder of the world-renowned mining firm Dynatec Corporation
Steven Dengler, financial technology innovator, co-founder and director of XE
Jean Audet, Manager, IPT Light Twin Helicopters, Bell Helicopter
Learn more and register today.
To read the full C150GO article, check out the June issue of OSPE's The Voice magazine.