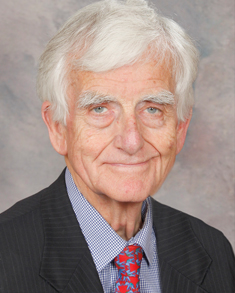 For over 40 years, Brian Isherwood has been making a significant impact on the excavation and underground industry in Ontario, and pioneered the specialty field of geostructural engineering.
Since founding Brian Isherwood and Associates (now called Isherwood Geostructural Engineers) in 1972, Isherwood's ability to find solutions to shoring support challenges in deep excavations, often in extremely difficult ground conditions, has helped change the construction landscape in the greater Toronto area. His firm has been responsible for the excavation shoring, underpinning and foundations of many prominent structures, including the CN Tower, Rogers Centre (then known as SkyDome) and Pearson International Airport.
Isherwood introduced the use of inclinometer monitoring to support the observational method of designing excavation shoring in 1973, which soon after was adopted as an integral part of his services in minimizing construction risks and saving costs. As a result, his work became renowned for its reliability, quality and dedication to public safety.
Some of Isherwood's more recent projects have been both historic and record-breaking in the deep foundations industry. In the 1990s, he was confronted with one of the largest and most challenging projects of his career: the extension of the Toronto Transit Commission's (TTC) subway system. His firm's share of the designs included cut-and-cover tunnels for the Sheppard Line, cut-and-cover tail tracks, launch and exit shafts for the Tunnel Boring Machines, as well as most stations on the Sheppard Line. Now, 15 years later, Isherwood is once again working on the newest extensions to the subway system, a testament to the quality of his work.
Isherwood also provided the shoring design for one of the deepest excavations in Toronto history, Living Shangri-La, a hotel and condominium tower 26 metres (or eight underground storeys) deep, as well as shaft designs for the Billy Bishop Pedestrian Tunnel, which, at 30 metres deep, was one of the deepest excavations adjacent to Lake Ontario.
A valued mentor to many young engineers on technical aspects of the profession, Isherwood also instills in them an appreciation that the quality of their work and the experience of working together with clients should be emphasized over profitability and self-promotion.
Congratulations from OSPE!