We interviewed three students to find out how ESSCO and OSPE have helped them in their student and professional lives. Thanks to: 
—
"Engineering is not static, it's always growing," says Anna Simone, a third-year civil-engineering student at the University of Windsor. Along with being a full-time student, Anna is a representative for her program and the Vice President External with the Engineering Student Societies' Council of Ontario (ESSCO), for her university.
Whether it's through their annual conferences or special events, ESSCO has made its mark by uniting Ontario's engineering students since 1987. With almost 30,000 members, ESSCO works to advocate for these students by providing networking opportunities for growth and visibility.
OSPE – as the advocacy body for the entire Ontario engineering community – is able to support ESSCO's student-focused advocacy efforts. In fact, OSPE and ESSCO's comparative natures aid in their ability to work in harmony. Logan McFadden, a third-year aerospace engineering student at Carleton University said, "with the recent changes to the Ontario Student Assistance Program (OSAP), ESSCO wanted to take a stance and get their voices heard in Queen's Park. OSPE critically helped us with this."
This is not the only way OSPE works in the interests of engineering students. Julian Faita, a mechanical engineering student at Ryerson University is the Vice President of Communications for ESSCO. In an interview, Faita explained the lack of professional development courses offered at the undergraduate level makes the "transition from school to a work environment very difficult." OSPE acknowledges this deficiency and offers professional development courses that help members at all stages of their engineering journeys hone their leadership and collaboration skills. Alongside these courses, OSPE offers workshops around job search best practices, including how to write a winning resume (check out OSPE's website for a full list).
OSPE also supports and sponsors a number of annual conferences hosted by ESSCO, each of which are designed to help Ontario engineering students meet like-minded people and grow their networks. Both OSPE and ESSCO are longstanding supporters of the Ontario Engineering Competition (OEC), for example. The most recent competition was held at McMaster University in January 2019 and is by far the best opportunity for new graduates to showcase their engineering talents before representatives from a myriad of engineering organizations.
To influence public policy, OSPE worked alongside ESSCO to create a report detailing the perspectives of engineering students and graduates on tuition, job prospects and internships. In 2018, OSPE and ESSCO deployed surveys to gather the data that informed the basis of this report and government relations activities.
Findings from this study solidified the following:
Most students and graduates are not discouraged from pursuing engineering degrees in Ontario, despite the fact that tuition for Ontario engineering programs is higher than the national average.
Most students (95%) said that they expect to find a job in engineering after graduating.
Co-ops/Internships are highly valued among the engineering students.
The results from this study have helped form recommendations for government and post-secondary institutions.
—
For Government: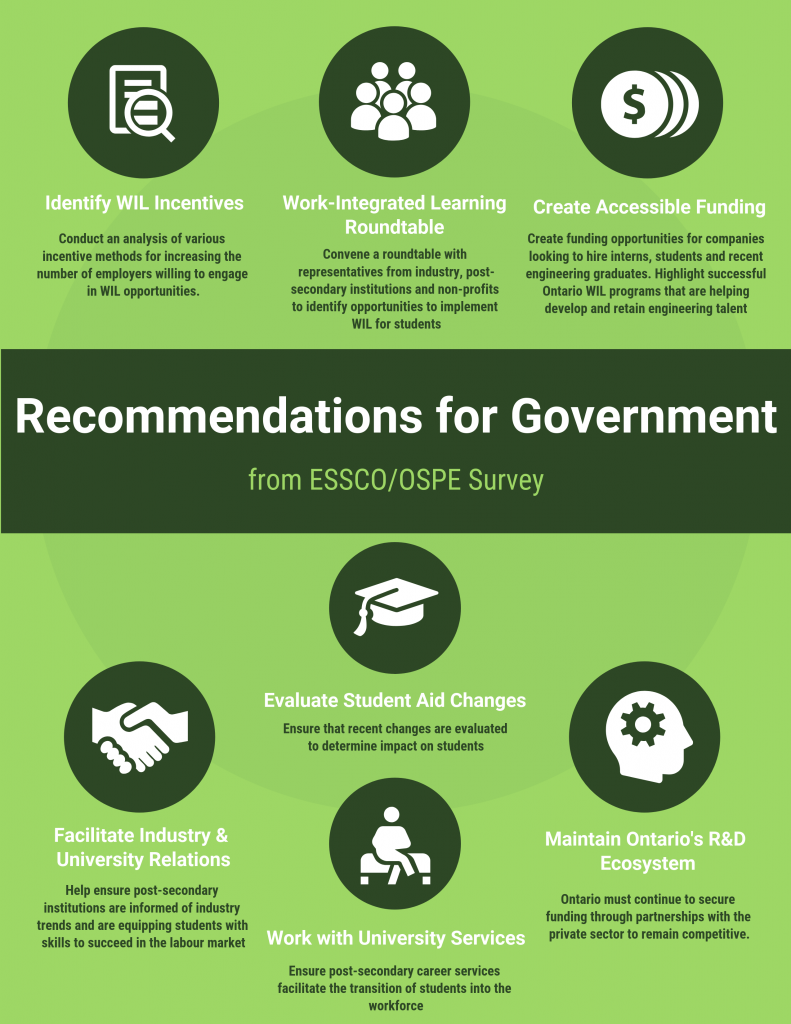 For Post-Secondary Institutions: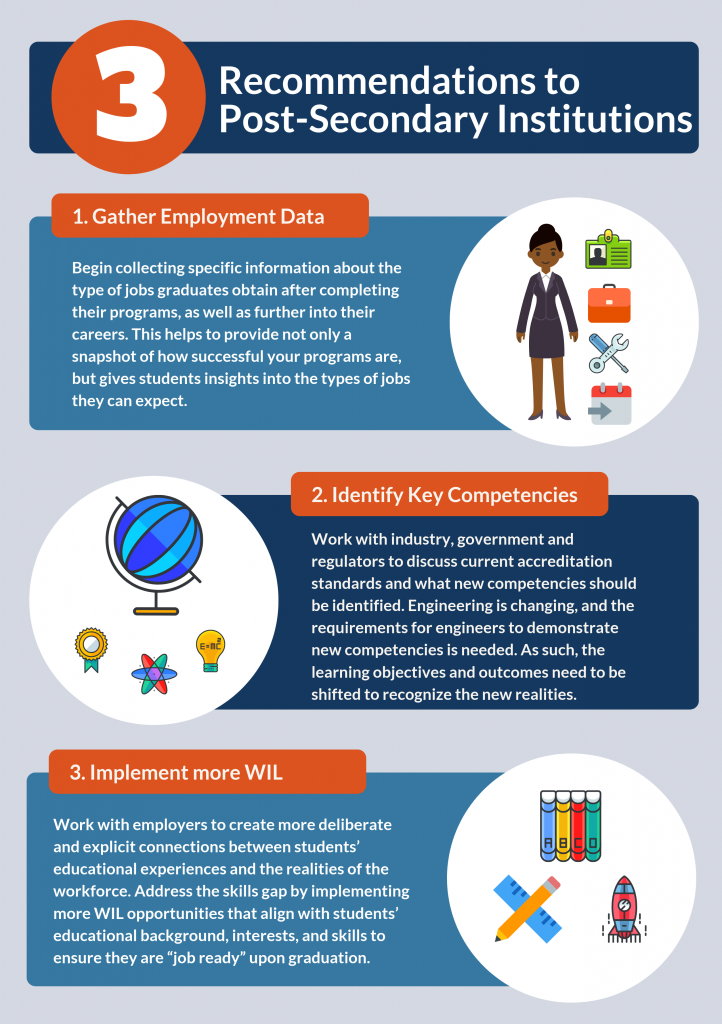 Are you an Ontario engineering student who's passionate about the environment, energy or building a more equitable, diverse and inclusive engineering profession? Do you think there are other areas of concern that OSPE and ESSCO should consider?
We want to hear what you have to say!
The following post was contributed by By Jaisime Wadhwa, OSPE Policy Intern & Engineering & Public Policy Masters student at McMaster University.
Leave a comment below and find out how you can become a champion for your future profession by getting involved in OSPE today!