When December rolls around, this 31-day block on the calendar typically means different things to different people. For some, the drop in temperatures mean it's time to hibernate. For others, December means nothing but excitement for the holiday season. For engineering students, however, December typically screams EXAM TIME, which can be stressful if you aren't in the right mindset.
OSPE was interested in finding out what engineering students can do to put themselves on the fast track to academic and career success during "the most wonderful time of the year."
We invited Mina Dezz, EIT, and founder of the popular Ironringgirls engineering community on Instagram, to share her best advice for surviving exam season as a recent engineering graduate.
—-

1. You don't have to be the smartest person in the room to succeed
In any engineering program, you're surrounded by intelligent peers. The reality is, you're bound to feel intimidated every once in a while. It's important to remember that everyone has different strengths and learns at a different pace. When you get back your first grade (which, chances are, is not as high as you'd like it to be), instead of feeling discouraged, use this experience as fuel to work a little harder. You'll become proof that effort is what gets you further in life, not the label of being 'smart.'

—-
2. If you manage your time, you can do more than you think
Between classes, assignments, lab work and finals, there's no denying that your hands are full. Chances are you also want to socialize and maybe even sleep! Before an exam, it can be hard not to feel overwhelmed about the amount of material you have to cover. But, if you plan out your time and stay on top of your workload, you'll do what you need to do to pass the exam and hone those critical time management skills for your future career.
—-
3. Stress doesn't have to be a bad thing
As an engineering student, you're constantly pushing yourself to new limits. Your brain will solve problems you never could have imagined, and your hands will move at speeds you never thought possible when taking notes. Before long, you'll realize that there's no point resenting the feeling of being stressed; in fact, you can thank stress for molding you into a more confident and competent member of the engineering community. If you pay attention to your stressors, you'll know exactly where to focus your efforts. Learning to use stress to your benefit is an incredible skill for your career.

—-
4. You can't forget to take care of your mind and body
Although you might be able to survive off energy drinks, caffeine and three hours of sleep for a little while, we all know that healthier habits will keep us sharp and energized in the long run. As important as it is to "ace your exams," you need to factor in time for sleep and stress-relieving study breaks to keep yourself motivated and relaxed. Mastering a healthy lifestyle (whatever that means to you), sets you up for successful work-life intergration down the road. After all, engineers are all about sustainability, right?
5. Big goals don't mean anything unless you have smaller goals
It's important to aspire – it's what keeps you driven. At the same time, you can't tackle your "big goals" overnight. Engineering school teaches you to consider the possible outcomes of any scenario and to devise the most effective plan to get there. Avoid being overwhelmed by an exam by breaking up the material into manageable sections. Planning, patience and persistence are three things you'll learn as you study and will continue to use throughout your career.
The bottom line is, you're going to make mistakes. You might fail to solve a problem. You might even fail a class. But we can't always get things right on the first try. Engineering teaches you how to come up with innovative solutions – it's what engineers do every day in the field.
Since starting the Ironringgirls group on Instagram, I've realized what's most comforting is that many of us have experienced similar challenges and have all found unique ways to overcome them. There is so much inspiration, motivation and support within the engineering community, and often sharing your experiences with others is a helpful first step toward achieving your definition of success.
With exam season underway, if you're facing difficulties with your program or courses, reach out to a classmate, your faculty, a professor or even the Ironringgirls community for guidance and support.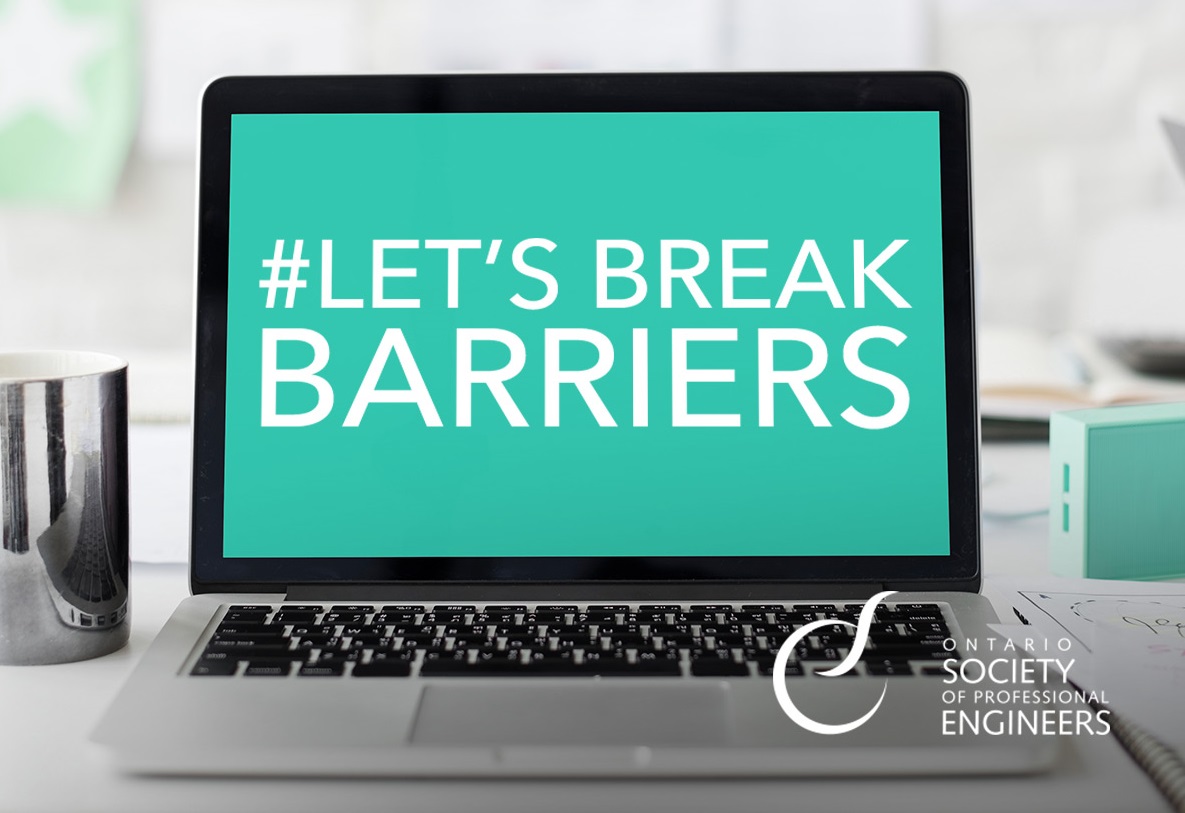 OSPE and Status of Women Canada have launched the "Let's Break Barriers" project to help get this type of productive conversation going. OSPE wants to learn more about the experiences of students (of all genders) in STEM programs to develop strategic recommendations and tools that will help ensure no systemic barriers prevent women from achieving their full potential in engineering and across all STEM fields.
What motivated or inspired you to study a STEM subject? Have you encountered any gender bias as a student or on a work placement? What kinds of tools or resources do you think will be useful in helping you advance in your future career?
Please take this short survey and share it with your friends to help your advocacy body better support you and future engineering students.
For more information on this project, visit http://letsbreakbarriers.ca. #LetsBreakBarriers together!