Winnie N. Ye, Ph.D., P.Eng., SMIEEE 
Canada Research Chair (Tier II) and Associate Professor, Carleton University 
—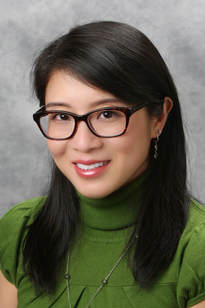 Silicon photonics is an emerging technology with a great potential to impact a number of application areas, such as next generation communication systems and interconnects for datacenters, sensing for medical and life sciences, and high performance computing for telecommunication. At the forefront of silicon photonics research is Dr. Winnie Ye, an associate professor in the Department of Electronics at Carleton University. 
Working from Carleton's Silicon Micro/NanoPhotonics Laboratory, Dr. Ye conducts theoretical and experimental research focusing on applying silicon photonics to data communications, telecommunications, sensing, medical devices, and renewable energy. 
Her work on all-optical logic gates and subwavelength interconnects would enable next generation data communication and telecommunication systems. The biosensors developed in her research group integrated hundreds and thousands of sensor arrays on a single chip, allowing a wider range of tests to be done in one measurement. Other examples of her work include developing an effective DNA detection device using nanotubes, and using metallic nano particles to improve the efficiency of silicon solar cells for solar energy applications. 
Dr. Ye has built an impressive research portfolio, securing nearly $2.5 million in research funding from provincial and federal sources, and contributions from industry. She has built a reputation as a leader in her field based on the international exposure and impact of her research, including 164 publications, reports and presentations (of which 121 are refereed publications) and three industry relevant patents. 
Her work has been recognized with the prestigious IEEE Women in Engineering (WIE) Inspiring Member of the Year Award; Canada Research Chair (Tier II) title, the Ontario Professional Engineers' Engineering Medal for Research and Development; the PEO Ottawa Chapter Engineering Excellence Award; the Ontario MRl's Early Researcher Award; and her appointment as the Chair of the Optoelectronics Technical Group at the OSA (the world's leading society for optics and photonics). 
An outstanding educator, Dr. Ye won Carleton's Teaching Award in 2011. Since 2009, she has directly supervised 89 students, many of whom have held prestigious international and national scholarships and awards.  
  Learn more about the highly anticipated Ontario Professional Engineers Awards (OPEA) Gala on November 17, 2018.