Even though we're all still stuck at home, we hope you'll join us in celebrating OSPE's 4th annual Professional Engineers Day online on Monday, March 1, 2021!

What is P.Eng. Day?
In March 2018, OSPE received formal recognition from the Legislative Assembly of Ontario that every March 1st be declared Professional Engineers Day in our province.
#PEngDay recognizes the vital role that professional engineers play in designing, creating and safeguarding our province. Engineers are on the front lines of innovation and create paradigm-changing solutions that drive and improve the world around us.
Why Celebrate P.Eng. Day?
At OSPE, we believe Ontario's engineers deserve credit for all the great things they do in every sector of our economy. That's why we set out to create a day that creates public awareness around the significant contributions engineers make to the continued success of our province.
How Can You Participate in #PEngDay this year
If you're proud to be a professional engineer:
Record a quick video message telling the world why you're proud to be a P.Eng.
Share it on social media on Monday, March 1 using the hashtag #PEngDay
OSPE may re-share it!
If you're not into creating a video, just tell us why you're proud to be a P.Eng. in a couple of sentences, and share it online with #PEngDay.
If you want to celebrate all professional engineers:
Not sure what to say? Feel free to use any of these tweets. Just click a link and Twitter will open right up:
Use one of our graphics
We've also made a few images for you to use on social media when celebrating the 4th annual P.Eng. Day.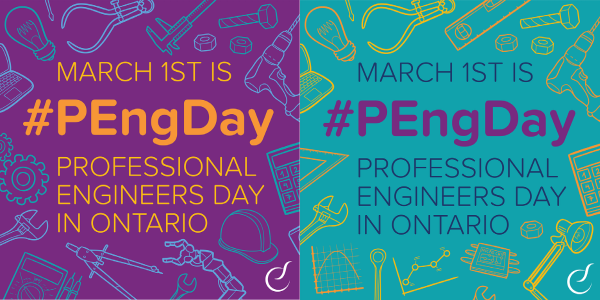 Mark your calendars – we can't wait to celebrate with you on Monday, March 1st.