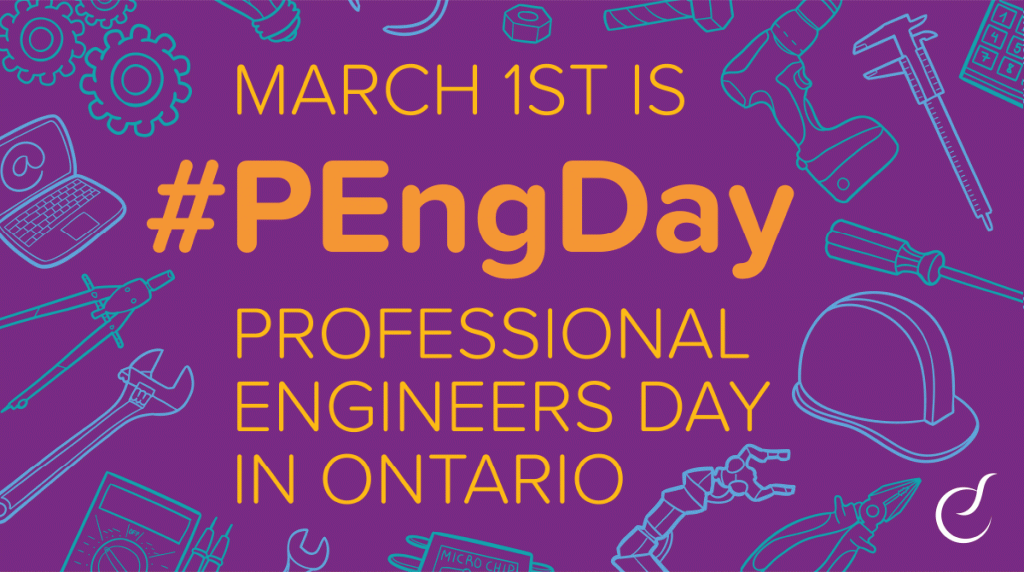 March 1, 2022, marks the fifth annual Professional Engineers Day or P.Eng. Day in Ontario and it's the perfect opportunity to celebrate the innovative work and expertise of the engineers in your life and across the province!
What is P.Eng. Day?
In March 2018, OSPE received formal recognition from the Legislative Assembly of Ontario that every March 1stbe declared Professional Engineers Day in our province.
Eng. Day recognizes the vital role that professional engineers play in designing, creating and safeguarding our province. They are on the front lines of innovation and create paradigm-changing solutions that drive and improve the world around us.
Why Celebrate P.Eng. Day?
At OSPE, we believe Ontario's engineers deserve credit for all the great things they do in every sector of our economy. That's why we set out to create a day that officially recognizes and thanks professional engineers for their significant contributions to the continued success of our province.
The creation of P.Eng. Day in Ontario is just one example of the proactive steps OSPE is taking to advance the professional and economic interests of Ontario's engineers.
How Can You Participate in P.Eng. Day?
Help us celebrate P.Eng. Day and promote the importance of the engineering profession in Ontario by:
Profiling engineers from your company or workplace
Hosting a coffee or tea appreciation hour
Taking a photo of yourself, your engineering colleagues, or the cool projects you are working on and sharing them on social media using the hashtag #PEngDay
Sharing or retweeting one of OSPE's prepared social media messages on March 1st
Mark your calendars! We look forward to celebrating P.Eng. Day with all of you on Tuesday, March 1st. Be sure to tag @O_S_P_E or use #PEngDay!
Use one of our graphics
We've also made a few images for you to use on social media when celebrating the 4th annual P.Eng. Day.