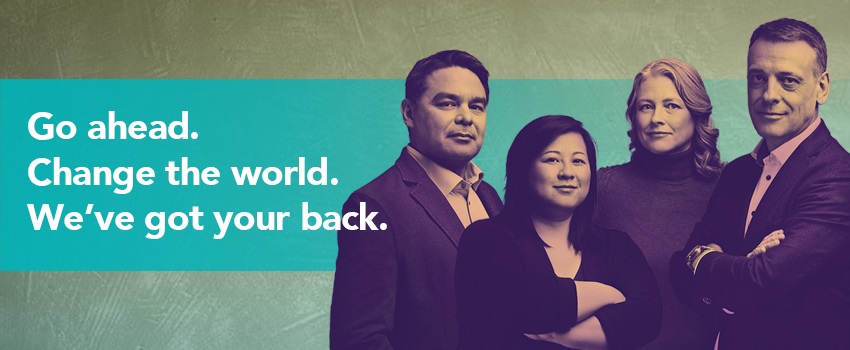 Part of OSPE's role as the advocacy body for the engineering profession is to ensure the contributions of engineers do not go unnoticed. In 2017, OSPE launched the Change the World campaign, which highlights the stories of four professional engineers and OSPE members from across the province who are making a real difference in society.
Meet four exceptional OSPE members – four engineers who are changing the world, each in their own unique way. Find out why their work is so inspiring, and consider sharing your own story with OSPE by visiting www.OSPEstories.ca.

Wesley Bova, P.Eng., is an environmental engineer and OSPE member who develops and maintains infrastructure in remote First Nations communities. He advises on policy decisions regarding clean drinking water, particularly in remote areas of the province.

Mandy Chan, P.Eng., is an acoustics engineer and OSPE member who conducts land use compatibility studies for large scale developments. She works with builders and municipalities to ensure site designs adhere to local codes.

Andrea Bradford, P.Eng., is also an environmental engineer and OSPE member, as well as an Associate Professor at the University of Guelph, where the focus of her teaching and research is on urban water systems and wetland restoration.

John Bianchini, P.Eng., is a chemical engineer and OSPE member, as well as the CEO and President of Hatch, a global firm creating positive change around the world, particularly in developing countries.
___________________________________________
Visit www.OSPEstories.ca to learn more about these exceptional OSPE members, and to share your own engineering story. You could be featured in OSPE's The Voice magazine, or on our blog or social media channels.
Change the World aims to encourage all professional engineers and engineering graduates to share their expertise with OSPE, so that together, we can drive positive change in Ontario.
Join in the conversation online using #OSPEstories. Send us your story by emailing stories@ospe.on.ca.