On Tuesday May 3, OSPE held its 16th Annual General Meeting (AGM) at the Novotel Toronto North York. The AGM is free for all members in good standing, and is held to conduct business on behalf of the Society. OSPE's AGM includes dinner, networking, the election of the new Board of Directors, and reports discussing the organization's accomplishments in 2015.
OSPE was honoured to welcome Mr. Vic Fedeli, MPP, Nipissing and Finance Critic to speak about the importance of engineering to Ontario's economy at this year's AGM.
"Ontario's engineers are a vital part of unlocking the next frontiers of our economy," said Fedeli.
Discussing everything from climate change and energy policy, to Ontario's Ring of Fire mining development, Fedeli advised that progress demands engineering leadership and policy advice. Fedeli noted the critical role of engineers in the creation of a credible energy plan that is both sustainable and affordable, and to address the lack of progress at the Ring of Fire, by responsibly harnessing the region's mineral deposits to drive economic development in Northern Ontario.
"Governments ignore expert advice at their own peril," said Fedeli. "Ontario is facing a number of serious challenges, but when I'm at venues like today, it is heartening to speak to individuals who are dedicated to driving this province forward."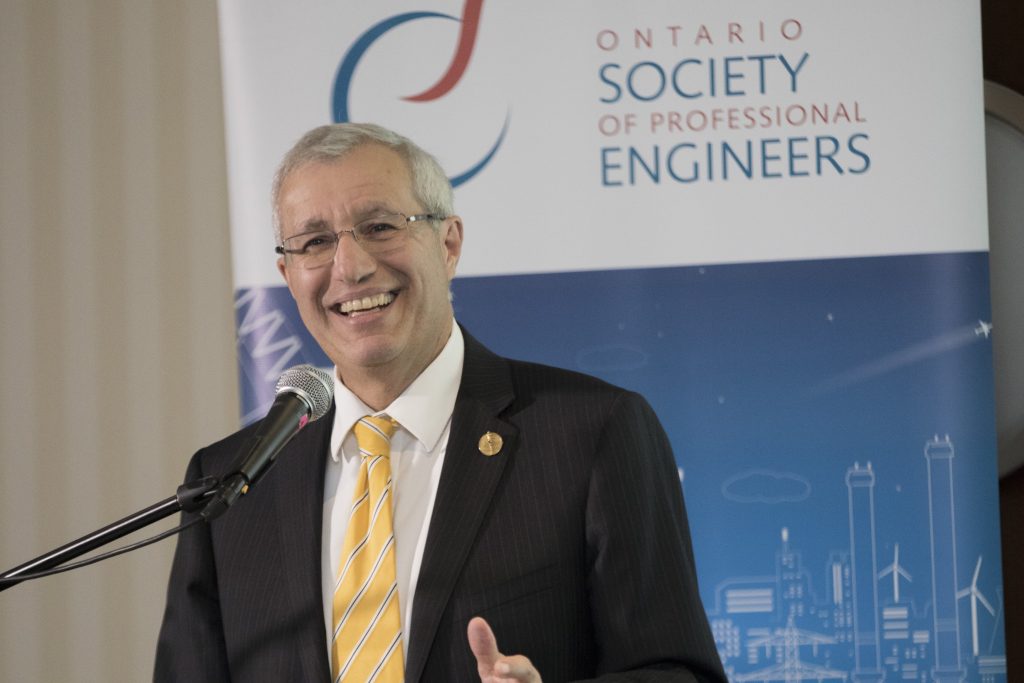 Proposed Bylaw changes
In order to fulfill one of the goals of the Society's five-year Strategic Plan and become the association of choice for the entire engineering community in Ontario, OSPE's Board Development and Strategic Planning Committee brought forward the motion to amend Bylaw No.2. The proposed amendment does not change the criteria of OSPE's membership categories, rather, it serves to update the names of the membership categories in order to more accurately define the groups we represent. OSPE's mandate is to serve the needs of all engineering professionals – those who have graduated from an accredited engineering program, whether they go on to pursue licensure or not.
To foster a healthy discussion, encourage questions and facilitate a vote on the proposed adjustments, all members directly received information on the proposed changes as part of their voting packages. All materials for the AGM were also posted on the registration page six weeks prior to the event, including a direct link to the proposed Bylaw changes and a Q&A document addressing frequently asked questions on the proposed changes to Bylaw No.2.
There were a number of questions and comments raised during the AGM that will be addressed in an upcoming blog post. The post will also include additional questions for members and will offer an opportunity for comment. The vote has currently been postponed and the committee will review the proposed changes, with consideration of the suggestions raised during the AGM.
OSPE's 2016-2017 Board of Directors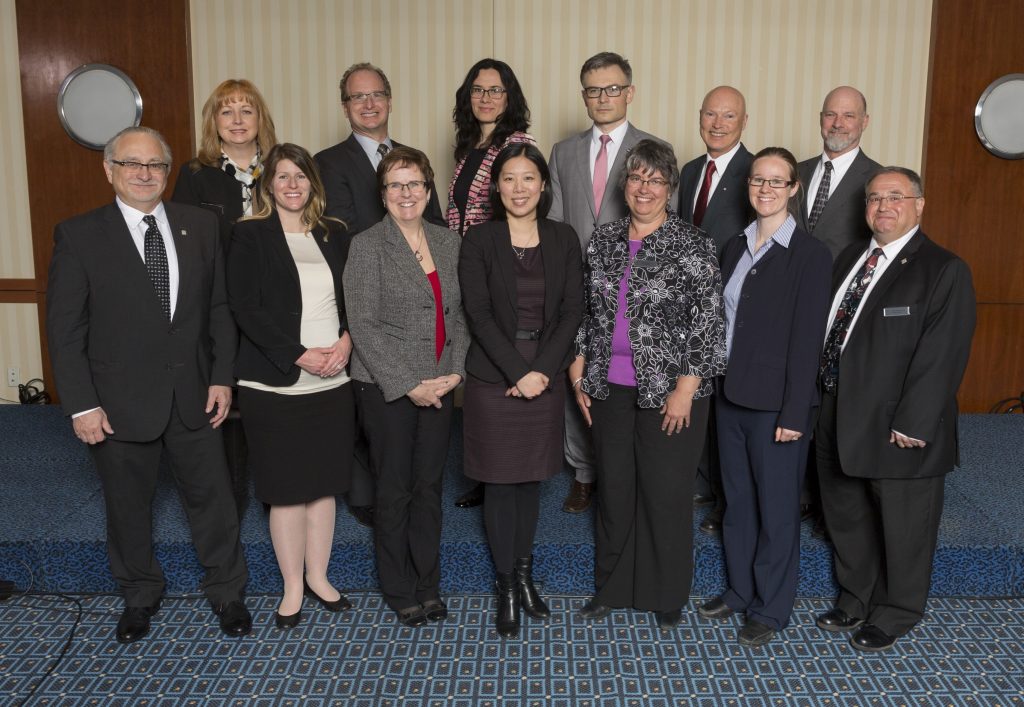 Congratulations to our new elected Directors
Ronald Clifton, P.Eng.
Emily Thorn Corthay, P.Eng.
Shelly Deitner, P.Eng.
Jonathan Hack, P.Eng.
Thank you to our outgoing Directors
Clare Morris, P.Eng.
Danny Young, P.Eng.
Congratulations to Michael Monette, P.Eng., OSPE's new President & Chair
Michael Monette was first elected to the OSPE Board in 2005 and was elected President and Chair in 2007 and then again in 2008. He served on various committees with a special interest in Energy, the Environment and Workforce Dynamics. He served on the Board of Xplor International, was Chair of the Board for Magenn Corporation and was President and CEO of Georgian Windpower Corporation.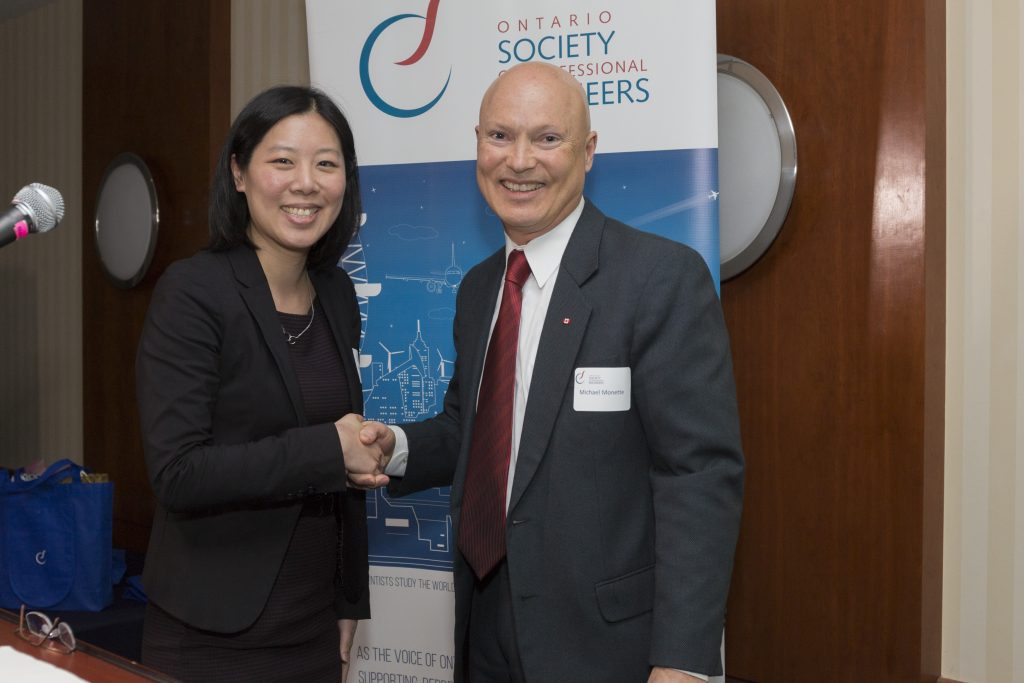 Michael began his engineering career with Scanada Consultants Ltd. engaging in work with the National Research Council of Canada, the inaugural EnerSave program with CMHC and supported building envelope research impacting the Building Code. His career has spanned various aspects of professional engineering, turbine thermodynamics and power generation. He is also an expert in document management systems and services, with executive strategic planning and development, management, sales and marketing experience.
He is currently a Director of Xerox Corporation and is involved in strategic planning and business development in the domain of strategic document and communications services. Michael holds a B.Eng. mechanical from Carleton University and an MBA from the Ivey School of Business at Western University.
President's Award winners
 As a volunteer-led organization, OSPE relies on skilled, dedicated engineers to help us advocate on behalf of the engineering profession. OSPE has the opportunity to recognize some of our exceptional volunteers with the OSPE President's Volunteer Award.
Receiving the OSPE President's Volunteer Award is a unique recognition for volunteers going above and beyond in effecting positive change for the engineering profession in Ontario. This year's winners are:
 The late Dr. Mark Ernsting, P.Eng.
Dr. Ernsting was a top researcher at the Ontario Institute of Cancer Research. In addition to being a Professional Engineer, and Biomedical Engineering Researcher, Mark was a member of the choir at the Church of the Redeemer on Bloor Street in Toronto, and an Adjunct Professor at Ryerson University.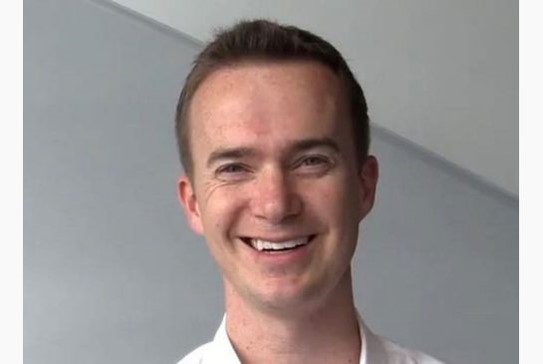 Mark was also an invaluable member of OSPE's Research and Innovation Task Force, a tireless advocate and integral part in reframing our work on research, innovation and entrepreneurship for the engineering community.
Beyond his professional accomplishments, Mark was a good person who cared about his family and friends, his work, his profession, his communities, and society as a whole. He always had a smile on his face and kind words for those around him. He thought before he spoke, and when he did speak, he offered words of wisdom and encouragement. Simply put, Mark was a brilliant, courageous and visionary leader and a good friend to us at OSPE.
Nigel Fung, P.Eng.
 Nigel Fung is an energetic and enthusiastic volunteer, active with both the Women in Engineering Advocacy Committee (WEAC) as well as the Ring of Fire Task Force. He is always ready to participate in ALL activities and events and was instrumental in WEAC's 2015 efforts to submit nomination packages for women engineers to the Ontario Women's Directorate (OWD) Leading Women, Leading Girls, Building Communities Recognition Program.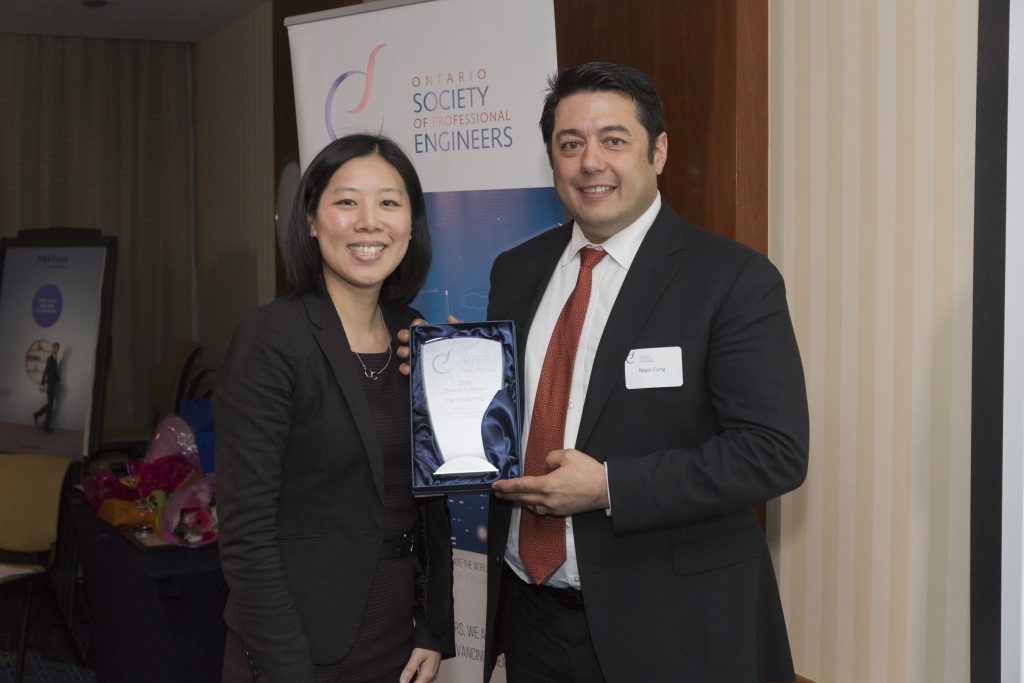 Through Nigel's facilitation of the successful OWD award nominations, WEAC was able to highlight the leadership of women engineers and raise the profile of OSPE and the engineering profession.
Nigel is currently the Director of Mine Planning at McEwen Mining and previously served as a Consulting Mine Engineer at Tetra Tech. During his tenure at Tetra Tech, Nigel focused on open pit optimization, life of mine production schedules and capital and operating costs at various projects around the world.
Also, Nigel served as Mine Planning and Project Engineer at IAM Gold's Rosebel Gold mine in Suriname, which in 2011 produced 385,000 ounces of gold. He was responsible for long range mine planning.
Nigel's expertise has been very beneficial to our Ring of Fire Task Force. We are thankful to have such a dedicated, active and knowledgeable volunteer supporting OSPE.
The Personal Scholarship Awardees
Congratulations to this year's four undergraduate student winners
Jeremy Gooden
Matthew Justin Lee
Blair Morgan
Kramay Patel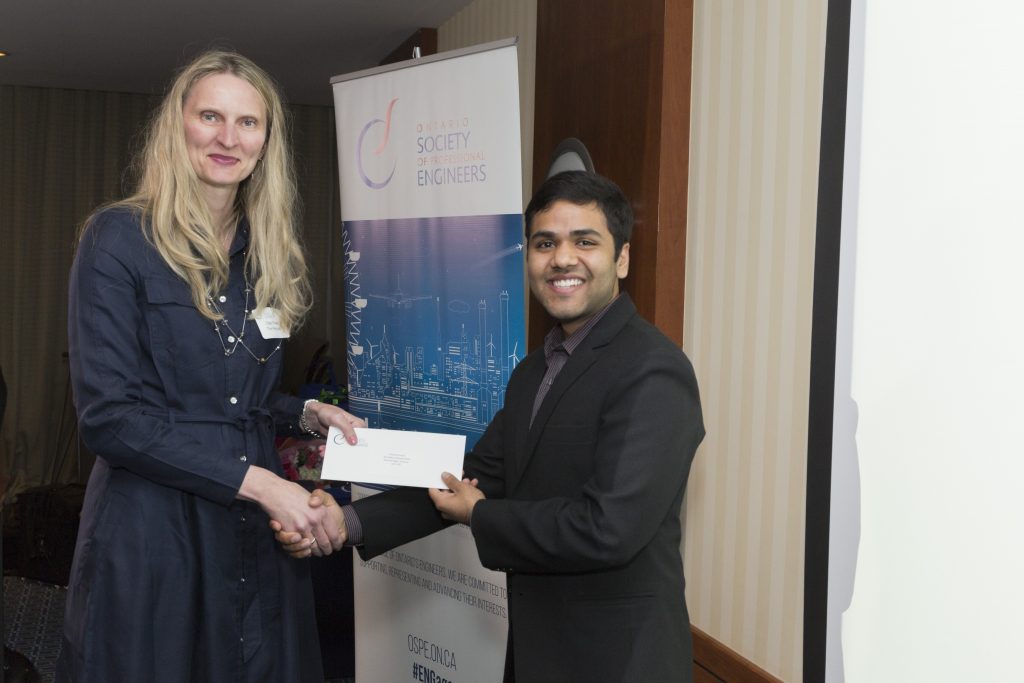 Congratulations to this year's four graduate student winners
Craig Langford
Jean Paul Martin
Paul Ricciuti
Lucas Semple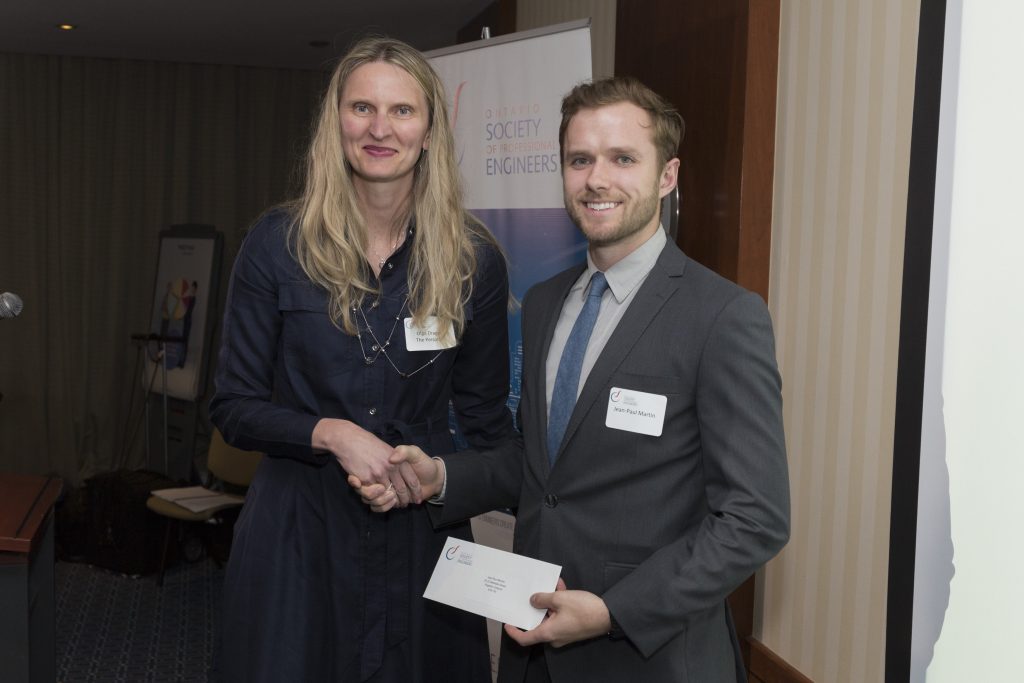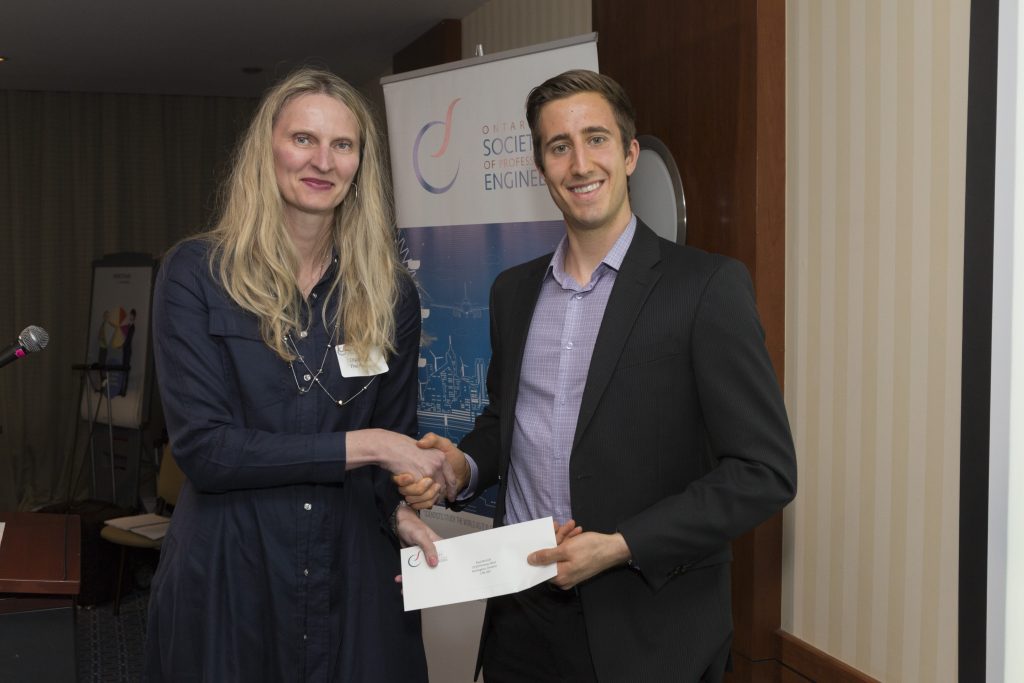 Through an annual trust fund award, the Canadian Society of Professional Engineers provides grants to engineering students to help build OSPE's membership across the province. On behalf of CSPE and his fellow trustees, Danny Young, P.Eng., and Valerie Davidson, P.Eng., Board Trustee Steven Rose, P.Eng., announced that the Engineering Student Societies' Council of Ontario (ESSCO) will receive a $1,500 cheque to offset the travel expenses of representatives of engineering student societies who attend OSPE and profession-related meetings.