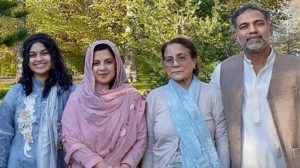 The Ontario Society of Professional Engineers (OSPE) is appalled by the blatant act of Islamophobia and domestic terrorism that occurred in London, Ontario on June 6, 2021, when a Muslim family was murdered after a targeted hit-and-run. We extend our most sincere condolences to the family and friends of the victims, as well as the wider Muslim community. One of the victims, Madiha Salman, was a former OSPE member and was in the process of completing her Ph.D. in civil and environmental engineering.
As the advocacy body of Ontario's engineering community, OSPE strives to create a more equitable, diverse, and inclusive profession, precisely because of the very real prejudice and bigotry that continues to exist in our country and around the world. While southern Ontario is one of the most diverse regions in North America, we are constantly reminded of just how much further we have left to go in making Ontario a truly accepting place for all.
According to Statistics Canada, the number of police reported hate crimes across the country grew by 10% between 2018 and 2019 for a total of 876 reported incidents. Hate crimes specifically against Muslims in Canada grew by 9% in 2019.
Our hearts and prayers go out to the Muslim Community, particularly in the London area. Fear, hatred and violence have no place in our society. @O_S_P_E is committed to creating a just, safe, inclusive and equitable world for everyone.

— Sandro Perruzza (@OSPE_CEO) June 7, 2021
A GoFundMe campaign has been created for the nine-year-old Fayez Afzaal, which can be accessed here. Western University has created a memorial scholarship fund in Madiha's honour. You can donate to the fund here.
The Ontario Human Rights Commission and City of Toronto have a variety of educational resources on preventing discrimination. OSPE's own Engineering for Change campaign is just one of the many ways we have been working towards a more diverse and inclusive engineering profession.
To learn more about OSPE's Diversity & Inclusion Task Force or to get involved, contact OSPE at advocacy@ospe.on.ca.