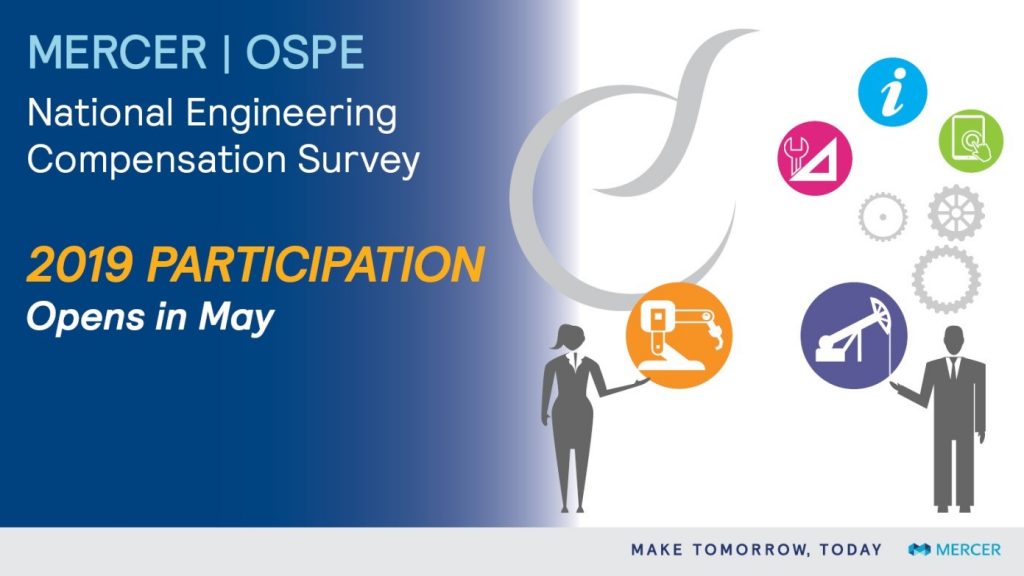 In today's talent demand economy, where the competition among employers is fierce to attract and retain talented engineers, companies are pulling out all the stops to find the right talent.  However, don't forget – compensation is still king!  Do you know how much to pay your level C project engineer versus your level C quality assurance engineer?  Before going down the path of differentiating your rewards, you've got to get the compensation right.
Mercer has been reporting on Ontario engineering compensation for over 64 years, partnering with the Ontario Society of Professional Engineers (OSPE) in 2005 and eventually expanding the Mercer | OSPE National Engineering Survey to collect engineer compensation data across Canada for 19 disciplines in all major industries and sectors.  During this time engineering compensation has been benchmarked against Professional Engineers Ontario's (PEO) classification guide of engineering responsibilities, which we know as levels A – F.  Throughout the years, these definitions have played a crucial role in defining engineer career paths for OSPE members and Ontario engineers while establishing compensation benchmarks based on responsibility and experience.
But when we consider the workforce of today and more importantly of the future, we see companies seeking specific skills and re-thinking their compensation strategies to attract and retain high-demand talent.
The challenge that we face when considering the needs of organizations who rely on the compensation data from the Mercer | OSPE National Engineering Survey is that in order to set competitive compensation for their engineers they need to know what a given specialization is worth.
As a full-service HR consulting firm, Mercer conducts 4,100 compensation surveys annually for over 35,000 participating organizations globally and has seen the increased need for companies to understand the external equity of a job or the premium the market is paying for employees with specialties and in-demand skills.  In 2018, Mercer introduced the New Job Library to respond to the changing needs of organizations and how they pay and reward their people.
The mission of the Mercer Job Library is to have one job catalog that meets the needs of all Mercer's compensation surveys and clients, regardless of industry, organization size, or market. Smaller companies in emerging markets tend to have more hybrid jobs, while large, multi-national organizations in mature markets have more specialized jobs. And organizations are interested in data specific to their industry, but also want to understand the broader marketplace for cross-industry jobs that best reflects their labor markets.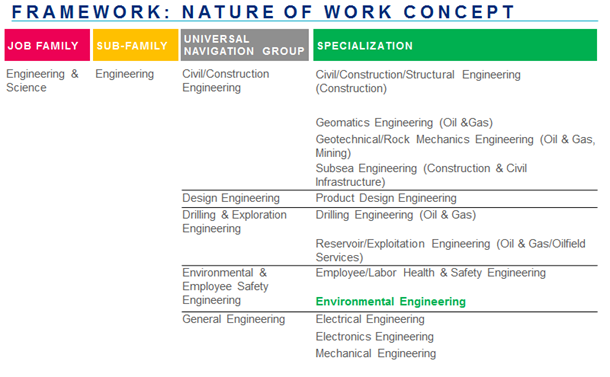 Working in partnership with OSPE and with the input from the survey advisory committee of engineering employers, this year in 2019, the Mercer | OSPE National Engineering survey will adopt the Job Library to collect and report compensation for engineers beyond levels A – F, but right down to the job description or what Mercer calls the specialization.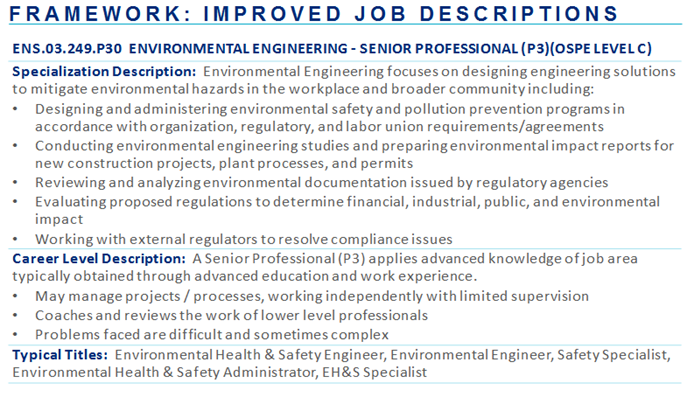 —
So what does this mean for you?
—
This year, when you participate in the Mercer | OSPE National Engineering Survey you will be matching your engineers based on their nature of work and specialization description. This new methodology will deliver the most granular level of compensation detail ensuring that Canada's engineering employers are armed to respond to the talent climate and address the gap to desired business objectives.
In short, next time someone asks your business how they should pay their level C project engineer versus their level C quality assurance engineer, you'll know that the median base salary for level C project engineers working in Ontario is higher than the median base salary for level C quality assurance engineers working in Ontario.  You'll even be able to provide a specific pay range and evaluate the incentives associated with the jobs with confidence and ease.
Want to know more about engineering compensation?
—
This year the survey will report data for engineers, technologists and technicians.
Participation in the 2019 survey is NOW OPEN:  imercer.com/engineer
Employers – Join us in Mississauga on May 14th for the OSPE Engineering Employment Event where our luncheon presentation is Engineering Compensation – What's a Specialized Skill Worth? Presented by Liz Elliott, Industry Relationship Manager, Mercer.
About the Author: Liz Elliott is the Industry Relationship Manager for Canadian energy and North America mining for Mercer.  Liz oversees Mercer's Canadian Total Compensation Survey for the Energy Sector (MTCS), The North America Mining Survey, The HR Tech Association Survey and multiple engineering compensation and benefit surveys including the Mercer | OSPE National Engineering Survey.