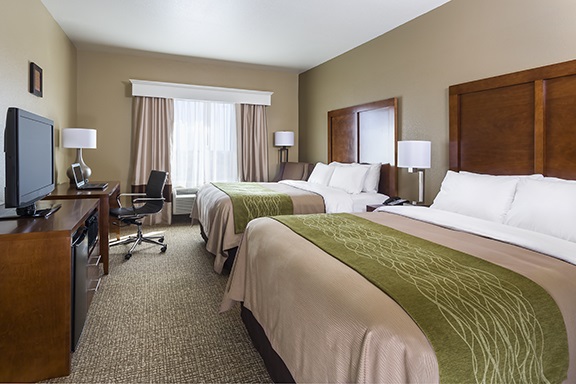 The following guest post was contributed by Choice Hotels Canada.

Have you ever had that sinking feeling while travelling because you've left something behind in your hotel room? You're not alone – a Choice Hotels Canada survey reveals that nearly half of Canadians admit to leaving a personal belonging in a hotel room while on the go.
We questioned Canadians on their travel habits and found that 43 per cent have forgotten personal belongings in hotel rooms when they're away from home.
We forget the little things
It turns out toothbrushes are the most common belonging travellers forget in hotel rooms (18 per cent), but the next most common are phone chargers (15 per cent). A lot of people say they would rather have dirty teeth than an uncharged phone, so if you're one of them, always check your hotel room's electrical outlets before you depart.
What else do we seem to be forgetting?
Here are the most common personal belongings surveyed travellers reported as lost during their recent hotel stays:
Sunglasses (14 per cent)
Books (10 per cent)
Hats (9 per cent)
Makeup (8 per cent)
Shoes (7 per cent)
Toys (7 per cent)
Prescription glasses (6 per cent)
Goggles (2 per cent)
Wallets (2 per cent)
Men forget more often than women
Women probably won't be surprised to learn that men are reportedly more likely to say they've forgotten personal belongings in hotel rooms. While only 38 per cent of women say they've left items behind while travelling, 48 per cent of men say they have done so.
While being forgetful happens from time to time, an easy thing to remember is the Choice Privileges® rewards program. The redesigned program awards travellers with instant gift cards, which can be used right away to replace lost items while travelling. Choice Hotels also recently announced enhanced "Your Extras" partners, where guests can earn special rewards for midweek travel, including 500 bonus points or 100 airline miles (with participating carriers).
For OSPE members
To book your next hotel stay, all you need is your CLIENT ID#: 00063913 and you can book through one of the following three options:
Visit http://www.choicehotels.ca/ospe and enter your reservation details and preferred rates will be highlighted at participating hotels.
Call 4CHOICE (800.424.6423) and quote your Client ID# to access preferred rates.
Mobile: download the Choice Hotels app and enter our Client ID# when booking.
And that's not all! You can make your travel even more rewarding with our bonus offer! For a limited time, you can earn a welcome bonus of 500 points when you sign up for our rewards program and another 500 bonus points after your first stay. Sign up Now! Remember to enter your Client ID # 00063913 in your Choice Privileges profile.
The link www.choiceprivileges.com/signup/CNB2B must be used in order to track and award bonus points. Only one bonus per member.  Offer valid for new members only who enroll between January 1, 2017 and December 31, 2017 and who make a qualifying stay with arrival before December 31, 2017.