Gema Rodriguez is a civil engineer who came to Canada from Nicaragua five years ago. Since then, her major projects include working as an international construction coordinator in several African countries and Ecuador in Latin America, and working to develop sustainable, affordable housing for First Nations and seniors in Canada. Rodriguez now describes a stable professional life full of opportunities and learning. Along the way of this journey, Rodriguez found the assistance she needed, mentoring and participating within organizations like OSPE and Hispanotech.
Hispanotech is a not-for-profit organization whose aim is to integrate Hispanic professionals into the Canadian workforce, by offering networking events so individuals can begin building community, and speaker sessions with leading professionals that allow new migrants to connect with the workforce.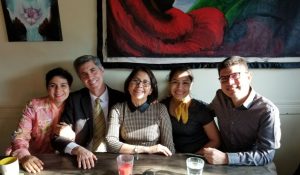 One of the hardest transitions an adult can make is moving across borders. There are many reasons to move: a better life for your children, greater job prospects, a stable and peaceful life not available in your home country. Our global, interconnected economy relies on these types of migrations to keep the flow of ideas moving, injecting workers into the economy, and to provide an opportunity for mutual growth and benefits.
Despite the positives, the burden can be enormous. There is the mental cost of shifting cultural landscapes, speaking a new language daily, and understanding the social nuances that those born here take for granted. When you consider the difficulties of the transition, balanced with the need to find a job and to connect with a community, it can feel like an overwhelming task. This difficulty does not only affect the individual—in order for society at large to tap into the potential of migrants, their education and job skills, community resources must be deployed to assist in the transition.
Keenly aware of these hurdles to success, Rodriguez sought out organizations that could help overcome this, saying, "I know that once you come here it can be easier if you have people that you can talk with to get some advice from," and specifically identified Hispanotech and OSPE as community minded groups that focused on building bridges with a diverse array of people. By joining both groups and blending the resources they provide, Rodriguez found that approaching her situation from a multitude of perspectives allowed her to develop her career in a new country.
Integral to this process is giving back, and the idea that once the organization's network helps you with the transition, you become part of its fabric, and are able to help out newcomers. "I found Hispanotech very helpful and that was something I was willing to do for other people coming here."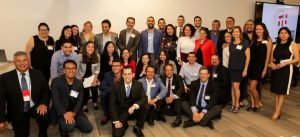 "It's something that's very rewarding. When I came, I had my family already settled here and it was a little bit easier because of that, but I know so many people who don't have family or other members. So it's hard. It has been very rewarding journey."
Leveraging Hispanotech for networking opportunities, Rodriguez also turned to OSPE as the voice of her profession. Noting that she appreciates the professional and social perspectives from both organizations and the value in combining them  "all the tools that I get from OSPE I'm able to share them at Hispanotech events, now actively contributing as a Hispanotech's board member in the roll of the Director of Volunteer's Committee" thereby creating an environment where ideas are shared and developed in collaboration. Rodriguez has also been able to take advantage of her OSPE membership by participating in mentorship and workshops, noting, "It's very important to have that Canadian engineering community, but also to be part of the women in engineering agenda that is my motivation to encourage other women from other cultures to raise their voice"
Life as an immigrant is never easy, but can be made easier by tapping into these resources. Engineers already have the advantage of a practical perspective, as Rodriguez says, "When you are an engineer, you are an engineer everywhere." What's important is finding the kinds of organizations that will unlock your potential and help you settle into your new home. As Rodriguez told us, "When you come from outside, you have a lot of valuable information and experience." And it's key to both groups—the immigrant, and the new country—that these resources are utilized. It's in this kind of relationship that Rodriguez was able to thrive in her professional career, "It's a two-way relationship: succeed, Give back and keep going."