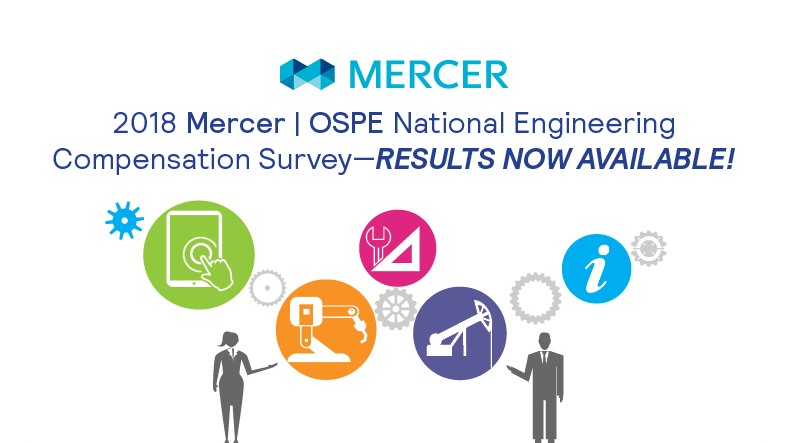 The Ontario Society of Professional Engineers (OSPE), in partnership with Mercer, is pleased to release the 2018 Mercer OSPE National Engineering Compensation Survey.
Whether you're an employer creating a new compensation plan, an entrepreneur launching your own business, a new graduate entering the profession, or an experienced professional seeking your next opportunity, the OSPE Compensation Survey Summary Report will keep you informed on current hiring trends and compensation levels across all disciplines of the engineering profession.
Engineering Employers…
—
Engineers today aren't interested in just jobs – they want meaningful careers. HR leaders have the ability to shape employees' salaries and careers with an effective rewards strategy.
Our goal is to empower businesses in Ontario and across the country with the information required to stay competitive on a regional, national and global scale. With the 2018 Mercer OSPE compensation results, you can ensure you have the latest data to design and deliver a compensation strategy that gives you a competitive advantage over other companies in your discipline or sector.
Members of the Engineering Community…
—
The survey ensures that regardless of what stage you are at in your career, you have access to the most up-to-date compensation data. This empowers you to make informed decisions regarding salaries and benefits when it comes time for your next negotiation.
OSPE frequently refers to the 2018 Mercer OSPE survey data during our own meetings with key figures such as the Minister of Labour to inform the Society's position on prominent areas of concern, from the gender wage gap, to the engineering labour market.
What can you Expect to Learn from the 2018 Mercer OSPE Survey?
What is the value of the P.Eng. designation?
How close to target are incentives being paid out?
What factors most heavily influence salary increase in the engineering profession?
Are separate performance rating systems for Engineering Interns (EITs) common?
Key Advantages of the 2018 Mercer OSPE Survey:
This is a national survey available in three regional reports
Compensation is reported by year of graduation and levels A – F
The survey covers 19 disciplines across all major industries and sectors
The survey reports on: Base pay, STI, LTI; Health and benefit plan details and shared costs; YOY salary changes by level
We hope you'll find the 2018 survey a valuable resource for your continued professional success.
—
—
Reports are distributed in Mercer WIN® , a platform allowing you to create your own custom reports, analytics and peer groups.
If you would like to participate in the survey in 2019 contact surveys@mercer.com for options on how you can get access to participant pricing in 2018 and 2019.